Melissa Paurowski, a busy wife, mom, and teacher, searched for a new challenge after her goal event was canceled. She decided to enter a grueling, ultra-distance triathlon, with a 4.8-mile swim, 224-mile bike, and 52.4-mile run. Hoping to finish within the time limit, Melissa crushed her goal with time to spare.
Share your success story and tell us how TrainerRoad helped you reach your goals.
---
Searching for a New Challenge
Melissa is no stranger to endurance sports. She has completed six IRONMAN triathlons and several ultramarathons, including a 100k and two 100-mile ultras. When IRONMAN France, her goal event for 2020, was canceled, she needed a new challenge to look forward to. Melissa said, "I live for what I can do next." With the onset of the pandemic, she made up her mind that she would double down on training.
Adaptive Training
Get the right workout, every time with training that adapts to you.
Check Out TrainerRoad
As a teacher, the summer break would allow for extra time to commit to training. She planned to train a lot, create a huge aerobic base, then carry the momentum into the fall. Eventually, Melissa found an event for March of 2021—the Double Anvil Triathlon.
What is an ultra-distance triathlon?
The Double Anvil Triathlon is twice the distance of a full IRONMAN tri, featuring a 4.8-mile swim, 224-mile bike, and 52.4-mile run. A challenge of this magnitude is extremely difficult, and one that pushes the bounds of what you think is possible, which was alluring for Melissa. She said, "You get excited about it. You sign up for it, and then it gets closer, and you go; what was I thinking? Am I going to make this?"
Training for an Ultra-Distance Triathlon
As a teacher, mother of an eight-year-old son, and wife, Melissa keeps a busy schedule. Add in the fact that she's currently working on her doctorate of education degree, free time to train is at a premium. With so much going on, Melissa trains early in the morning. As a self-described morning person, on weekdays she gets up every morning at 3:45 am to get in about two hours of training.
Having used the low-volume plan for her previous IRONMAN training, Melissa decided that a mid-volume plan would better prepare her for the Double Anvil. The mid-volume plan still offered some of the flexibility of low-volume, which helped work around her schedule. While following the TrainerRoad Full-Distance Triathlon training plan, she would sometimes substitute in longer workouts of the same type. Melissa reserved the weekends for longer training sessions. On Saturdays, that meant four to six hours, while Sundays were typically around three hours. In the five months leading up to the Double Anvil, she completed all of her training indoors.
Fueling the Training
Early morning training can be challenging for several reasons, but nutrition can be especially challenging. Melissa typically did her early morning workouts fasted—just drink some coffee and then hop on the trainer. After eating breakfast on the way to work, she would focus on hydrating during the day. While fasted training is hard on the body, Melissa felt like it prepared her for the extreme distances involved in the event. However, during the long weekend training sessions, she would take in some gels.
Melissa lost some weight during her training by eating a primarily plant-based diet and avoiding refined sugars off the bike. She would consume some animal protein with her evening meal. Additionally, she supplemented with collagen to help support her joints and connective tissues.
Challenges of Training
Stress from life, work, and training can add up quickly. To deal with this, Melissa would take long walks in the evening. Not only did this help clear the mind and de-stress, but it also helped her get used to carrying extra fatigue into her next training session. While this seems counter-intuitive because you generally want to be as fresh as possible for training, learning how to manage fatigue can be a boom for ultra-distance events. Melissa believes this helped her get a sense of how she'd feel during the event.
However, the challenges of training were a learning experience and a discovery of strengths and weaknesses. Melissa got into ultra-distance events because she believes that she isn't a "particularly fast cyclist." Of the three legs, the bike was her weakest. In high school, she was on the swim team and a runner. Yet, Melissa finds excitement in who can go longer rather than faster and believes that anyone can do it with the proper preparation and planning.
Planning for an Ultra-Distance Triathlon
With multiple IRONMAN experiences to draw from, Melissa started to create a pacing and nutrition plan for the Double Anvil Triathlon with her multiple IRONMAN experiences to draw from. Her primary goal was to finish under the thirty-six-hour time limit, and "anything under would be icing on the cake." She doesn't have a power meter on her bike, so she used time goals instead. She aimed to finish the swim and bike legs within twenty hours, leaving sixteen hours for the almost fifty-three-mile run—about a nineteen-minute mile pace.
The pacing plan left Melissa plenty of margin because she knew that she could walk the final leg if needed. For nutrition, Melissa admits she should "have had a more structured plan." She primarily fueled by feeling and brought nutritional products that she knew worked for her—mostly Powerade, gels, and pretzels.
Equipment choices can make or break an event, but ultra-distance events provide even more chances for something to go wrong. To help mitigate any mechanical problems, Melissa brought two bikes, an old road bike and a new one that she uses for races with added tri-bars. She didn't alter her position but rode the trainer with a helmet to grow accustomed to the extra weight.
The Double Anvil Triathlon
The Double Anvil started in the early hours of March 12 near Orlando, Florida. The water was cool enough to allow for wetsuits and starting; Melissa's thoughts were to "pace and enjoy the swim." Over two and a half hours later, Melissa was the first female competitor out of the water.
The Bike
The bike course was mostly a six-mile loop, so there was some relief knowing that she would see her support crew every twenty minutes. Melissa experienced a motivational low point about forty miles into the bike leg. It wasn't that she felt physically drained, but the sheer scale of what remained weighed heavily on her mind. "I was just thinking; I have a lot left."
To mentally manage the monumental distance still ahead, she broke the course into chunks. She would ride three laps, then stop at the support tent, talk to her husband, and eat. These minor breaks created tiny goals and served as motivation to keep going.
The sun set halfway through the bike leg, covering the course in complete darkness. Riding at night can drastically change your perception of the course, not to mention the mounting fatigue or light batteries running out. This slowed Melissa down as she continues. Fortunately, she was able to use a headlamp to continue. After sixteen hours on the bike, she headed out for the run around 2 am.
The Run
This run course was a one-mile out and back loop. Melissa's plan was to run on the way out and walk on the way back. Overnight, she started to feel very sleepy, but took some gels with caffeine and started to feel much better. However, as the sun rose over Florida, so did the temperature. Melissa knew from experience that heat could cause stomach problems, so she had to closely monitor her fueling, trying to take in enough, but not too much.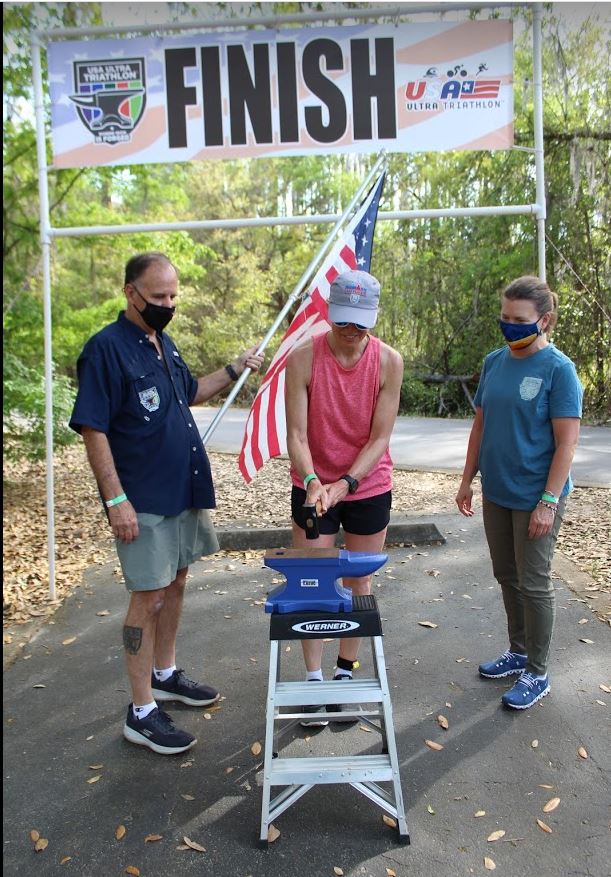 She crossed the finish line with a time of 32:16:51, finishing almost four hours under her goal. Not only did she beat her goal, but Melissa placed first in her category and fifth overall!
The Next Challenge
For her next challenge, Melissa will attempt the Triple Anvil Triathlon in Virginia, an epic event featuring a 7.2-mile swim, 336-mile bike, and 83.7-mile run. With lots of training ahead, Melissa said that "I signup and get excited about the training. But I still get nervous and think I can't believe I signed up for this."