Part bike race, part rolling adventure, Gran Fondos offer something for every cyclist. Since their origins in Italy in the 1970s, these rides have spread around the world, and are now among the most welcoming and accessible road cycling events. Learn everything you need to know in this Gran Fondo Training Guide.
---
What is a Gran Fondo?
A Gran Fondo is a semi competitive mass-start cycling event, with a name that translates from Italian to mean "Big Ride." They can take many forms, but most are long, scenic events and include food stations, mechanical support, and a post-ride party. Gran Fondos are timed or include timed segments, but not everyone who rides is there to race. Many cyclists ride these events just for fun and for the challenge of finishing. In this regard, Gran Fondos are among the most inclusive cycling events, with world-class racers and recreational riders lining up together and sharing the same course. 
As these events have grown in popularity over the last few years, so has the definition of what they can be. Gravel or mixed-terrain fondos are now almost as common as the traditional road events, and there's even a UCI Gran Fondo world championship. From local century rides to major destination events, Gran Fondos take many forms, but these events are united by their welcoming sense of competition and community. If you're at the front competing to win, they can be as fast and difficult as any other race. But if you're just out for a fun ride, Gran Fondos are a great way to challenge yourself alongside hundreds of other like-minded cyclists, at whatever pace you like.
Typical Gran Fondo Distances
How many miles is a Gran Fondo? Typically, they are between 75 miles to 150 miles long but can vary depending on the event. Many longer ones exist that range up to 150 miles or more, but the majority of Gran Fondos cover about 100 miles (160 km) and most include some significant climbing along the way. However, most events also offer shorter versions for riders who desire a more manageable challenge. This is usually an approximately half-length event that occurs concurrently with the full-length ride. Additionally, some offer an even shorter version for beginner cyclists. Whatever your ability level, there's a Gran Fondo for you.
Timing and Scoring
Most Gran Fondos are timed for the duration of the course, but many events include timed segments instead of (or in addition to) timing the entire event. Unlike traditional road races, riders are ranked and scored by age group rather than racing category, but many participants aren't there to race, anyway. There's no shame in simply riding for fun, which is one reason these events are so highly regarded.  
Gran Fondo Training Plan
TrainerRoad's Gran Fondo Training Plan is designed to address the muscular endurance and versatile fitness demands of these events. These events reward riders who can maintain steady power for hours at a time, as well as occasionally drive above threshold at a higher pace. The 8-week Gran Fondo Training Plan achieves this through a mix of Endurance, Sweet Spot, and Threshold workouts, with some VO2 max workouts during the second half of the plan. The plan is divided into two 3-week build blocks, with a rest week and fitness assessment in between. It concludes with a recovery week, so you arrive at your event in peak form. Best of all, the Gran Fondo plan can effectively build your fitness for long events even if you only have enough time for low-volume training.
What Type of Fitness Do You Need For a Gran Fondo?
Gran Fondos are extremely variable, but the common unifying theme of these events is their length, and the muscular endurance they require to successfully complete. Additionally, cyclists wishing to set PRs or land on the podium will need to respond to surges in pace, and be able to power over climbs at high intensity. These abilities begin with a strong aerobic engine developed during Base Training, and are further cultivated through Build and Specialty Phase training. 
How Long Does It Take to Train for a Gran Fondo
If you want to maximize your fitness, we recommend completing an entire 28-week plan. That said, depending on your experience, you can do it in less time. TrainerRoad's Gran Fondo plan includes everything you need to crush your next long-distance event. Whether you're out to win or just riding for fun, start by building a custom road training plan with Plan Builder. Plan Builder will consider your experience, available training time, and goal event to create the perfect Gran Fondo training plan for you.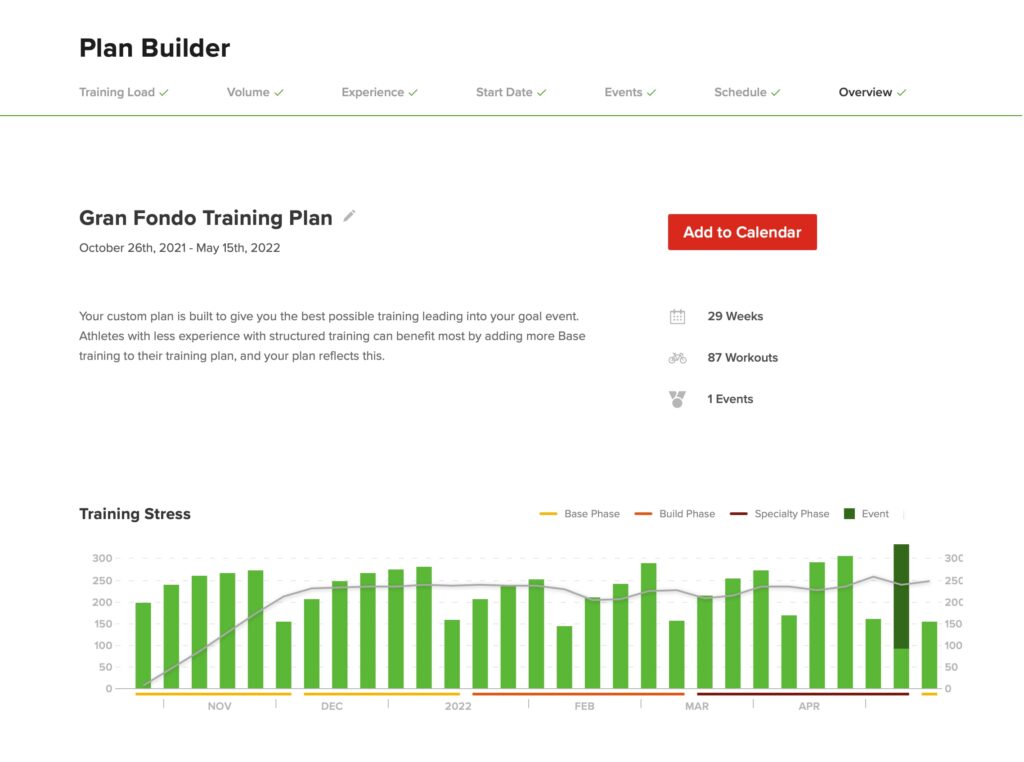 Every TrainerRoad training plan includes three distinct training phases that progressively develop your fitness. First, you'll start with Sweet Spot Base to build your aerobic capacity. Then, you'll work on improving your power with Sustained Power Build. Finally, you'll sharpen your event-specific fitness with our Gran Fondo Specialty Plan. With workouts that sharpen your power and endurance as well as the ability to handle hard surges, you'll be ready to impress at your next Gran Fondo.
Example Gran Fondo Workouts

Mount Hayes -2 targets sustained power. Endurance intervals in between offer limited rest, and are a good approximation of the type of micro-recoveries experienced during long periods of pack riding.

McAdie +1 nurtures your capability to handle changes in pace without reducing intensity. The "over" intervals flood your muscles with metabolic byproducts, while the "under" sections aren't easy enough to allow full recovery. This trains your muscles to process lactate buildup so you can ride harder, for longer.

Monadnock +2 uses repeated VO2 max efforts to develop both aerobic and anaerobic capacity. It replicates the surges in pace that often occur on rolling roads or in a fast-moving pack during a long event like a Gran Fondo.
5 Tips for Your First Gran Fondo
1. Pace Yourself
Because Gran Fondos are such long events, pacing is key. While there are likely to be some surges early on, your goal should be to conserve energy and ride as sustainably as possible. A great way to do this is with a pacing plan. By strategizing and developing a plan before your event, it's easy to hold yourself accountable on the road and to make sure you don't overdo it. And the fitter you are, the faster your sustainable pace will be.
2. Ride with Others
One of the best things about Gran Fondos is that no matter how fast you are, you'll almost always have other people to ride with. It's mentally uplifting, and over the course of such a long day, it can be a huge physical advantage. For this reason, basic pack riding skills are essential, and these are best learned through practice riding with friends or on the local group ride.
Essential skills include the ability to confidently shelter in a large group, as well as the know-how to smoothly and sustainably participate in pacelines. In a peloton, every rider is responsible for every other rider's safety, and by working cooperatively in this way you'll be able to sustain a dramatically higher speed for the duration of your event than if you rode alone.
3. Eat and Hydrate
For any event over an hour in length, nutrition and hydration can easily be the deciding factor. Gran Fondos certainly fall into this category, but it's easy to underestimate how much you actually need to ingest during an event. Much like pacing, it helps to develop a nutrition plan well in advance, so you can simply execute the plan on race day.
Nutrition begins well before your Gran Fondo begins. Eat wholesome carbohydrate and protein meals in the week leading up to your event, and add about 30g extra carbohydrate to each meal and 1200 mg extra sodium total the day before your race to top off your glycogen and hydration. Finally, on the morning of your event, eat a carb-centric meal, ideally 3-4 hours before you arrive at the start line.
During the event itself, aim to eat about 60-90g carbs per hour, and remember to take in plenty of fluids (ideally supplemented with electrolyte mix). Gran Fondos generally have multiple aid stations with a variety of food and drink options, and these offer a great opportunity to stock up and refill. Incorporate these aid stations into your nutrition plan, but don't limit your eating and drinking to these times. It's more effective to eat consistently than to stuff yourself at designated stops. And when you do stop, resist the temptation to rest for too long. The longer you stay off the bike at each aid station, the stiffer you'll be when you get back on the bike. 
4. Preview the Course
Take some time to preview the route. Of course, you don't need to pre-ride anything, but it can be incredibly helpful to see what your ride has in store. Most event organizers post a GPS file of the course. From there you can see any challenging climbs or descents. You can go a step further and use something like Google Maps and Street View to see if there are any tricky corners.
5. Check Your Equipment
A week or two before your event, go over the bike, or take it to a shop, to make sure that everything is in good condition and working properly. This is also a good time to make sure your gearing is the right choice for the course. On the morning of your event and before you head to the start area, do one last check to make sure you've got everything—bottles, food, head unit, sunglasses, and saddlebag.
Popular Gran Fondos
Gran Fondos are true destination events, with the combination of incredible scenery, full support, and healthy competition drawing riders from around the world. These are a few notable events that show how diverse the format can be.
Maratona Dles Dolomites
With 9,000 participants and crossing seven mountain passes, the Maratona Dles Dolomites is one of the largest and most iconic Italian Gran Fondos. The event occurs on fully-closed roads and is offered in 3 distances: the 138 km "Maratona", the 106km "middle" course, and the 55km "Sellaronda". Riders are timed for the entire event and there are both individual and team categories.
L'Étape du Tour de France
L'Étape du Tour de France occurs on a Tour de France rest day and follows the route of a mountain stage from the race. About 15,000 riders take to completely closed roads for this extremely challenging ride. Riders compete in two competitions simultaneously- overall finishing time, and a best-climber competition that scores 3 mountain ascents.
GFNY
From its beginnings as Gran Fondo New York, GFNY has expanded into an international event series, now encompassing 20 events around the world. Every GFNY event is offered in a long route (110-180km) and medium route (40-90 km). Both distances are timed, but the medium distance is non-competitive. The original NYC race is still held every May and serves as the world championship for the overall series, and it includes an iconic start on the George Washington Bridge.
Belgian Waffle Ride
The Belgian Waffle Ride is a brutal 137-mile race through the hills of Southern California. It's modeled after European spring classics, but features over 12,000 feet of climbing and 49 miles of off-road terrain for a uniquely contemporary twist. Many riders use gravel, cyclocross, or mountain bikes, but some competitors use standard road bikes (albeit with large tires). Each year the event has gained in popularity and now regularly attracts world tour racers. Smaller courses are offered, and two new Belgian Waffle rides have been added to the calendar in Cedar City, California and Asheville, North Carolina. 
Gran Fondo Hincapie
Hosted by former Tour de France pro George Hincapie, Gran Fondo Hincapie includes events in Greenville, SC, Fort Worth, TX, and Chattanooga, TN. Each event is offered in 3 distances, and includes a best climber competition and a full-distance overall prize. Gran Fondo Hincapie is especially known for its welcoming and festive atmosphere, with live bands at rest stops and complimentary food and drink.