We're excited to announce one of our biggest features yet – Plan Builder!
---
What is Plan Builder?
Plan Builder is an automated training plan creator that gives you a custom training plan built around your schedule and goals. Your custom plan will guide you through the ideal training phases, ultimately making your plan easier to follow and your training even more effective.
Plan Builder takes the guesswork out of choosing the right training plan by creating a custom plan that peaks your fitness for your goal event or discipline. Using your current training volume, when and how long you can train, the events in your training calendar, and the demands of your goal event, it builds the ideal training plan for you. And now with Adaptive Training, Plan Builder is even better.
---
Who is Plan Builder For?
Plan builder is for any athlete who wants to get faster. Examples of athletes that will benefit from Plan Builder include:
Road cyclists training for Criteriums, Road Races, Time Trials, Gravel Rides, and Gran Fondos
Off-road cyclists specializing in Cross Country, Cyclocross, Enduro, or Gravity
Triathletes peaking for any distance Triathlon, whether on- or off-road
Cyclists riding Stage Races in any discipline
Recreational riders hoping to improve and get faster on their own or for group rides
If you are planning to race, Plan Builder will use the demands of your goal events to design your training. If you are not a racer or not targeting a specific event, Plan Builder will structure your training towards your favored discipline.
Learn more about how non-racers can use and benefit from Plan Builder.
---
How to Use Plan Builder
Preparation
If you are in the middle of a training plan, you'll need to delete your current training plan, but don't worry, this won't remove any of your completed workouts in Calendar. If you haven't deleted a training plan from your Calendar before go ahead and check out this help center article on deleting plans: Delete a TrainerRoad Plan
Launching Plan Builder
Plan Builder is available on the web, as well as on our mobile and desktop apps. You can access Plan Builder from the Training Plans section of your TrainerRoad account or within the desktop app itself.
Step 1: Training Load
To help Plan Builder recommend a training volume, choose the amount of time that best reflects your average training load (on the bike), per week, over the past six weeks. This value helps determine which training volume is the best fit for you.
Step 2: Volume
Based on your current training load, Plan Builder will recommend a training volume. While we generally recommend that athletes choose the recommended training volume, if you feel that a different training volume suits your abilities and schedule better, you can adjust your training volume at your own discretion. You can always change your training volume down the road as well though, so no worries if you err on the side of caution when you choose your volume.
Step 3: Experience
After choosing your plan volume, Plan Builder will prompt you to choose the experience level that best reflects your experience with Interval training. This helps determine where Plan Builder should add or subtract training weeks when you have more or less time to complete an entire training progression. Additionally, based on your experience with interval training, Plan Builder can customize the weeks in your training to most effectively peak your fitness for your goal event.
Step 4: Start Date
A regular training progression takes about twenty-eight weeks, but with Plan Builder, you can start your training plan at any time. Plan Builder will strategically adjust your training plan so that you will have an ideal progression in your training plan for your goal event.
If you've already started training this season, and you've just deleted a training plan from your Calendar, make the day you started your current season of training your start date
Step 5: Events
Now it's time to add any A, B, and C events you plan on completing this season. If you already have events planned out on your Calendar, Plan Builder will take these into account and adjust accordingly. If you don't have any events on your calendar, you can add them now. If you don't have any events planned, you can always add them later.
While you can add multiple A events to your training plan, these events must be at least eight weeks apart. Anything less than eight weeks between goal events won't allow you enough time to recover and rebuild sufficiently to reach peak fitness once again.
If you aren't training for any specific events, that's okay! If you are just looking to improve your fitness, get faster and take advantage of structured training, Plan Builder will still build you a plan. On the Events page select "I'm Not Training For An Event" and then choose your primary discipline and the date you would like to end your structured training plan. If you don't want to choose an end date or you aren't sure when your training plan is going to end, you can skip this step, and Plan Builder will create a year-long plan. Click here to learn more about Plan Builder for non-racers.
Step 6: Time Off
With Adaptive Training, you can now plan vacation or time off with Plan Builder. When you add time off, Adaptive Training will automatically adjust your plan around it. Don't have anything planned right now? You can add anytime from your Calendar with an Time Off Annotation.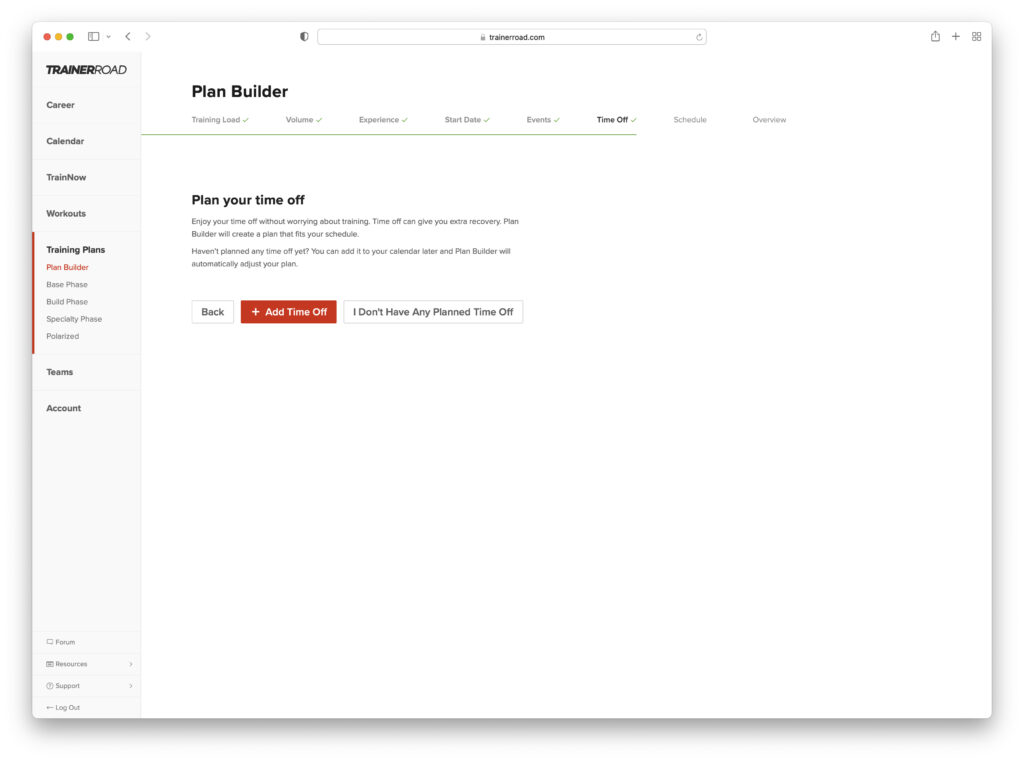 Step 7: Schedule
Now it's time to decide when and how you want to train! Drag and drop the scheduled days to decide which days you'd like to train. You'll be able to adjust your schedule as the season goes on so pick the days that fit your schedule most weeks.
During this step, you can also opt to make certain rides outside rides. If there are any workouts you plan on completing outside each week, go ahead and mark those workouts as outside rides.
If you want even more control over your schedule, you can adjust it uniquely for each training block. Simply click the switch to "Customize training days for each block" and drag and drop for each part of your training plan.
Step 8: Overview
Finally, take a moment to review your training plan and make any additional adjustments. You will be able to adjust your training plan down the road, but this offers a quick and easy way to make any big picture adjustments you'd like to add now.
---
Adjusting Your Plan
Volume
When you choose your training volume, Plan Builder will set all of your future training blocks to this volume. That being said, as you progress from one training block to the next, you can adjust your volume at any time to accommodate changes in your schedule or desired training load.
If you'd like to change your training volume for a certain block you can do this in the Overview tab before you add your training plan to your Calendar, or you can make this adjustment in your Calendar. Simply click on a training block annotation in your Calendar to adjust your training volume.
Inside vs. Outside
Every TrainerRoad workout has an outside-specific version that you can do outdoors on your head unit. This means your training weeks can be further customized by choosing which workouts you'd like to complete outdoors.
To do a workout outside, click the "outside" toggle on a specific workout and it will be automatically sent to your head unit next time it syncs.
Events
If you aren't sure you will be completing an event, or you plan on adding events down the road, no worries! Events can be adjusted and added at any time. When adding events to your training plan add as many C events and B events as you'd like.
Rest will be added before B events, and the B event will replace the workout scheduled on the day of the race. The C events will have no rest integrated, and will simply replace the workout in your training plan. The A events can be added to your plan at any time but must be spaced at least 8 weeks apart to account for the necessary time to recover and rebuild toward peak fitness.
You can add additional events to your training plan at any time and Plan Builder will recalculate your plan to accommodate these events. Feel free to add new events, or delete events you don't plan on completing to keep your training plan accurate.
Time Off / Illness / Injury
When you need to take time off, or unexpected obstacles take you off track, Adaptive Training handles it for you. Just click on your calendar, then select Time Off, Illness, or Injury. Finally, select the dates and click Add. You'll be prompted to adapt your plan to account for your time off the bike. For more information on how to add time off to your training plan check out our help center article.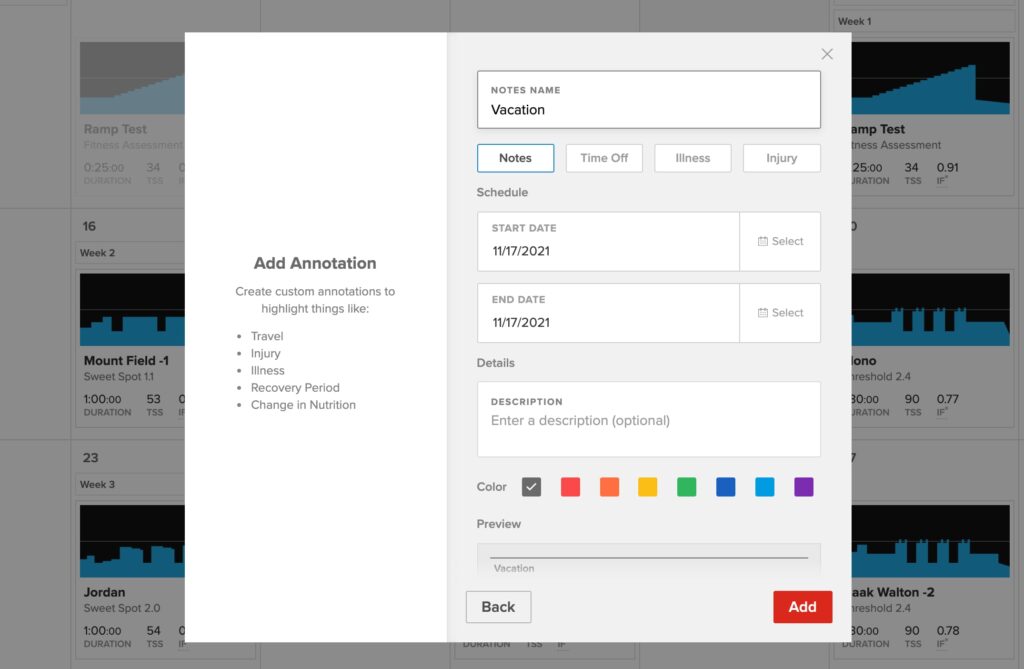 ---
FAQ
We've built up a full list of frequently asked questions in this Help Center Article. If you have more questions, reach out to our Support Team at Support@TrainerRoad.com
---
We strive for constant improvement here at TrainerRoad because we know you do the same with your training. Plan Builder is one of the biggest steps yet in our quest for constant improvement, and we're excited for you to use it to get faster!