It's fun to get faster. Whether you race or not, structured training is the most efficient way to reach your cycling goals. Get faster for local group rides, gran fondos, or simply improve your fitness with a science-based training plan.
For more information on training check out Ask a Cycling Coach Ep. 209.
---
---
Structured Training is for Any Cyclist
Becoming a faster cyclist is not always about racing. You might want to get fitter, lose weight, or prepare for a cycling event. Whatever your goal, structured training provides benefits for all cyclists. In addition to improving your fitness, the right structure has other upsides. It provides direction while increasing your strengths and targeting limiters.
Additionally, structured training does this in a time-efficient manner. With career and family responsibilities, many of us are limited in the time we can spend on the bike. The great thing is that you can see fitness gains from structured training with as little as three hours a week.
How Structured Training Makes You Faster
To become a faster cyclist, there's an optimal, science-backed training process to follow. Structured training is a process by which you train specific energy systems while progressively stressing your body. As a result, you gain performance-boosting adaptations which increase your FTP, VO2 max, and muscular endurance.
Structured training begins with a plan and uses specific power-based workouts that are designed to make you faster in the most effective and time-efficient way. Using your current capabilities, every workout is tailored to your particular needs. But structured training is more than just repeating the same workout. The best plans progressively add more to your workouts, while giving you the rest needed to recover and adapt.
In contrast to structured training, the alternative is to ride a lot. No doubt, you can get fitter by just riding your bike. But sooner rather than later, just riding your bike will not provide enough stimulus, and you'll hit a plateau. Structured training provides the right workouts at the right time, so you can break through and reach your goals.
Adaptive Training
Get the right workout, every time with training that adapts to you.
Check Out TrainerRoad
How to Start Structured Training
Getting starting is easy. The first thing you'll need is a training plan and then a way to complete workouts. Using Plan Builder and the equipment you already have, you'll be ready to get faster in no time.
Plan Builder
The best way to start is by creating a customized training plan with Plan Builder. By using how much you ride, your experience, and the reason you are training, Plan Builder will create the perfect plan for you. The plan you create is the roadmap to reach your goals. Let's take a look at a few examples.
No events
In this example, Greg only wants to train 3-4 hours per week, doesn't have a specific goal event, and is new to structured training. Because he lives in a hilly area, Greg selected the rolling road race as his focus. This will help him punch up the steep hills and have the strength to ride further. Because there isn't an event, Plan Builder has created a year-long plan.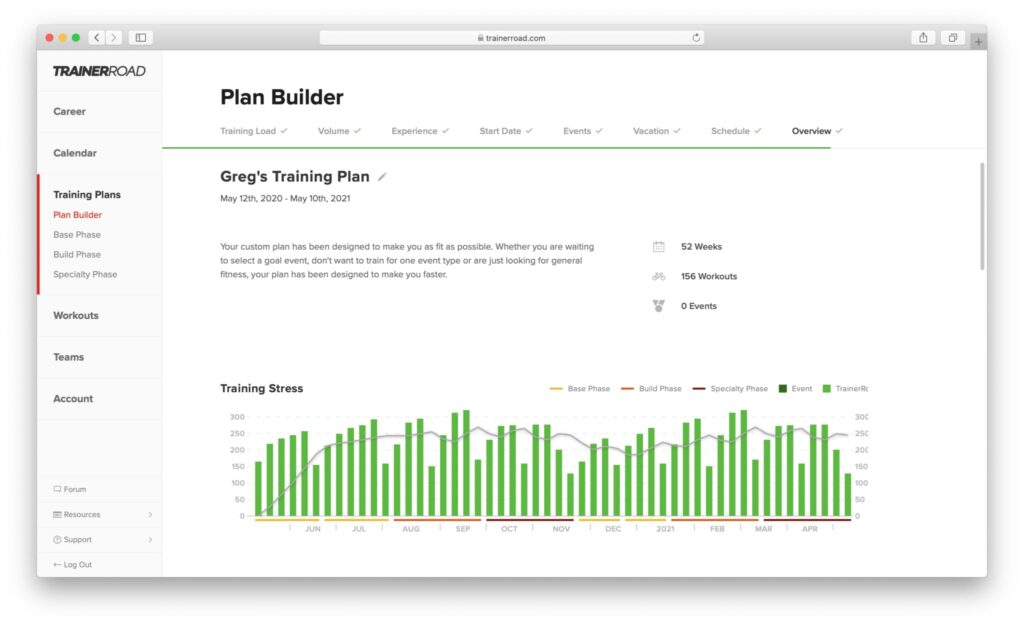 Century
Natalie has signed up for a century ride five months away. She has been riding about 8 hours per week and has some experience with structured training. Plan Builder has created a plan that will make sure she has the base fitness needed for her event.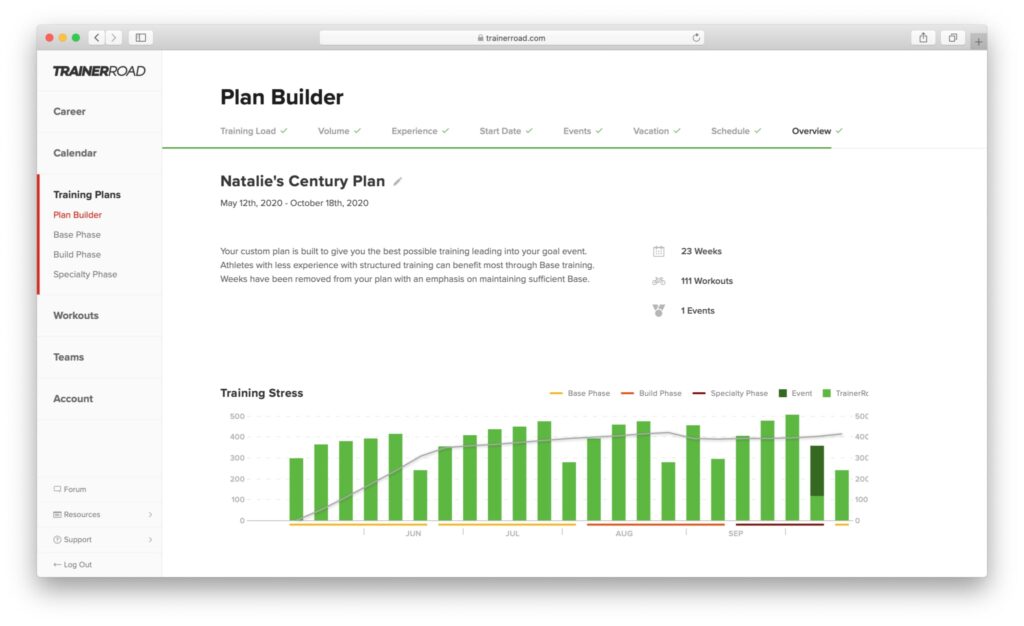 Group Rides
Michelle doesn't have a big event but wants to get faster for the local group rides. She has time to train about 6 hours a week and has some experience with structured training. She wants to reach peak fitness for the last month of the summer group rides. Plan Builder will incorporate her weekly group rides into the training plan.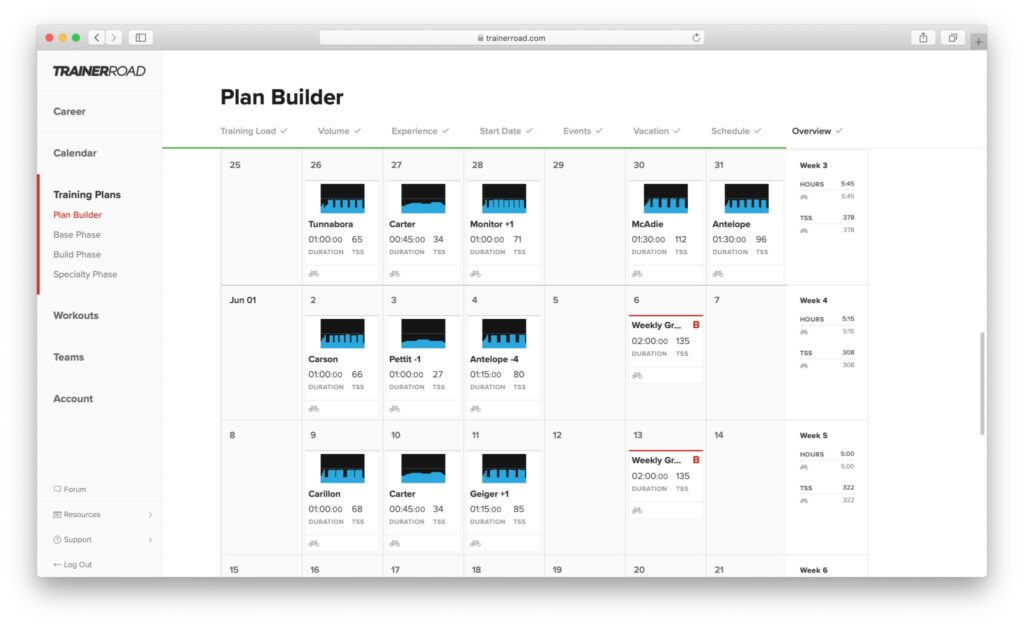 TrainNow
Don't feel ready for a training plan? TrainNow gives you the power of structured interval workouts, even if you aren't following a training plan. Powered by Adaptive Training, TrainNow intelligently recommends the right workout, every time, so you can train how and when you want.
Using machine-learning, Adaptive Training analyzes your training history and tracks your fitness, then TrainNow recommends workouts in three different categories—Endurance, Climbing, and Attacking. Endurance workouts are low-intensity rides designed to improve your aerobic fitness, while the Climbing ones are all about sustained power and include sweet spot and threshold work. Finally, Attacking workouts are high-intensity workouts that focus on VO2 max and anaerobic zones.
Completing Structured Workouts
With a training plan or TrainNow, you can complete workouts inside, outdoors, or with your friends. All three ways will ensure you are getting the most effective and efficient training.
Outside Workouts
TrainerRoad's Outside Workouts allow you to take your structured training plan outside so you can stick to your plan, wherever you are, with workouts optimized for outdoor conditions. Using your Wahoo or Garmin devices, all you need to do is click on a workout on your calendar, select Outside, and then save. Your workout is then ready to be sent to your device.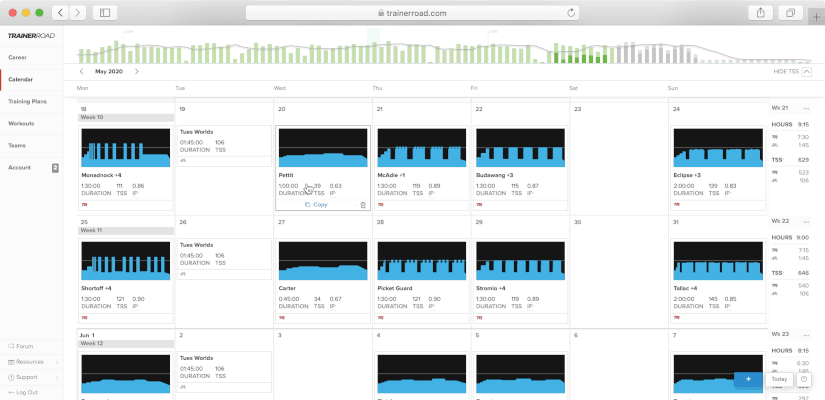 Indoor Workouts
Training indoors is convenient, especially when the weather or your schedule won't allow for a ride outdoors. There's some equipment that you will need and some items that will help maximize your hard work. At the very least, you need a bike, trainer, sensor, and a device to run the TrainerRoad app. You can find out more about getting starting with indoor workouts in the Beginner's Guide to Indoor Cycling Training.
Group Workouts
Train with your friends in a Group Workout. You and your friends can do the same indoor workout while sharing voice, video, and data to have a built-in support system and extra motivation to nail your workouts. Doing a Group Workout helps you get through the tough workouts and makes the time fly by.
Whatever your goals are structured training with TrainerRoad can help make the most of your hard work. To learn more about structured training check out Training Plan Guide: How to Coach Yourself to Peak Fitness.
---
For more cycling training knowledge, listen to Ask a Cycling Coach — the only podcast dedicated to making you a faster cyclist. New episodes are released weekly.