Getting started with indoor cycling training is easy. With plenty of options to choose from, you'll be ready to ride in no time. Here are our recommendations for the best indoor cycling training setup that meets your budget.
For more training tips check out Ask a Cycling Coach Ep 253.
---
---
Choosing the Best Indoor Trainer for You.
Before you start training indoors, there's some equipment that you will need and some items that will help maximize your hard work. At the very least, you need a bike, trainer, sensor, and a device to run the TrainerRoad app. The choices for a trainer and sensor will depend on your budget, but the good news is that there are plenty of options.
Entry-Level Trainers
The lowest cost indoor cycling setup is to use VirtualPower with a trainer and a speed sensor. That way, you can get the benefits of power-based training without the cost of a power meter or a smart trainer. VirtualPower supports nearly every trainer on the market. Check out our equipment checker to see if it's supported.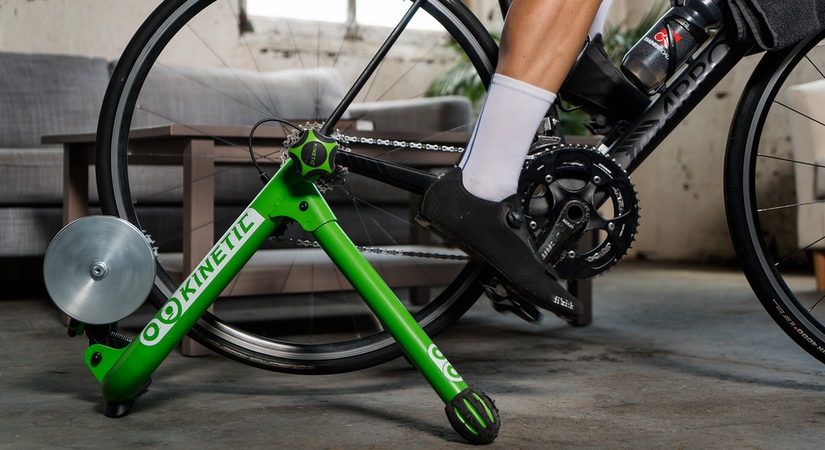 Two of the best indoor cycling trainers are the Kurt Kinetic Road Machine and the Cycleops Jet Fluid Pro. However, these aren't being produced anymore, so you'll need to find them on a secondary market. Without a smart trainer, you'll also need a Bluetooth speed sensor for the rear wheel. Here are our recommendations for the best entry-level setup.
Kurt Kinetic Road Machine Smart 2
Feedback Sports Omnium Over-Drive (Great if space is an issue)
Garmin Speed Sensor 2
Indoor Training
Make the most of your hard work with an optimized indoor training experience.
Check Out TrainerRoad
Mid-Level Options
The best indoor training setup for a mid-level budget is one of the trainers listed above and a power meter. This is a lower-priced option if you already have a trainer. Buying both a trainer and power meter will cost more, but the versatility allows you to take your training outdoors with Outside Workouts.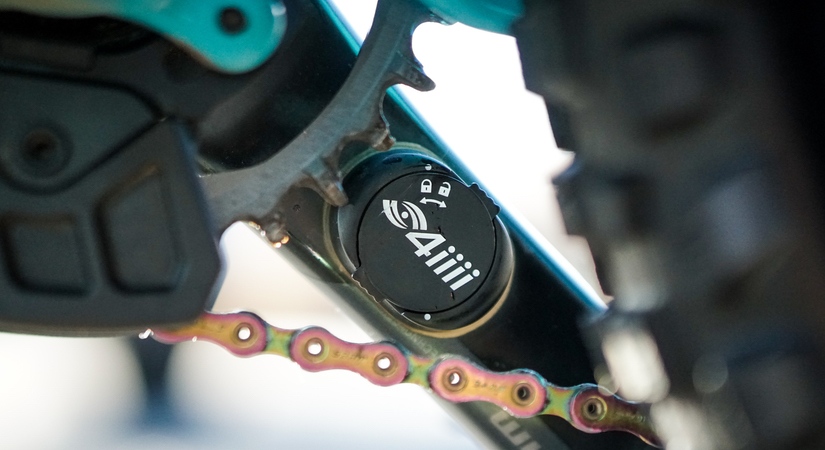 Two of these power meters are single-sided and installed on the crank arm, while the Assioma Uno is a pedal-based power meter. Many companies will install it on your existing crank arm. Just make sure it will clear the chainstays on your bike. You can check with the manufacturer for frame compatibility information.
Stages Gen 3 Power Meter
4iiii Precision Power Meter
Assioma Uno
High-End Indoor Trainers
For the best indoor training setup, a smart trainer is the way to go. While these trainers are the most expensive, they measure cadence and power. Smart trainers automatically control the resistance based on your cadence, so you won't have to worry about shifting to hit your power target.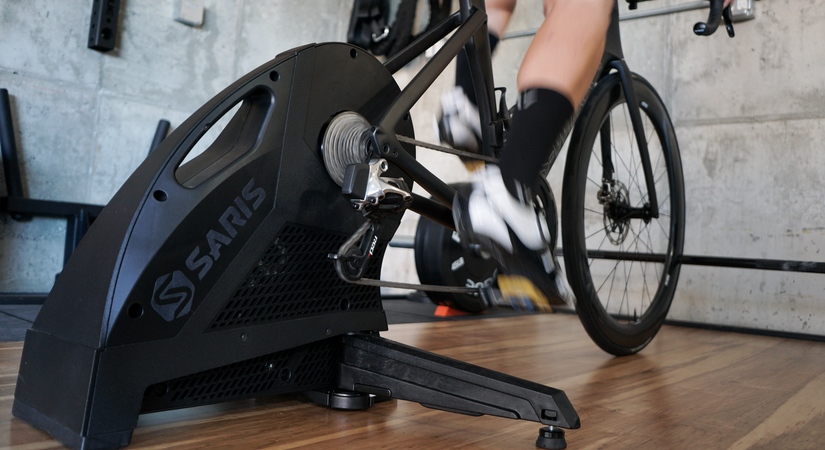 These recommended smart trainers are direct drive, meaning you remove the rear wheel from your bike. Direct drives are almost silent, and you won't have to worry about the rear tire slipping. You may want to get an extra cassette so you won't have to swap it back and forth between your wheel and trainer. It's a good idea to first check with the manufacturer to make sure your bike is compatible.
Saris H3
Tacx Neo 2T
Wahoo Kickr
Setting Up Your Indoor Training Space
Your indoor cycling space doesn't have to be glamorous. It just needs to be functional and convenient. This will help make your training more comfortable and practical. Here are some tips for setting up your indoor training space.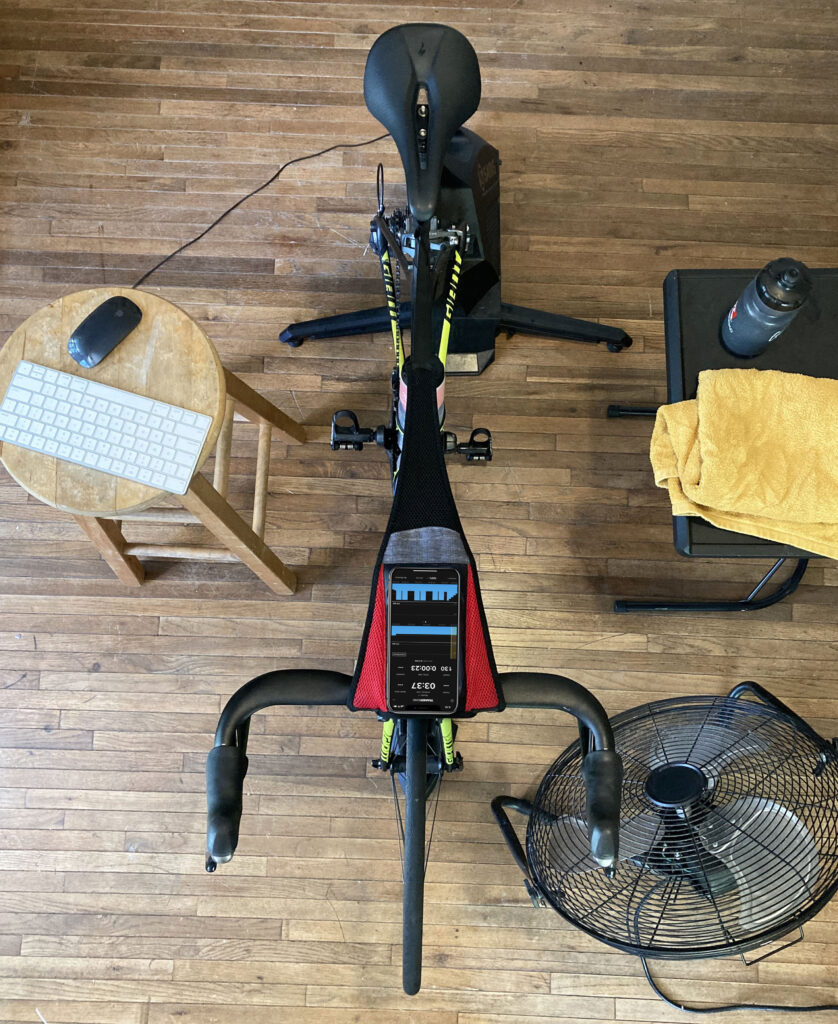 Make It Convenient
One of the most significant advantages of indoor cycling training is that it's efficient. If possible, keep your bike on the trainer, with everything you need to get started for your next workout—bottles, nutrition, and towels. Keeping your training setup convenient will not only save you time, but it helps remove barriers keeping you from the workout.
Make It Comfortable
One of the most overlooked aspects of indoor cycling training is cooling. Even during easy endurance rides, your body produces a massive amount of heat. Overheating not only makes for a miserable time, but it seriously hampers your performance. While any fan will be better than none, we recommend getting a pivoting blower fan like this one. These types of fans provide a focused beam of fast-moving air. You can go a step further and use these remote outlets for convenience.
Make It Accessible
It can be frustrating to get off your bike in the middle of an interval because something is out of reach. Setting up a table or desk to hold your stuff is a great idea. Make it close enough so that you can easily reach it from the bike. It's helpful to put an extra bottle, towel, and nutrition on it.
There are plenty of trainers and setups you can use with TrainerRoad. The best indoor trainer for you will depend on your needs and budget. If you are just getting started with indoor training, check out our beginner's guide for quick tips that will help you nail your workouts.
Indoor Training Accessories and Equipment
There are plenty of indoor training accessories. You'll want to make sure to budget for some accessories that can improve your indoor training experience. Since you don't get a breeze during an indoor workout, a good fan and few gym towels go a long way in keeping sweat off your bike. Here are some of our favorites for every budget option that will make your training more enjoyable.
Low-Cost Accessories
Yoga Sweat Towel
Remote Power Outlets
Universal Phone Adapter
Mid-Level Accessories
Trainer Mat
Lasko Pro-Performance Fan
High-End Accessories
RAD Trainer Desk
Jaybird X4 Bluetooth Earbuds

Tips for Entertainment
The right entertainment can help make your indoor workout seem a little easier. Whether it's some music, a podcast, or your favorite TV show, entertainment provides both motivation and distraction. Try incorporating more involved entertainment options like your favorite movie or TV show during the easier aerobic workouts. Heck, even some athletes play video games during easier ones.

For those especially tough workouts having some good music can motivate you to dig deep. We've made some playlists on Spotify, but you can use your own! If you are going to use headphones, we recommend ones that have an IPX7 rating or higher to keep out the sweat. You can pair music with some of the great race analysis videos from our YouTube channel.
Five Indoor Training Tips
3-4 hours before your workout, eat high-quality carbohydrates to fuel up.
Use a good fan, and position it to cover the maximum surface area of your body.
Set up some entertainment in the form of music or videos.
Drink up! Aim for at least one bottle an hour.
Fuel during the workout. This can be as simple as eating a gel or drinking a sports mix.
---
For more cycling training knowledge, listen to Ask a Cycling Coach — the only podcast dedicated to making you a faster cyclist. New episodes are released weekly.
---
---
---