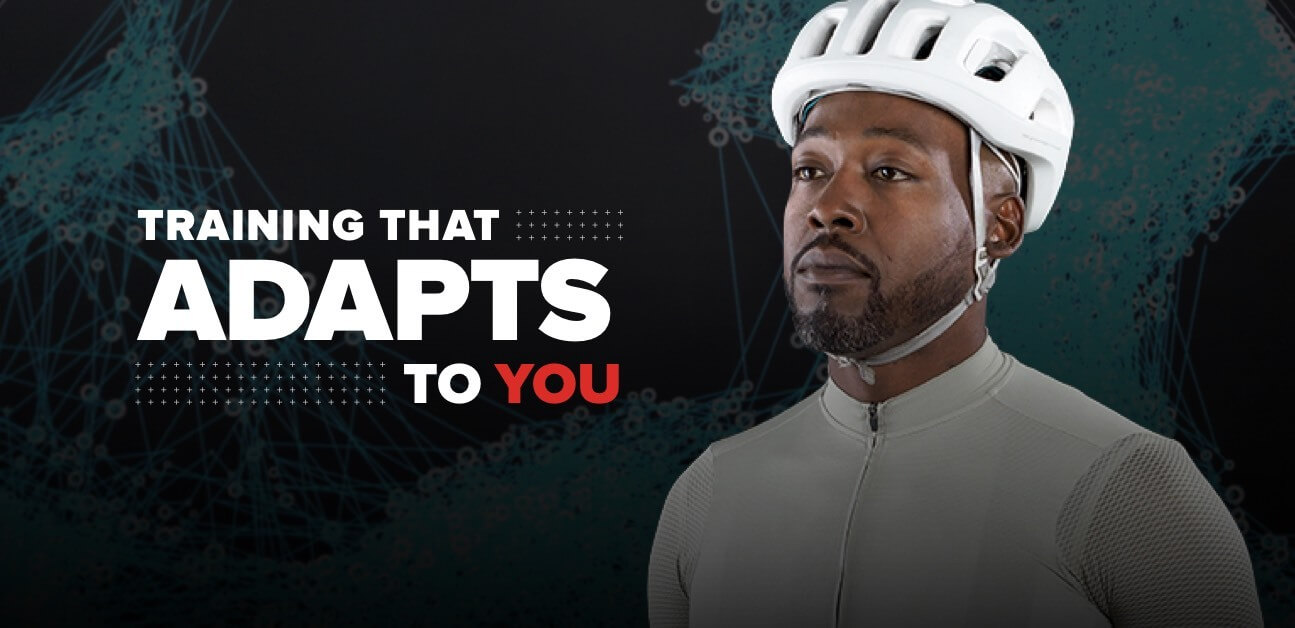 Have you ever wished TrainerRoad could actively respond to your unique strengths, weaknesses, and scheduling needs, to train you as an individual and make you faster? Now it can!
Introducing Adaptive Training, the biggest update ever to TrainerRoad. Adaptive Training uses machine learning, science-based coaching principles, and an unprecedented data set to train you as an individual and make you a faster cyclist.
---
What is Adaptive Training?
Adaptive Training is TrainerRoad's revolutionary new system designed to help you train more effectively than ever before, with training that responds directly to your needs and abilities.
If you're on a training plan, Adaptive Training updates your plan each day in response to your performance and schedule. Whether you have a breakthrough ride or take time off due to life events, your next workout will always be the right one for you and your goals.
If you're not on a training plan, Adaptive Training offers new insights into your relative abilities and new ways to track your growing fitness. It also helps you choose the best individual workouts, so you can get the biggest results from your hard work.
Who is Adaptive Training For?
Adaptive Training is for any cyclist who wants to get faster, regardless of discipline or experience level. Whether you're a seasoned racer training at high volumes or a time-crunched hobbyist targeting the weekend group ride, Adaptive Training can help you improve with truly personalized training.
How does Adaptive Training Work?
Adaptive Training begins with a quick Ramp Test to determine your FTP. The Ramp Test is the only test you ever need to assess your fitness. Adaptive Training automatically does the rest.
As you train, Adaptive Training analyzes how successfully you complete workouts in each training zone. The results are expressed in a new chart we call Progression Levels. Progression Levels are measured from 1-10 and track your growing fitness across each training zone.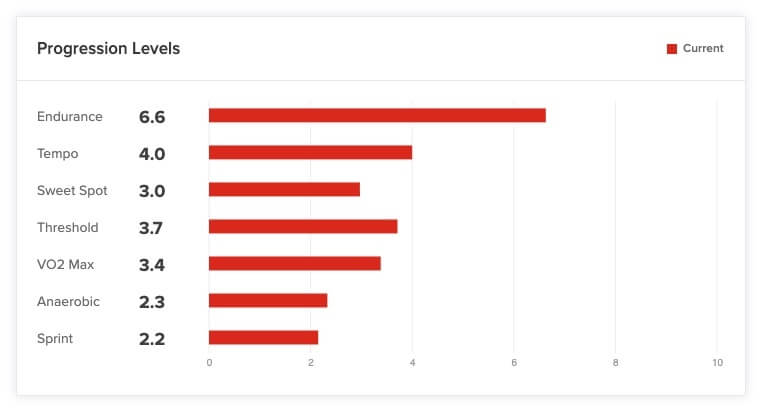 Every TrainerRoad workout is also assigned a workout level, expressing relative difficulty within the workout's training zone. For instance, a Threshold 4.0 workout is more challenging than a Threshold 3.0 workout but easier than a Threshold 6.0 workout.
Comparing a workout's level to your progression Level in its training zone shows how hard the workout will be for you to complete. For example, if your Sweet Spot progression level is 3.0, a Sweet Spot 8.0 workout will probably be too tough, while a Sweet Spot 3.2 workout will be challenging but doable. This relationship is shown as a Difficulty Level displayed for each workout. Difficulty levels range from Recovery, Achievable, and Productive, up to Stretch, Breakthrough, and Not Recommended.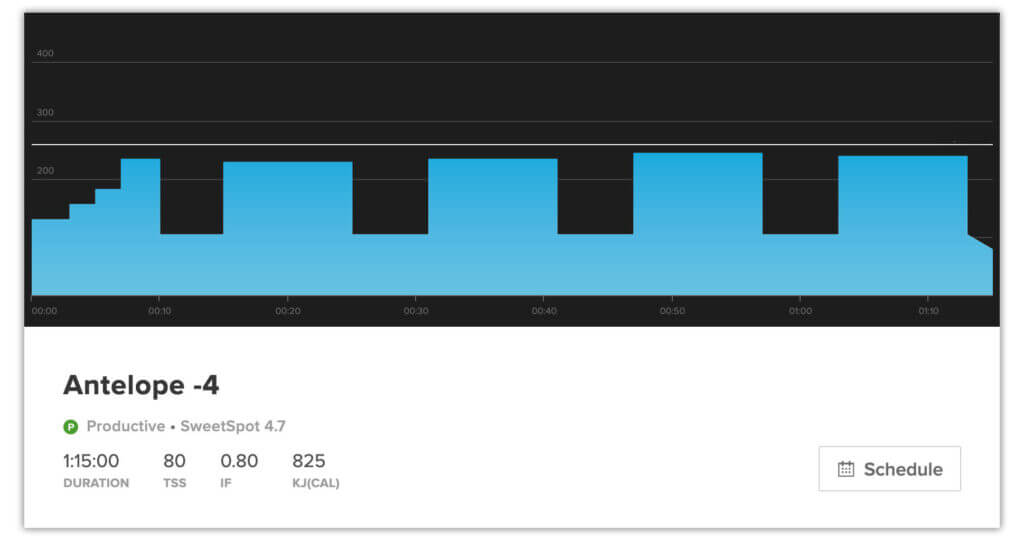 The Right Workout, Every Time
Each time you complete a workout, Adaptive Training adjusts your Progression Levels and suggests changes to your upcoming training plan, so every workout matches your new Levels. For example, if you struggle with a VO2 max workout, your VO2 max progression level will slightly decrease and your upcoming VO2 max workouts will be made a bit less intense.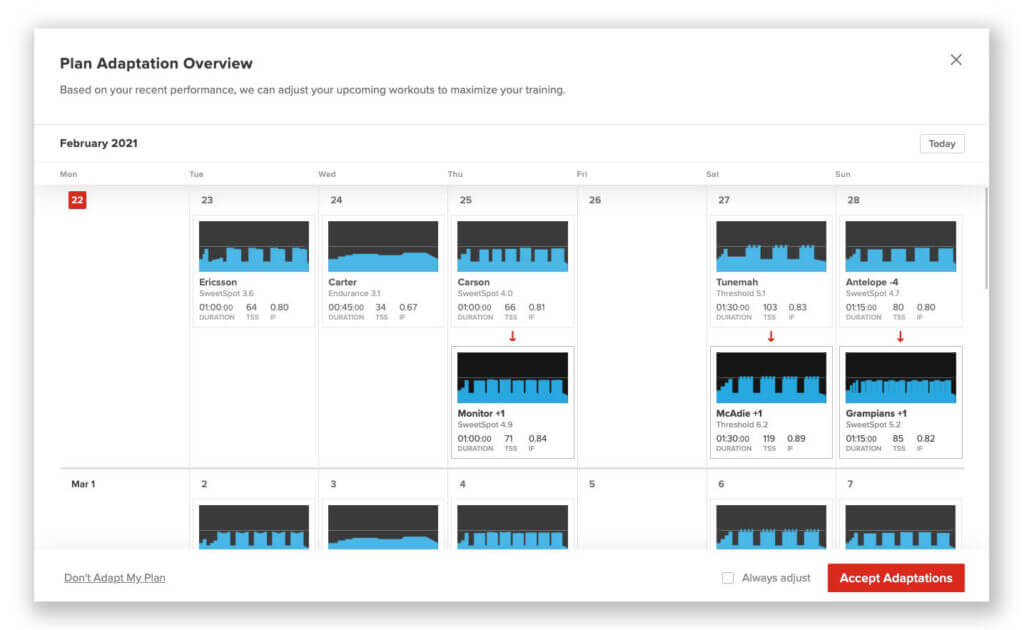 On the other hand, if you easily complete a Threshold workout, your Threshold Progression Level will increase, and your plan will choose upcoming workouts in this zone that are a little more challenging. Your training will always match your needs, more closely than ever before.
Keeping Pace With Your Fitness
As your fitness improves using Adaptive Training plans, you'll periodically take a Ramp Test to reassess your FTP, just like you do with existing TrainerRoad plans. Your Progression Levels automatically adjust any time your FTP changes, so your upcoming workouts always keep pace with your fitness. There's no longer a reason to fear your first few workouts after an increase in your FTP because they'll be a little easier to help you adjust.
If you've ever felt like the Ramp Test under- or over-estimates your abilities in certain zones, Adaptive Training offers the solution. While your Progression Levels all scale down after an FTP increase to ease you into more intense workouts, the relative difference between your Progression Levels is preserved after a ramp test. This means you'll still get easier workouts in zones you find more challenging, and tougher workouts in zones that naturally suit your strengths.
Working Around Time Off and Scheduling Changes
Adaptive Training also responds to interruptions in your schedule. If you miss a workout, your training plan automatically adjusts to keep you on track towards your goals. And if real life forces you to take a longer block of time off, your Progression Levels automatically decrease, easing your transition back with easier workouts. If you've ever been unsure of how to adjust your training after taking a break, Adaptive Training is the answer.
What If I'm Not on a Training Plan?
Every athlete can use Adaptive Training's revolutionary features to get faster. No matter how you train, Progression Levels quantify your relative abilities and keep tabs on your changing fitness.
The insights of Progression Levels are also used to power TrainNow, an all-new feature that recommends individual workouts for athletes without a training plan, or who want to supplement unstructured riding. It's the perfect way to train on your terms, with the added power of Adaptive Training.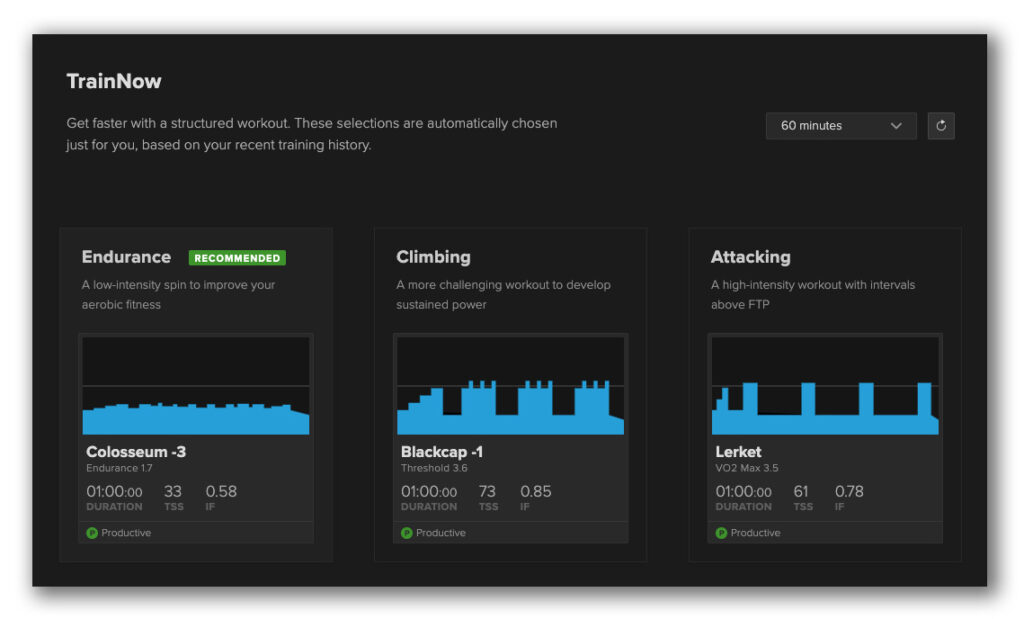 How Can I try Adaptive Training?
Adaptive Training is now available to all TrainerRoad athletes. Any training plan created with Plan Builder or added from our existing collection of machine learning-optimized plans has full Adaptive Training functionality. If you have an existing non-adaptive training plan on your calendar, you'll receive a popup announcement guiding you through the steps to enable it to receive adaptations.
If you prefer not to follow a training plan, TrainNow uses the insights of Adaptive Training to recommend individual workouts each day. It's a smarter way to choose workouts as you go, and is great for athletes with complicated schedules or those who don't want to train for a specific event or discipline.