Even the best training plan doesn't instantly account for your individual strengths, preferences, and scheduling challenges. Until now. Adaptive Training accounts for all of these variables, and more, to help you become a faster cyclist. Grow your strengths, target your limiters, and get back on track after training interruptions with Adaptive Training.
To get started training with Adaptive Training, click here.
---
What is Adaptive Training?
Adaptive Training is an intelligent training system that customizes your training in response to your performance in workouts, schedule adjustments, and Ramp Test results. With active adjustments to the progression of your training plan, Adaptive Training ensures that you make the most of every workout and that your training is the perfect fit for you and your goals.
With improvements to how you train, plan, and analyze, Adaptive Training will help you get faster every step of the way. To get things started, here are three ways Adaptive Training elevates your training experience to help make you a faster cyclist.
Grow Your Strengths and Target Your Limiters
Every athlete has their own set of strengths and limitations on the bike. Some athletes might struggle with short-powered VO2 max workouts while others may find long Sweet Spot intervals to be especially tough. Adaptive Training tracks your performance in each workout across all seven training zones to help you build your strengths and address your limitations with the right adjustments.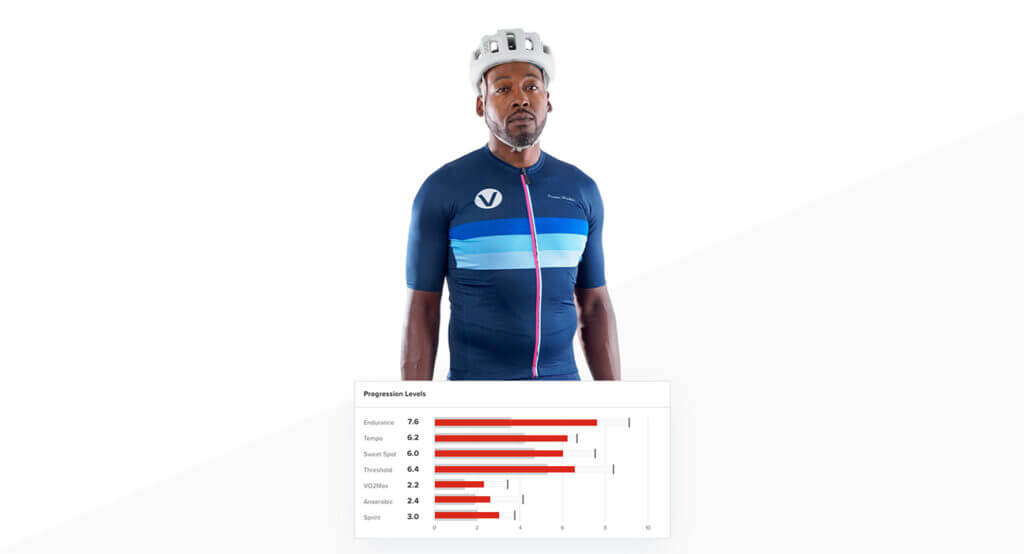 ---
James is an off-road athlete training for the Epic Ride Series next year. While James excels at long climbs and sustained power outputs, he struggles with the high intensity in VO2 max workouts. Though the Epic Ride races are longer events, James wants to grow his short power capabilities to navigate the variable off-road terrain.
When James can't complete all of the intervals in a VO2 max workout, Adaptive Training responds. Adaptive Training adjusts his Progression Levels and the future VO2 max workouts in his plan so that they are more in line with his current abilities.
Grow Your Strengths
Meanwhile, all of the sweet spot training and threshold work he's been excelling at remains unchanged. With VO2 max workouts that are a match for his abilities, he can challenge his skills more sustainably in this zone while continuing to progress his sustained power strengths. As he progresses through subsequent VO2 max workouts, Adaptive Training will continue to adjust future workouts based on how he handles those workouts. 
When you complete workouts Adaptive Training uses the data from that workout to improve your training progression and keep your workouts in alignment with your developing abilities. These adjustments don't just happen behind closed doors, though. Adaptive Training keeps you up to date with your progress using Progression Levels.
Watch Your Abilities Develop With Your Training
Adaptive Training uses Progression Levels to quantify your current abilities in all seven power zones: Endurance, Tempo, Sweet Spot, Threshold, VO2 Max, Anaerobic Capacity, and Sprint. Adaptive Training uses the data from every workout you complete to adjust your Progression Levels. You can use your Progression Levels to identify your strengths and limiters and understand your abilities as they change.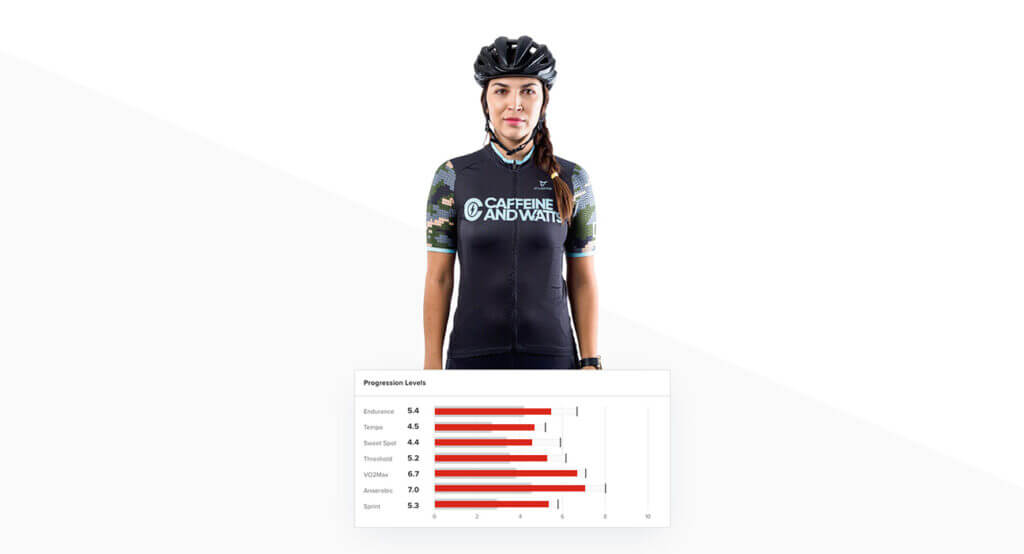 ---
Kate is following a training plan to prepare for a local Criterium series. As she progresses through her Adaptive Training plan she's been able to see solid improvements across several training zones. With a comprehensive and data-driven understanding of her progress in each power zone, Kate has a more accurate perception of her abilities. Furthermore, when she compares her current Progression Levels to her upcoming workouts she can see how her Adaptive Training plan is progressively challenging all of her relevant skills.
Updated With Every Ramp Test
After Kate finishes a block of training she takes a Ramp Test to assess her FTP. The test assesses her new FTP to be 8 watts higher than her previous FTP. Because Kate's FTP increased, her Progression Levels will now decrease in proportion to the FTP increase. This ensures that the workouts in her plan aren't too challenging with the new bump in FTP but that they still remain tailored to her unique abilities.
Even if Kate feels that the Ramp Test has underestimated or overestimated her abilities in some areas, Adaptive Training's continuous adjustments will account for any differences between training zones. As she continues to train, Adaptive Training will use the performance from her workouts to adjust so that she gets the right workout for her goals.
Easy Planning on the Fly
Every athlete runs into training interruptions at one point or another. When you miss a workout, or an unexpected setback forces you to take time away from the bike, Adaptive Training adjusts so that you can get back on track without wasting time on unproductive workouts.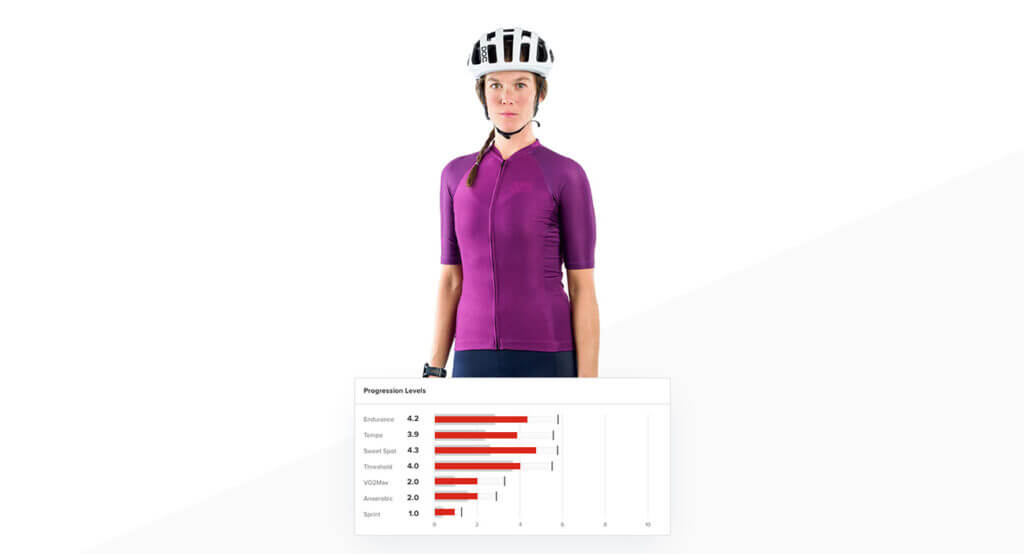 ---
Sam is following a TrainerRoad training plan to prepare for Unbound Gravel later this year. Trouble is, with a busy personal schedule, Sam isn't always able to complete her scheduled workouts. When life gets in the way and she misses workouts in her plan, Adaptive Training is there to help her get back on track.
When Sam returns to training after missing two weeks of her training plan she doesn't have to worry about where to start or what to do. Adaptive Training automatically lowers her Progression Levels and recommends workouts based on her new levels. Now, all Sam has to do is complete the next workout in her pan to the best of her abilities. If the workout is manageable for Sam, Adaptive Training will keep her on track with this new progression. If the workout is too challenging and Sam struggles to finish it Adaptive Training will adjust Sam's future workouts so that she can continue to progress forward. As she continues to train, Adaptive Training will continue to adjust. If Sam ends up missing more workouts, Adaptive Training will be there to respond so that she can keep getting faster with the time that she has.
You Train and Adaptive Training Handles the Rest
Adaptive Training takes care of the details so that you can focus on getting faster. With the time and energy, you'll save with Adaptive Training, you can use to get better at fueling your workouts, focusing on recovery, and perfecting your race craft. At the end of the day, you have a limited amount of time to become as fast as possible—Adaptive Training allows you to get the most out of every workout you do.