There is a new way to train on your terms with the power of Adaptive Training, and it's available today! TrainNow gives you the flexibility to complete structured training, when and how you want, with intelligently recommended workouts. However you want to ride, TrainNow can help you get faster. You can easily access TrainNow in the main menu on all TrainerRoad platforms.
---
---
Note: Since this post was originally written, we've updated TrainNow to be smarter and more useful. Learn more here.
Why Should I use TrainNow?
TrainNow is the easiest way to get the benefits of structured workouts when you're not following a training plan, or when you want to supplement what you already have on the calendar. Powered by Adaptive Training, TrainNow gives you the right workout, every time, even if you're not following a training plan.
Adaptive Training
Get the right workout, every time with training that adapts to you.
Check Out TrainerRoad
Who Can Benefit From TrainNow?
Any cyclist can use TrainNow to get faster. More specifically, we designed this feature as an easy solution to take advantage of power-based interval training—when and how you want. Instead of endlessly scrolling through workouts looking for the right one, TrainNow recommends workouts based on your current fitness abilities.
Don't want a set training schedule? Or, are you new to indoor cycling training and don't feel ready for a training plan? TrainNow will help you harness the power of structured interval workouts. Even if you are following a training plan, you can supplement your unstructured outdoor riding or add an extra workout to a lower-volume plan.
How does TrainNow work?
TrainNow isn't a random selection of workouts. Using machine-learning, Adaptive Training analyzes your training history and tracks your fitness with Progression Levels. Progression Levels are unique to you and quantify your fitness across each training zone. Every suggested workout is based on your Progression Level, which ensures that you get the right workout, every time.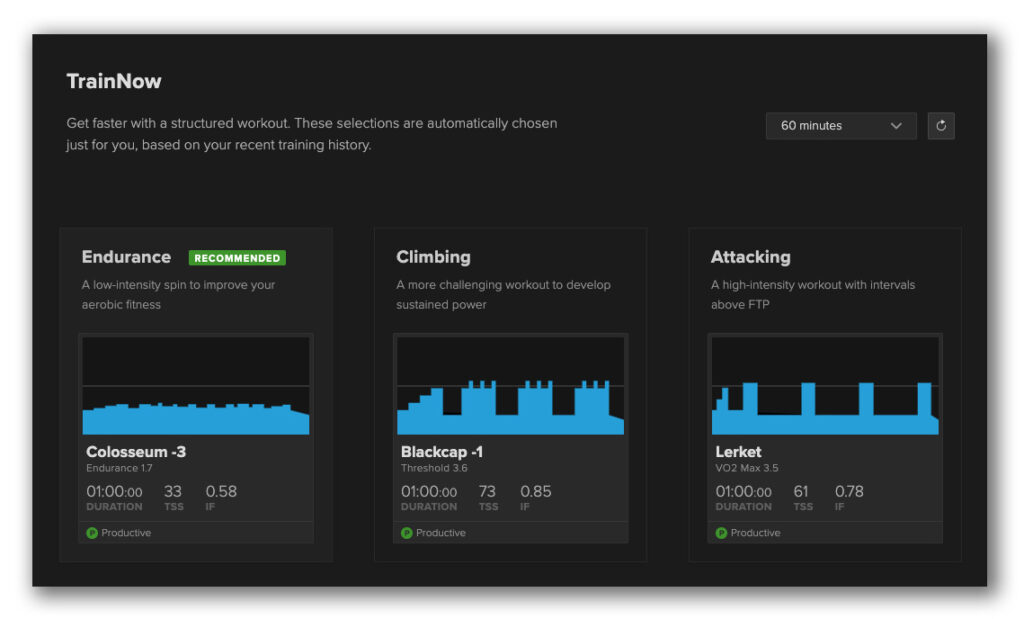 TrainNow automatically suggests workouts in three different categories—Endurance, Climbing, and Attacking. Endurance workouts are low-intensity rides designed to improve your aerobic fitness, while the Climbing ones are all about sustained power and include sweet spot and threshold work. Finally, Attacking workouts are high-intensity workouts that focus on VO2 max and anaerobic zones.
Recommended Workouts
Each day, TrainNow highlights one of its three workout categories with a "Recommended" label. The recommendation is based on the intensity and stress of the recent rides and workouts you've completed. It's not intended to replace a training plan, but it's a quick and simple way to make sure you're completing a sustainable mix of workouts.
How Can I Use TrainNow?
You can access this feature in the main menu of the desktop app or mobile app, as well as on TrainerRoad.com. If you aren't following a training plan, TrainNow will be the default screen when opening the app.
TrainNow gives you three recommendations, but you can hit the shuffle button to get different suggestions—all based on your Progression Levels. The default duration is 60 minutes, but you can select workouts from 30 minutes to 2.5 hours. It automatically puts a "recommended" label on one workout, based on your recent training volume and intensity.
How is TrainNow Different From A Training Plan?
The most significant difference between TrainNow and a training plan is the principle of progressive overload. A TrainerRoad training plan is built to progress you through the Base, Build, and Speciality Phases. Each phase is both progressive and periodized, including loading and recovery weeks. That way, you strengthen the specific fitness you'll need for a goal event.
TrainNow, on the other hand, isn't periodized—meaning that it's not necessarily progressive and doesn't include rest days or recovery weeks. If you are training for a specific event or type of fitness, we'd recommend using Plan Builder. However, if you don't want to start a training plan or just want to supplement your other riding, TrainNow is the way to go.