Lydia Gould, a 64-year-old cyclist with a history of impressive accomplishments, thought she was "too old to improve" before she signed up for TrainerRoad. But over three months, she raised her FTP by thirty watts, turned VO2 Max work from a weakness into a strength, and added more race victories to her resume.
---
Share your success story and tell us how TrainerRoad helped you reach your goals.
---
Experience in Endurance Sports
Lydia was always active as a child yet found traditional ball sports uninteresting. What she did love was running and riding her bike for fun. Lydia discovered that she was a natural runner during her teen years, which further increased her love of the endurance sport.
But it wasn't until she was a university student that she began competing. Lydia participated in a fun run and surprisingly placed second. Two years later, she began serious training and racing on both the track and road. She continued to run for another 29 years, competing in all distances, from 1500 meters to ultra-marathons.
From Running to Cycling
Lydia enjoyed riding a bike for fun, and that was about it. When considering serious cyclists, she thought, "why would you ever want to do that?" But like many runners that transition to cycling, an injury lead her to the bike.
After an Achilles tendon injury, a friend suggested that she try time trials to recover. She began with a touring bike and competed in shorter time trials. But Lydia quickly realized that she hated it because of the hills. Lacking the proper gearing, she would mash a large gear and thought she would never be a cyclist. But that quickly changed.
Finding Success in Cycling
Lydia continued searching for a cycling discipline that she enjoyed. She did a few triathlons but hated being cold from the swim leg. With the explosion of the mountain biking scene, a friend suggested that she get a mountain bike. Lydia bought a fully rigid mountain bike second-hand.
Finally, Lydia had discovered a cycling discipline that she enjoyed, although she quickly realized that her technical skills were lacking. In her first mountain bike race, Lydia chose the expert class. She was doing well until the course's downhill section, where she kept crashing. However, she still managed fifth place.
Carrying over a huge aerobic engine from running, Lydia continued to race, picked up cyclocross, and worked on her technical skills. She gained confidence through repetition, practice, and watching others. Refining the skill of bike-body separation allowed her to feel comfortable going downhill.
Eventually, the work paid off massively. Lydia racked up wins and championships over the next several years. She won the 40-49 age category World Cyclocross Championships in 2000 and 2002, the British National Mountain Biking Championship (Veteran) in 2001, and several other wins. Additionally, she became the first woman to complete the South Downs Double, finishing in just over 27 hours.
Overcoming an Eating Disorder
Lydia's challenges were not only reserved for the bike. In her teens, she developed an eating disorder. She grew increasingly unhappy after switching schools and being thrust into a difficult environment. Paired with her parent's contentious divorce and dissatisfaction with her body image, Lydia felt like a failure and didn't have any control over her life.
The one thing that she could control was how much she ate, and Lydia began eating less and less. As the eating disorder grew worse, she became more unsocial to avoid food. This continued until she went to university.
While attending university, two key things happened that helped. She began spending more time with her grandmother and started running. Lydia's grandmother was supportive without being forceful by having food for her. This was significant because Lydia felt that trying to force her to eat only worsened the problem.
Starting running was just as important. Lydia says, "I really loved running, but I was so weak because I didn't have the nutrition." Running also made her feel good because she suddenly realized that "I'm good at this."
Overcoming anorexia was a lengthy battle, and Lydia still carries those feeling with her, but she feels like she has it conquered. Lydia's advice to anyone struggling with an eating disorder is to get to a place where you feel comfortable in yourself and realize that you are in control of your life. This can be a slow process with many small steps. It can be helpful to find a support system that has a similar level of relatability or experience.
Getting Faster with TrainerRoad
Before signing up for TrainerRoad in March of 2020, Lydia thought she "was too old to improve." After her first Ramp Test, Lydia's FTP was 128w. She had done interval training before, but TrainerRoad was different because she used power instead of heart rate as a metric. The work was difficult at first, but with time came improvements, and it got easier.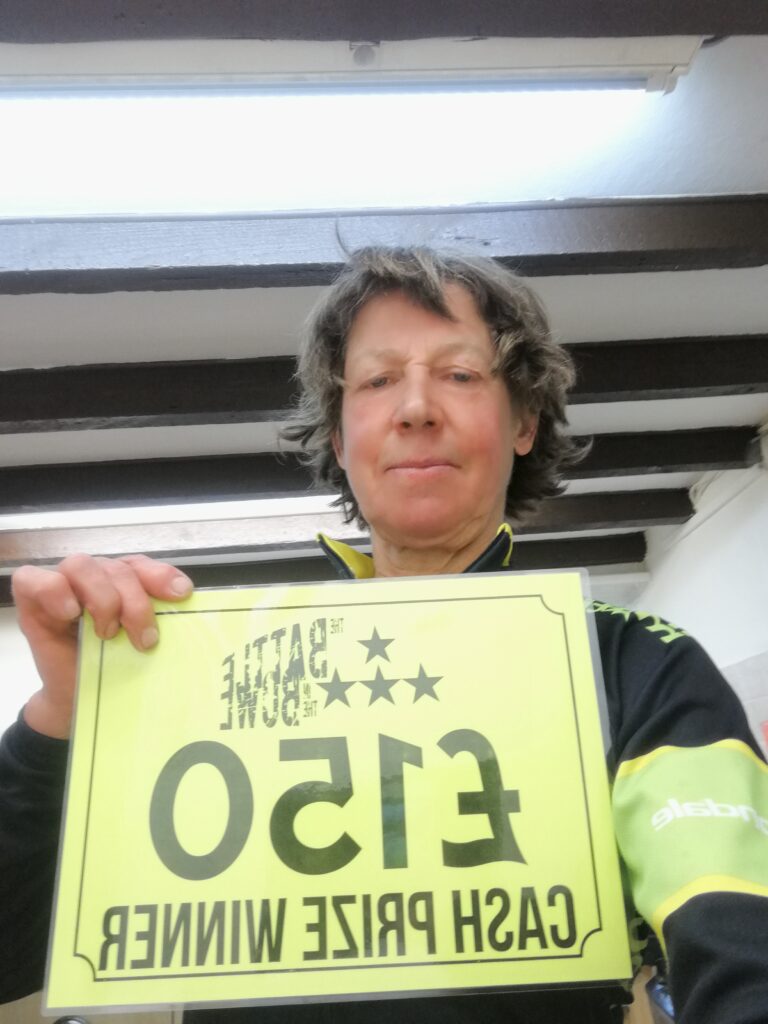 As experienced by many, Lydia struggled with VO2 Max workouts. TrainerRoad's training plans' progressive nature helped make the workouts more manageable as time went on. In three months, she raised her FTP to 158w—a gain of thirty watts! During that time, Lydia added to the long list of her cycling accomplishments. She won an eight-hour MTB endurance race, placed third in a two-hour cyclocross race, and placed second in the Wessex cyclocross race.
Lydia's Advice for Younger Cyclists
Learn from your mistakes. 
Avoid fad diets and eat healthily. 
Sleep well, and don't worry too much about race results.
Keep a balanced life and take time for yourself to manage stress.
If you are injured, take time to heal and seek medical help.
Enjoy what you are doing. If not, try something new or a different endurance sport or discipline. 
---
Tell us your story. Success isn't always a race win. It can be life-changing health improvements, reaching a personal goal, or more. 
For more cycling training knowledge, listen to Ask a Cycling Coach — the only podcast dedicated to making you a faster cyclist. New episodes are released weekly.