What are TrainerRoad Outside Workouts?
Just because the weather gets nice doesn't mean structured training needs to stop. With TrainerRoad Outside Workouts, you can take your structured training plan outside so you can stick to your plan and get faster all year long using workouts optimized for outdoor conditions.
Sync your workouts to your Wahoo ELEMNT head units, Garmin Edge head units, or your Garmin Forerunner or fēnix smartwatch to take your training wherever you go.
Try TrainerRoad Outside Workouts
Why Outside Workouts?
The key to getting faster is structured training. Since most people don't want to spend all of their time riding indoors, outside workouts ensure users have the same access to high-quality, structured training when they are outside.
Now you can get faster year-round, inside or out, with TrainerRoad outside workouts on your Garmin Edge or Wahoo head unit.
Outside Workouts quick links:
Outside Workouts: Wahoo ELEMNT Setup
Outside Workouts: Garmin Setup
Tips for safe Outside Workouts
Riding Indoors Vs. Riding Outside: A Comparison
Outside-Optimized Workout Library
Every workout in your training plan has an outside-optimized version to make it easier to follow when riding outside, but still deliver the training benefit you need.
We accomplished this through a lot of research and testing. Every workout in our training plans aims to bring about specific adaptations for an athlete in appropriate ways. For example, one workout may target an increase in muscular endurance with longer, more sustained work at a lower intensity, while another workout may target an increase in repeatability by having you do short, high-intensity repeats with time between efforts being equally short and at threshold.
We want to make sure those adaptations still occur, but some of those interval formats are too difficult to follow outside. In those scenarios, we created workouts specifically around the context of riding outside that would still fulfill the original need of the workout, but you don't need to worry about any of that. All you have to do is stick to the plan, inside or out, and you'll get faster.
How Do I Use Outside Workouts?
The first step is to re-authorize your Garmin Connect sync or Wahoo ELEMNT app so that your workouts can be sent from TrainerRoad to your head unit. If you haven't synced either platform with TrainerRoad yet, the process will be the same.
Once you've synced the accounts, there are two ways to make any workout an outside workout.
When adding a plan to your calendar, not only can you select which days you typically train, but you can also specify which days you typically ride outside. This is a handy feature for those Saturday group rides, or mid-week evening rides.
You can also make any workout that is on your calendar an outside workout by clicking on the workout, and selecting "outside". If you find yourself not able to ride outside as planned, you can click "inside" to make any workout an inside workout as well.
Once a workout has been made an outside workout, sync your Garmin Edge head unit with Garmin Connect or follow the instructions to push a workout to Wahoo .
Best Practices For Outside Workouts
In our research and testing of this feature, we have a few tips on how to get the most from Outside Workouts, as well as best practices for staying safe on the road. Check them out below.
Create a Custom Screen
We recommend customizing screen settings on your head unit for the closest approximation of following an indoor TrainerRoad workout.
Custom Screens on Garmin Head Units
On Garmins, we recommend creating a custom screen with the following data fields: Elapsed Time, 3 Second Power, Lap Power, and Time to Go.
It's important to note that not all Garmin Edge devices will have Time to Go. In that case, we recommend having Lap Time.
Once it has been created, order your new custom screen next to the standard Garmin workout screen so you can easily reference both.
Custom Screens on Wahoo ELEMNT Head units
On Wahoo head units, we recommend setting up your display with these data fields: Target Power, Avg Power (3sec), Cadence, Heart Rate, Remaining Time (interval), and Remaining Time (workout).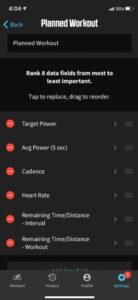 Custom displays on Wahoo head units are configured through the ELEMNT app, as shown above. In addition to these fields, the structure of your planned workout will automatically appear at the bottom of the display. So as you progress through your workout you'll be able to keep an eye on upcoming intervals
Executing a Workout
Once you've loaded your workout and started riding, we recommend switching to your custom screen. We've designed the warmups to be flexible in intensity and duration, which you can use to your advantage as you ride to a suitable location for your workout. On Garmin head units, your warmup won't end until you hit lap, and we recommend riding this warmup until you have reached the spot where you want to do your intervals, then hitting lap to start the main workout. Once you hit lap, you will see the duration and power target range for the first interval. On Wahoo ELEMNT head units the warmup will end automatically, so we recommend either pausing the workout while riding to your starting point, restarting the warmup interval until you reach this point, or not starting the workout from the ELEMNT app until you reach your starting point.
With workouts that have singular sets of intervals (4 sets of 8 minutes at Sweetspot, for example), Garmin head units require you to push the lap button to begin a work interval. This lets you make sure you are in a safe and appropriate location to start the interval. Wahoo head units automatically advance intervals, but feel free to pause the workout at any time until you reach a safer or better location. Your ride will continue to record while the planned workout is paused.
In workouts that have short intervals grouped together within a single set (4 sets of 16 x 5 seconds at Anaerobic, for example), the workout will automatically advance between rest and work intervals. If you are using a Garmin, once you have completed a single set of those intervals and recovered for the specified time, you will have to hit lap to start the next set. Wahoo head units advance automatically.
These differing formats will seem natural once you get out and do them, and it makes the process of following an outside workout much easier.
Safety
This should go without saying, but riding on the road is inherently dangerous for many reasons. Please be careful to select low-traffic areas with sufficient space and visibility to do your workouts, and remember, staring at your head unit is a bad idea. For more on safely executing Outside Workouts click here.
Once you settle into the interval, you will recognize what that power target feels like, and we encourage you to pay attention to and hold onto that feeling, occasionally checking in with your head unit, rather than staring at it constantly to make sure you are on target. Your power will fluctuate outside more than it does on the trainer, but that's okay. You'll smooth out over time, and safety always comes first.
Try TrainerRoad Outside Workouts

FAQ's
I don't have a power meter. Can I still use outside workouts?
Yes. When you click on a workout in your calendar to make it an outside workout, you can toggle the workout between "Power Based" and "RPE Based". RPE Based workouts will give you RPE targets for each interval.
I don't have a Garmin or Wahoo head unit. Are you going to support other brands?
We don't anticipate supporting other head units, but if the demand is sufficient for another brand, we will support it.
Why do some outside workouts have a different name than my scheduled TrainerRoad workouts?
Not all TrainerRoad workouts are easily completed outside. To address this, we created many new "outside approved" workouts designed to give the same training benefit as their inside counterpart.
The other example of this is with Endurance workouts. Since many of these follow a more generic structure, these are grouped together so that one outside workout would be prescribed for a group of inside workouts.
Why are some outside workout equivalents longer than my scheduled TrainerRoad workouts?
Riding outside is less efficient. Things like terrain, stoplights, and weather have to be taken into account when heading out to ride. Riding inside controls all of these external factors, and therefore allows the workouts to be incredibly precise. To account for these external factors, many TrainerRoad outside workout equivalents will be between 15 and 60 minutes longer (depending on TR workout length) to ensure you are getting the same training benefit while riding outside.
Is there a library of outside workouts I can view?
Not yet. We have plans to continue building more outside workouts, but need to restructure parts of the website for outside workouts to be clearly understandable at a glance.
---
For more cycling training knowledge, listen to Ask a Cycling Coach — the only podcast dedicated to making you a faster cyclist. New episodes are released weekly.
---
---
---