TrainNow is a smarter way to choose individual TrainerRoad workouts. Incorporating the power of Adaptive Training, TrainNow recommends ideal workouts for your current fitness, at the duration and intensity of your choice. What does the data tell us about how and why TrainerRoad athletes are using this new feature to get faster?
---
What is TrainNow?
TrainNow uses Adaptive Training's machine learning-based insights to analyze your recent workouts and determine your unique current capabilities. It then offers a selection of workouts each day at your preferred duration and catered to your fitness, in 3 categories: endurance, climbing, and attacking.
TrainNow is easy to find in the main navigation menu of all TrainerRoad apps. It's not intended to replace the long-term periodization of a structured training plan, but it's ideal for athletes who aren't on a training plan or for those who like to supplement other riding with occasional structured workouts.
Further Reading: TrainNow
The Data of TrainNow
Introduced publicly in early March 2021, TrainNow was the first feature in TrainerRoad to incorporate the machine learning-driven power of Adaptive Training. A big advantage of Adaptive Training lies in its data-driven approach, and we're excited to share the new insights it reveals about how TrainerRoad athletes train. So what does the data say so far about TrainNow?
Overall Usage
Athletes currently use TrainNow for an overall average of about 1,200 workouts per day. Tuesday, Wednesday, and Thursday are the feature's most popular days, with fewer athletes using TrainNow over the weekend and on Mondays. It's likely that many athletes are using TrainNow to pick structured workouts during the week while completing previously scheduled workouts or rides outside over the weekend.
Adaptive Training
Get the right workout, every time with training that adapts to you.
Check Out TrainerRoad
Improved Success Rates
In the past, manually choosing individual workouts has been hit or miss, and has sometimes led to workouts that are too hard or too intense. TrainNow's individualized recommendations were designed to fix this, and the data suggests it's working so far.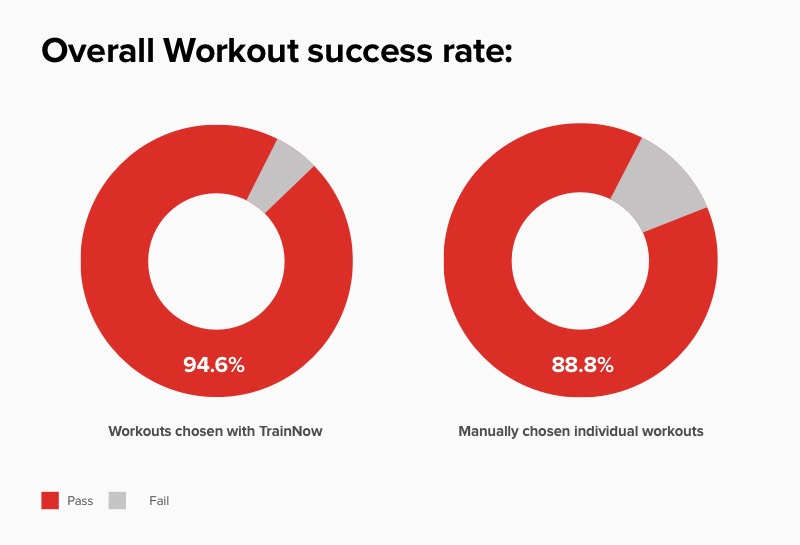 Overall, when TrainerRoad athletes manually choose an individual workout, they successfully complete it without cutting it short or reducing intensity 88.8% of the time. For workouts chosen with TrainNow, that completion rate rises to 94.6%. This means that if you chose a workout with TrainNow, you cut your chances of struggling in half. It doesn't mean you won't get a hard workout, but you're much more likely to get the right hard workout for your abilities than if you simply choose one yourself.
Completed Workouts by Type
By design, TrainNow is simple and easy to use and organizes workout recommendations into three categories. Endurance workouts are low intensity and rely entirely on the aerobic system. Climbing workouts target steady power demands and include sweet spot and threshold workouts. And Attacking workouts include VO2 max and anaerobic intervals at high intensity.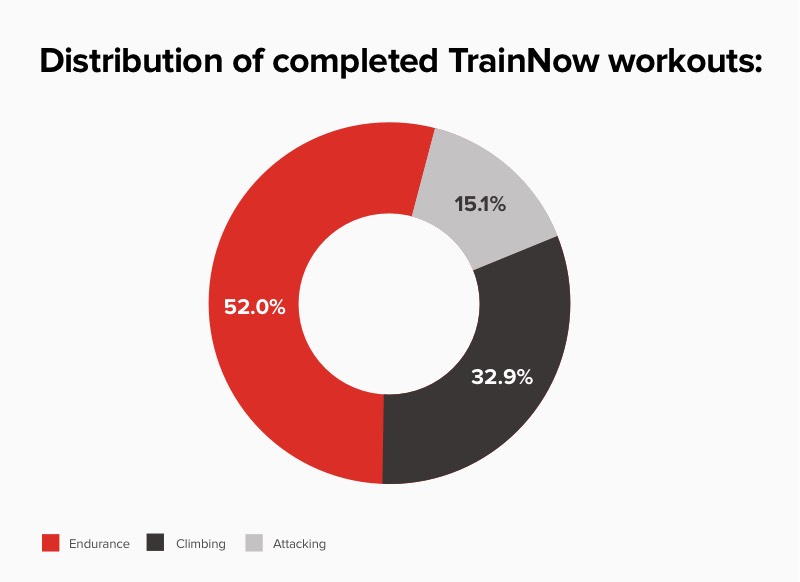 Perhaps unsurprisingly, Endurance workouts have proven most popular and account for 52% of TrainNow workouts. If you think about it, this makes sense- these workouts are relatively easy to complete almost any time, and are an excellent option if you simply want to add some unscheduled training time to improve your aerobic fitness.
Climbing workouts are the second most-chosen, at 32.9%. These workouts are more productive for building fitness than endurance workouts, but they are also more challenging and fatiguing.
Finally, high-intensity Attacking workouts account for 15.1% of completed TrainNow workouts so far. These workouts can be quite tough, and TrainNow's personalized recommendations can be a huge help in finding the right high-intensity workout for your abilities.
Completed Workouts by Duration
TrainNow allows you to specify your preferred workout duration, ranging from 30 minutes to 2.5 hours. The data suggests most athletes prefer to choose workouts on the shorter end of that timeframe.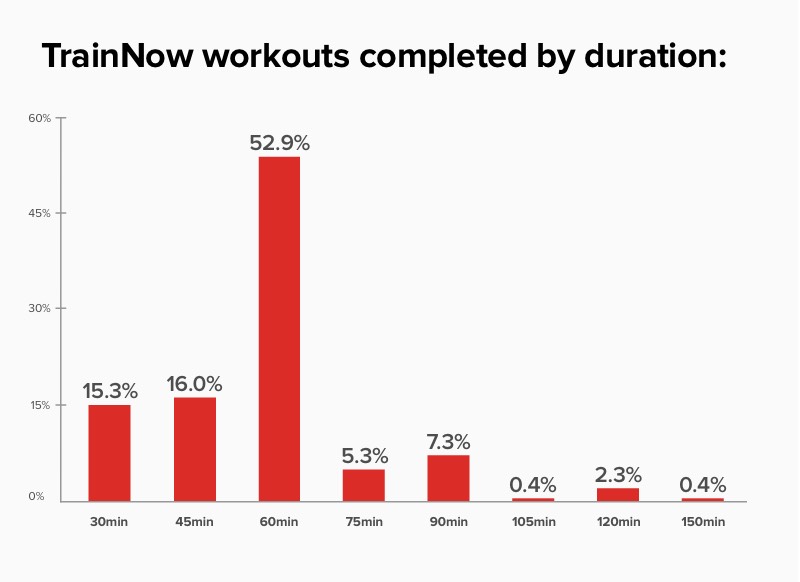 60 minutes is the default workout duration suggested by TrainNow, and it unsurprisingly accounts for 52.9% of TrainNow workouts chosen by athletes. Shorter durations of 45 and 30 minutes are next most popular at 16% and 15.3%, respectively. Longer workouts are chosen much less frequently.

When compared to TrainerRoad workouts as a whole, athletes tend to choose shorter workouts with TrainNow. This is probably a result of athletes often using TrainNow on short notice, while training plans schedule longer workouts well in advance.
Constant Improvement
TrainNow is just one part of Adaptive Training, now available to every TrainerRoad athlete. Adaptive Training customizes your training to your individual needs every day, so you get faster than ever before. It's the biggest upgrade we've ever made to TrainerRoad, and it's part of our push to continually fine tune our ability to make you faster. How will Adaptive Training help you improve your cycling? We can't wait to find out.