An upcoming season of racing means it's time to run through your pre-season checklist. Here are five things you can do before the first race of the year to round out your preparation and increase your confidence on race day.
---
First Race of the Season
The first race of the year signifies the exciting start of the racing season. It also means it's time to dust off some old expertise and get reacquainted with the skills and practices unique to racing. You can round out your preparation for a season of racing by running through a pre-season checklist and making sure you have everything you need to be successful on race day. That way, when the first race comes around, you can feel confident knowing you've done everything you can to have a great race. To help you get started, here five to-do items to knock off your pre-season checklist.
1. Map Out Your Events
Before you get into race prep mode, make sure all of your upcoming races are mapped out and integrated into your training plan. Doing this ensures that you have enough rest planned out before important events and that your training is still on track for your priority event at the end of the season.
You can do this with your TrainerRoad training plan by categorizing the priority of your races and then adding them to your Calendar. In TrainerRoad, races are prioritized into C, B, and A events. C events being your lowest priority events, B being important events, and A events being your most important events. Go ahead and categorize your events according to their importance and then add them to your Calendar. If you built your training plan with Plan Builder, it will automatically adjust your training plan around the events on your Calendar. To learn more on how to plan your season, check out Season Planning Basics.
2. Refresh Your Technical Race Skills
Some of the skills we rely on during racing aren't necessarily things we do during solo training and riding. Because of this, your bike handling skills might feel a bit rusty during your first race. Luckily, you can quickly increase how comfortable you feel in the field by getting outside and practicing some unique skills in racing.
---
---
If you're a road racer and haven't ridden in a group for a while, see if there's a local group ride you feel comfortable joining. Getting reacquainted with group riding dynamics and drafting could help you feel more capable during your first road race. If you're a criterium racer and haven't practiced cornering in a long time, maybe opt for some practice laps with a few teammates.
The same goes for off-road athletes. If you're an off-road athlete, practice hard starts and passing drills with a companion. The only way to mitigate the risk of missing a pedal on the start line or getting stuck behind someone on singletrack is to practice beforehand.
3. Prep Your Gear
Prep your gear in advance by making sure you have all the gear you need for racing. In addition to the basics like shoes, helmet, sunglasses, and kit, wrangle up all the miscellaneous items you'll need like tools, hydration, and nutrition, and a change of clothing for different weather conditions. Getting all of this stuff organized in advance could save you some stress in the days before your race, particularly if you find out you're missing something you need.
Adaptive Training
Get the right workout, every time with training that adapts to you.
Check Out TrainerRoad
It's also a good idea to make sure your bike is ready to go. If you've been doing most of your training indoors or on another bike, it's a good idea to get outside on that bike for a thorough test and tune-up. After all this time you've waited to race, you don't want a mechanical to get in the way.
At some point before your race, sit down and make a list that has everything you'll need on race day. Do you have spare tools and tubes? Do you have extra water bottles and nutrition? Are you prepared for a change in weather? The smallest details can make the biggest difference and your first race of the season doesn't have to be a trial and error process.
4. Prepare for Race Intensity
Race intensity can be a bit of a shock for a lot of athletes. You can mentally and physically prepare for this intensity with a little extra race prep before your race. Doing intervals and drills that mimic racing intensity is a good way to re-familiarize yourself with racing intensity. Individual time trials or a race simulation with a training partner are both great ways to get re-affiliated with the feelings of race intensity.
---
---
If you want to practice racing intensity, look ahead at your training plan for a workout that could be swapped for a race simulation. Remember, these sessions shouldn't be any more exhausting than the workout you had scheduled that day but should allow you to get reaffiliated with race-pace intensity. You can find race simulation workouts by searching for them on the workouts page.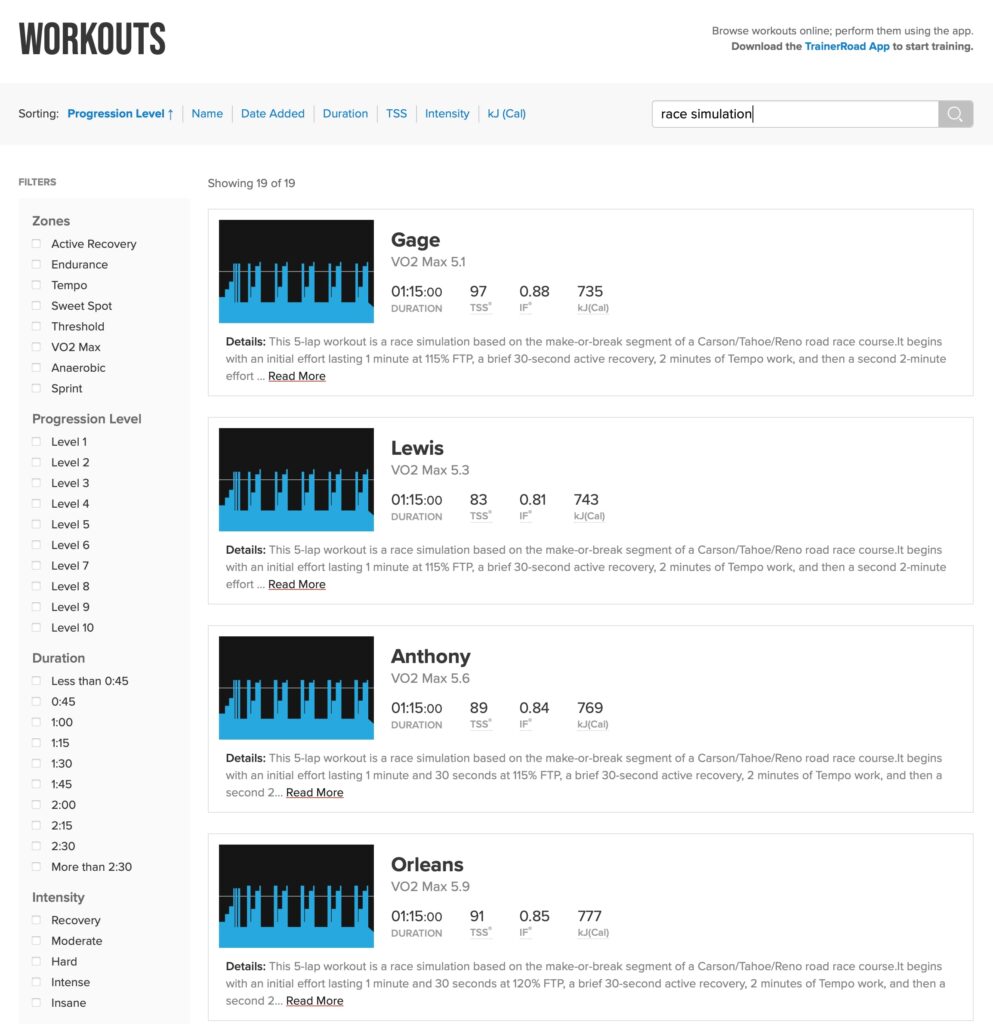 5. Visualize Your Race Day
With the physical preparation done and your gear ready to go, it's time to turn to the mental and strategic side of racing. A great way to mentally prepare for your first race is to visualize your race day plan and strategy. Visualizing race strategy in conjunction with your race day routine can help you get into the racing headspace, prepare for success, and anticipate what else you might need during your first race. You can go a step further and scout out the course details to get a picture of important sections. It's also a good way to build out your racing strategy and begin anticipating the strategic demands of racing.

Need to review your race strategy and technique? Check out our race analysis videos for a refresher on race strategy: Race Analysis YouTube Playlist.