David Curtis went from total beginner to sub-9 finisher at the Leadville Trail 100. As a new cyclist, David experienced a steep learning curve with plenty of challenges along the way. But changes in lifestyle, diet, and structured interval training with TrainerRoad, he added 100w to his FTP and doubled his w/kg.
---
Share your success story and tell us how TrainerRoad helped you reach your goals.
---
---
As a kid, David rode bikes around the neighborhood, but never progressed into cycling. He played other sports and eventually found a passion for Crossfit and eventually became a coach. Coaching Crossfit was a valuable learning experience because he learned about structure and adaptation —something he would apply to cycling. It wasn't until a work-related move to Leadville, CO, that got David on the bike.
After moving to Leadville, David was part of a support crew for a friend competing in the event, which excited him. Watching the 2018 race, he thought that he could do it because this was in his backyard. But the Leadville Trail 100 is easier said than done. David admitted, "I had no idea what I was getting myself into." With plenty of determination, he got to work.
David's First Ride
New to cycling, David was under the impression that he needed a hardtail mountain bike. Between the outdated advice that a hardtail is better for learning technical skills, and because many of Leadville's records were set on a hardtail, David started riding on a hardtail. But David's lack of skills made for lots of bruising rides at the beginning.
David's first ride was a learning experience, to say the least. He loaded up his bike and drove to the base of St. Kevin's—the first climb of the Leadville course. While pumped up for his first ride, he quickly realized that his fitness from strength training didn't translate to cycling. He had to stop ten times on the way up and termed the ride as an "epic failure."
But David turned a failed ride into an opportunity for growth. He realized that he needed structured training. Discouraged because he thought he was more fit than that, David was motivated to get faster.
Starting Cycling Training
With winter and snow soon coming, David knew he would need to train indoors, so he began researching programs, training plans, and trainer setups. As to why he chose it, "TrainerRoad was a no brainer for me. I just love the structure to it."
Adaptive Training
Get the right workout, every time with training that adapts to you.
Check Out TrainerRoad
As someone who obsesses over data, David enjoys tracking progress and finds motivation in hitting the power targets of a workout. His first Ramp Test resulted in a FTP of 156w. Granted, this was at 10,000ft. of elevation, but he thought it would be higher. However, he has a starting point.
David's two primary goals in training were to get cycling fit and drop weight. He used both intermittent fasting and the Paleo Diet to lose almost 35 pounds. David acknowledges that two-hour workouts while being in a caloric deficit all winter "wasn't fun, but I was motivated."
Getting Faster With TrainerRoad
With TrainerRoad, David used high volume plans and started with Sweet Spot Base. He then progressed to Sustained Power Build and finished with the Gran Fondo Specialty Phase. He continued strength training, albeit just for maintenance.
By race day, David's FTP was 255w (about 308w at sea level). With the bonus of losing weight, David doubled his power to weight ratio from 1.8w/kg to 3.6w/kg.
By the time the weather improved, David was ready to put in the skill work. Knowing that his most significant weaknesses were descending and cornering, he spent as much time riding as possible —even when it meant riding figure eights in the driveway.
Living in Leadville provided an opportunity to get familiar with the course. Riding parts of the course, David wanted to feel as comfortable as possible for race day. This move would pay dividends in both pacing and aid station planning.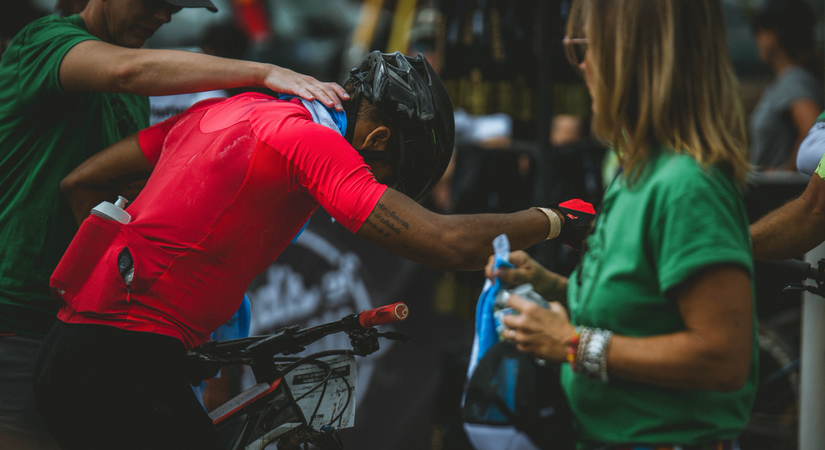 The Challenges of Training, Family, and Diversity
Training for an epic event like the Leadville Trail 100 comes with challenges. Training and losing weight meant that David was consistently tired and hungry. With the addition of family life and work, it can be a bit overwhelming.
Married with four children under ten years old, David had to get all his training done early in the morning. David was not a morning person but made himself become one. Usually, he was up by 4 AM and on the trainer by 4:30. Getting up that early meant that he would have to go to bed reasonably early, which can strain family life. Without the support of his wife, David wouldn't have been able to get his rides in.
In addition to the training and family challenges, David observed the lack of diversity in his newfound sport. As a person of color, he felt "like the odd man out sometimes." The absence of seeing people like him on a mountain bike led to the feeling that he wasn't supposed to be riding. But David stepped out of his comfort zone and pressed on. He said, "If I can just be a small part of that change, I think that's huge to give people a chance to respect you."
Staying Motivated
Competitiveness has always been there for David, but he admits it grew through training. His competitive drive wasn't the primary source of motivation —it was his family. In describing how his family was a factor, he said, "Being a father changes your perspective in life. I want my kids to see me as a hard worker in life, just not on the bike. I want them to see that nature in me."
His drive for improvement goes beyond cycling or training. David strives to see the bigger picture. While getting faster is rewarding, it's not the end goal. When asked what his purpose is, David replied, "My goal isn't to be the fastest person on the bike. It's to be the best version of myself."
Preparing for the Leadville Trail 100
Before the Leadville race, David competed in the Silver Rush 50 MTB, a 50-mile race with 8,000ft of elevation gain. This experience would prove invaluable because it taught him to stay within his limits. Also, it helped him adjust his goals. Initially, David figured a sub-12 hour time at Leadville would be an attainable goal. But after Silver Rush, he though a sub-9 was possible.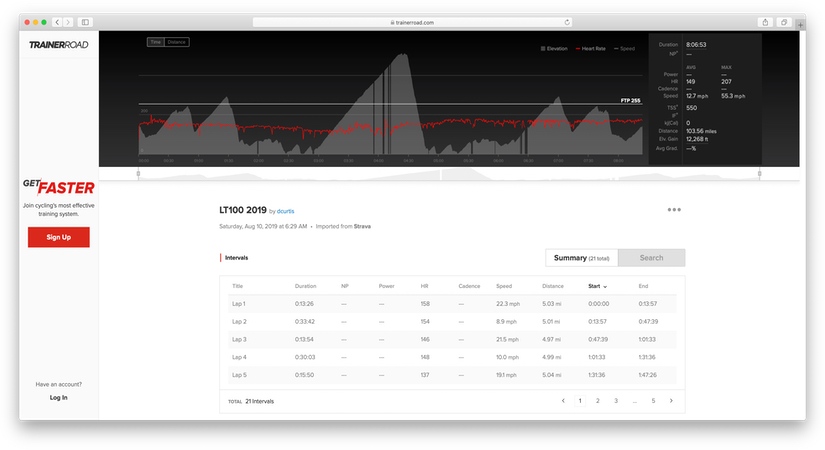 Another significant change leading up to Leadville was his diet. David had mostly done his training without fueling, and transitioning from a Paleo diet to race nutrition was a point of emphasis in the weeks prior. On his outside rides, David began experimenting with different nutrition strategies and decided on using mostly liquid nutrition, trying to get in 80-100g of carbs per hour. By this time, he also acquired a full-suspension mountain bike, which increased his comfort on the trail.
Racing Leadville
David's first big challenge of the day was staying within himself, especially up Columbine. Applying his learnings from training and the Silver Rush race, he nailed the pacing. David made up most of his time on the way back in, passing many riders on Sugarloaf. Thanks to his training, weight loss, and race experience, David crossed the finish line at 8:23:13, beating his goal by over 30 minutes.
David's advice for anyone seeking to do something epic is to sign up for an event because race day brings out the best in people. It's also about self-discovery. "I didn't know what I was capable of until I raced. So sign up and do something. You feel like you can do anything."
What You Can Apply From David's Story
Not everyone can go from beginner to a sub-9 at Leadville in nine months. But he has some valuable takeaways that you can apply to your training. Be diligent and add structure to your training. Collect all the information you can and use your experiences on race day to maximize your performance. And remember that you don't have to do 10-hour workouts to get ready for an epic event —just follow the plan. You can view David's TrainerRoad profile and find him on Strava.
Tell us your story. Success isn't always a race win. It can be life-changing health improvements, reaching a personal goal, or more.
For more cycling training knowledge, listen to Ask a Cycling Coach — the only podcast dedicated to making you a faster cyclist. New episodes are released weekly.