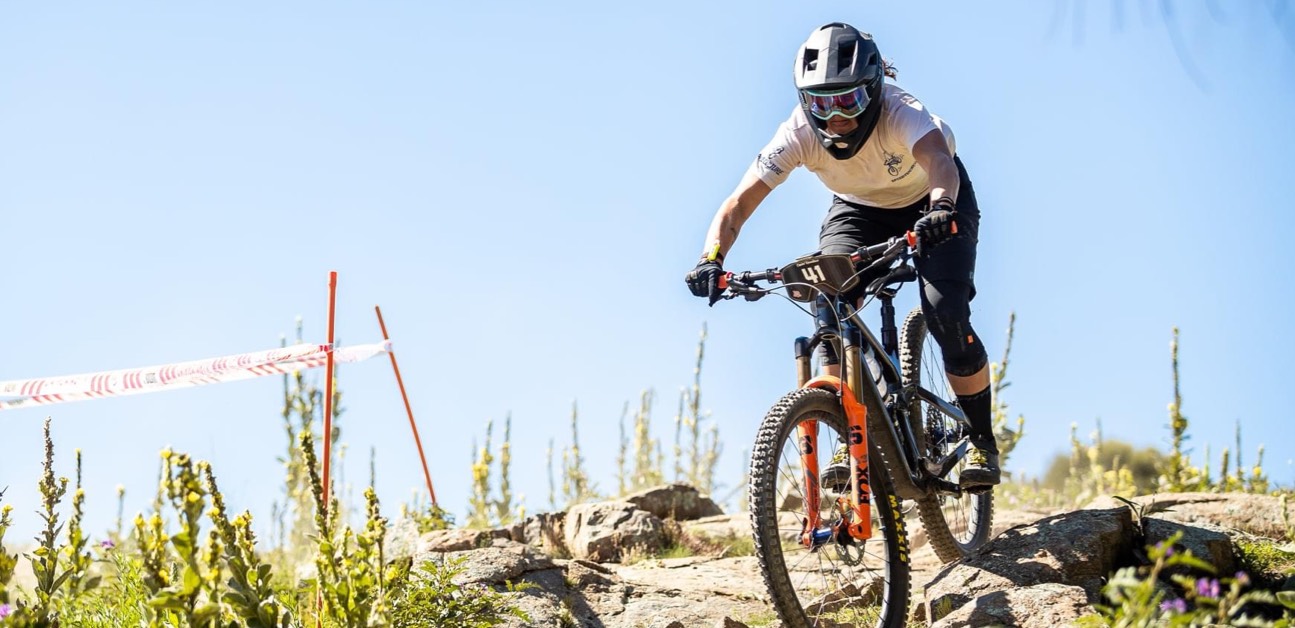 Competition runs in Georgina von Marburg's blood. From the tennis court, to criteriums, to elite enduro races, this versatile Australian athlete feeds on a challenge. She's also faced setbacks along the way, but her love of cycling and commitment to consistency help her succeed and get faster.
Share your success story and tell us how TrainerRoad helped you reach your goals.
---
You could say cycling started on a tennis court for Georgina von Marburg. As a teenager growing up in New South Wales, Australia, Georgina dreamed of becoming a professional tennis player. But despite possessing the discipline and determination to succeed, a lack of positive role models and the teenage frustration of mixed results led to eventual burnout. Georgina ultimately quit to focus on her university studies, but the seeds of competition and structured training were firmly planted in her brain.
From Mountain Biking to Road Racing, and Back Again
It didn't take long for those seeds to sprout, nourished by some friendly recreational mountain bike riding and the encouragement of friends. She soon started riding on the road and velodrome, and recreational rides led to joining a team and racing road and track. Things finally came full circle when Georgina accompanied her teammates to a mountain bike race to help hand out water bottles and offer technical support. Unable to let herself sit idly and watch, she entered the race and struggled through the steep, technical terrain. Georgina came in last, but she loved the experience and felt welcomed by the community. She was hooked.
Over the next year and a half, Georgina experimented with XC marathon and stage races. She also started hitting a few jumps with her friends, and gradually got more interested in gravity and enduro-style events. Finally, in October 2019, Georgina sold her cross-country bike and committed fully to enduro racing. The former tennis player-turned crit racer had officially completed an unlikely transformation.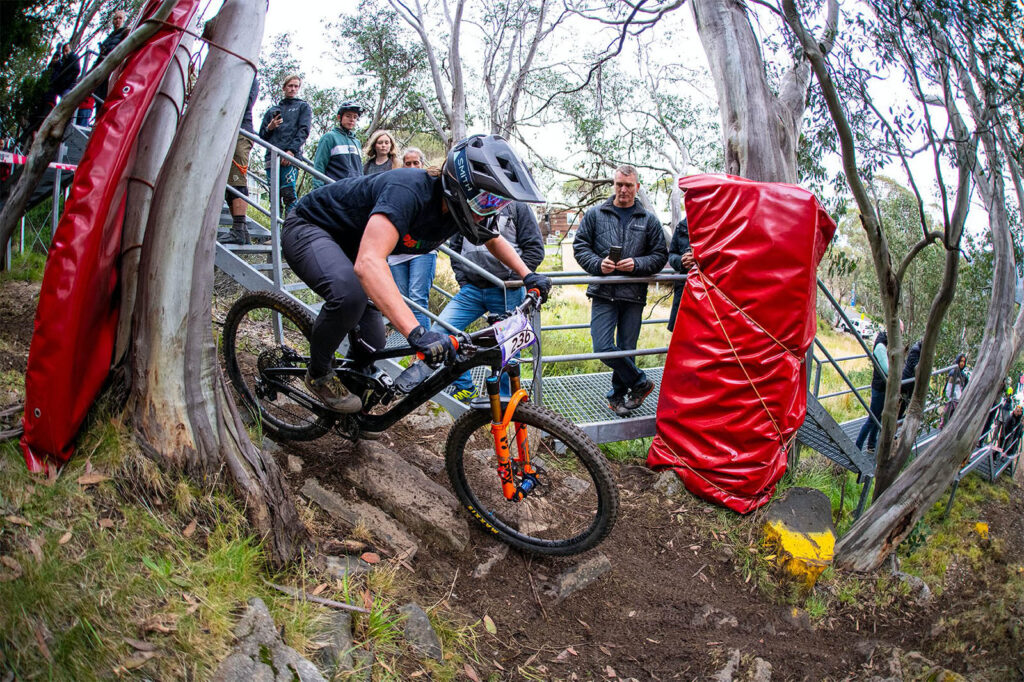 Lessons From Tennis
Years of playing ball sports before cycling might seem like an unrelated endeavor, but Georgina considers this experience fundamental to her quick success in cycling. For one thing, tennis instilled a sense of discipline and structure that she still relies on. It also taught her the value of frequent competition, with multiple matches each week and sometimes even several in a day. Georgina competes on the bike as much as she can and rather than dwelling on disappointing results, she tries to immediately move her focus to the next race.
Georgina is a strong descender, and she believes her ability to choose a good line is derived from the strategy of the tennis court. Tennis demands coordination and an intuitive understanding of movement through space, and Georgina credits these high-speed planning and positioning skills with her success on the bike. There is a key difference between cycling and traditional ball sports, however, and it's partly this difference that's kept Georgina committed to cycling. 
"Other sports like tennis are designed for spectators, and that in turn brings a lot of pressure for athletes," she keenly observes. "Cycling is a physical outlet that doesn't require a dedicated court or field, and you're free to be with yourself while still achieving great feats."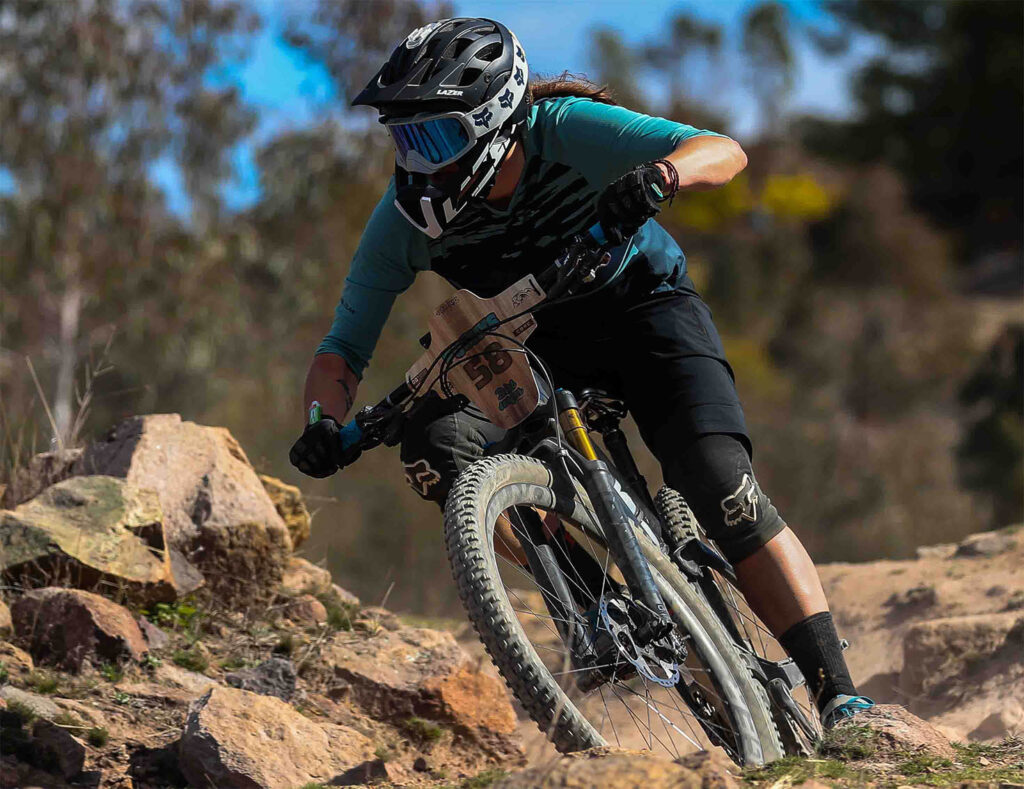 The Restorative Power of Cycling
The accessible, fundamentally personal nature of cycling came at just the right time for Georgina. As it does for so many young adults, university challenged her mental and emotional health, and cycling served as a powerful grounding force. Whether a long ride in the countryside or a rainy day spent indoors on the trainer, riding a bike offered Georgina solace and purpose; a welcome chance to be fully present and at peace. 
"Anyone who rides road knows what a meditative experience it can be, and anyone who mountain bikes knows how completely present in the moment you have to be. Counterintuitively, it's such a great outlet for fear and anxiety," she explains.
Negativity and Injury
While cycling can heal and restore, it can also reveal a darker side when things go amiss. Georgina says that for her, this manifested in how deeply she invested her sense of identity in racing. Good results are affirming, but a lack of events and results left what she describes as "a massive void." 
For Georgina, the void came when she least expected it, after a time of rapid progression and increasing confidence. She felt invincible, and one afternoon decided to jump a road gap in Canberra. She feathered the brakes slightly on the in-run, but unfortunately, that's all it took. Georgina came up short, broke her collarbone, and fractured her scapula. The break didn't require surgery, but the recovery process didn't go smoothly and after several months Georgina eventually gave in to temptation. She declared herself sufficiently healed and decided to race.
Unsurprisingly, it was a mistake. Her insufficiently-recovered shoulder was unstable and weak. She spent the weekend terrified of reinjuring herself, and ultimately did painfully smash her shoulder into a tree. But instead of interpreting this as a sign that she needed more rest, Georgina took it as an indication that she wasn't good enough. She kept training, kept racing, and kept setting herself back. The positive refuge of cycling had become a self-destructive obsession, and this dark spiral lasted almost an entire year.
A Healthier Perspective
Finally, Georgina found a path back. Working with a coach, she began targeting shoulder strength in the gym and finally let herself fully heal. And when the pandemic canceled races outright, it removed the incentive to chase podiums. What would have previously meant a lack of purpose instead presented an opportunity to recalibrate. Georgina decided to focus on process goals and signed up for TrainerRoad, shifting her target towards simple self-improvement. 
Despite having no events on the immediate horizon to plan for, Georgina knew from experience how effective structured training could be. She used Plan Builder to build a custom plan, and by the time Australian racing returned in September, she was firing on all cylinders. Ultimately, Georgina reached her goal, qualifying for next year's Enduro World Series (EWS). 
Adaptive Training
Get the right workout, every time with training that adapts to you.
Check Out TrainerRoad
Lessons Learned
After years of racing across multiple disciplines, and triumphs over setbacks both mental and physical, Georgina's consistency stems from her inherent resilience and simple love of cycling.
"I want to be defined by the steps I take and how hard I work. I let dedication and process affirm me, not some race results that might not even happen," she says. "My biggest wish is for others with similar struggles to find cycling. The focus and dedication are great exercises for your mind, and it introduces you to a fantastic community."