We're using machine learning to improve our training plans. With the help of Adaptive Training's new, data-driven Workout Levels, we've added 641 new workouts to our workout library and updated all of the TrainerRoad training plans to be even more progressive.
---
What's New?
More Progressive TrainerRoad Training Plans
Updates and new workouts in all 100 TrainerRoad Training Plans
641 New Workouts in the TrainerRoad Workout Library
As a part of the first Adaptive Training feature release, we've updated all 100 TrainerRoad training plans and added more than 640 new workouts to the TrainerRoad library. The Adaptive Training feature release, updated training plans, and new workouts are available now on the TrainerRoad website, desktop apps, and mobile apps.
Training Plan Updates Based on Adaptive Training
The TrainerRoad training plans follow a progressive structure—as time goes on, the specificity and challenge of the training increase in proportion to your developing skills and abilities. This progressive structure, paired with periodized training cycles and goal-oriented workouts, helps athletes reach their peak performance for a goal event or discipline. Now, using the power of Adaptive Training, we've reinforced the progressive structure of our training plans to be even more sustainable and athlete-driven—so you can keep getting faster.
To make our plans objectively more progressive, we leveraged the power of Adaptive Training's data-driven Workouts Levels. Workout Levels are a metric in TrainerRoad that compares the relative difficulty of workouts within each training zone. It's more than just TSS and IF. Workout Levels include additional nuance and consider repeatability, interval length, and more. Using Workout Levels, we identified places where the plan's progressive structure could be optimized. By adding new workouts and adjusting the placement of others every plan now has a more effective and sustainable progression.
These updated progressions will help keep your training plan in closer alignment with your changing fitness while continuing to target the right energy systems to build the specific fitness you'll need for your event. That way, you can feel even more prepared for the challenges you encounter in and out of your training plan.
---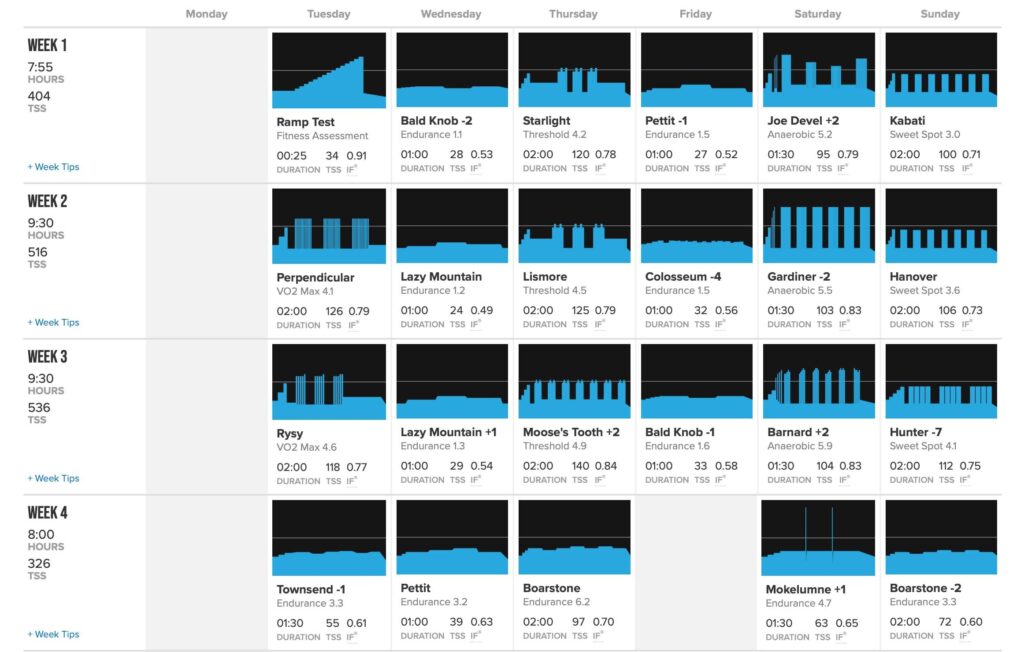 ---
You don't need access to the Adaptive Training closed beta to follow or benefit from these plans. They have been designed to maximize your training with or without Adaptive Training. If you have access to the Adaptive Training closed beta, the plans you are looking at will be individually adjusted to your Progression Levels, so they will be unique to you.
All 100 updated training plans are available now on the web and TrainerRoad apps. You can browse our new training plans or view the updates made to your current training plan here: TrainerRoad Training Plans. For a deep dive on the training plan updates check out: Updated Training Plans: Why, How, and When To Update Your Plan
New TrainerRoad Workouts
In addition to updating our plans, we've added over 640 new workouts to the TrainerRoad workout library. From endurance rides to all-out sprints, there are new workouts available in all seven training zones. You'll find some of these new workouts in the updated plans. The new workouts in the updated plans are one of the changes made to make the new plans more progressive. The rest of the new workouts are here to assist TrainNow's workout recommendations and to further develop Adaptive Training's framework.
Both TrainNow and Adaptive Training source their recommendations from the TrainerRoad workout library. Diversifying the selection of workouts in the TrainerRoad workout library is a big improvement to Adaptive Training's framework, as Adaptive Training will be able to provide you with even better workout options.
Adaptive Training
Get the right workout, every time with training that adapts to you.
Check Out TrainerRoad
Another way you can take advantage of these improvements now is through TrainNow. With more workouts in the TrainerRoad library, TrainNow is more equipped to help you find the right workout on the fly. TrainNow uses the performance from your recently completed TrainerRoad workouts to suggest endurance, climbing, and attacking workouts specifically for you.
How to Get the Updated Plans
All updated TrainerRoad plans and workouts are live on the TrainerRoad website and apps. To get the updated TrainerRoad training plans on the TrainerRoad app, connect your device to the internet, open up the Training Plans tab, and hit refresh. The updated training plans should be available to view and add to your Calendar. If you'd like to view them online, you can find all the new plans here: TrainerRoad Training Plans.
How to Apply an Updated Plan
If you don't have a structured training plan on your Calendar, you can add one of the newly updated training plans with Plan Builder, through the TrainerRoad Calendar on the web, mobile, and desktop apps or on the Training Plans tab here.
How do I Update My Current TrainerRoad Training Plan?
If you'd like to update your current training plan, you can delete your existing one, then add the new updated plan. You can backdate the new plan to your original start date. Additionally, you can update your plan with any Plan Builder recalculation by editing an A or B event. If you're on the web, you can click on a training block annotation, then the update button.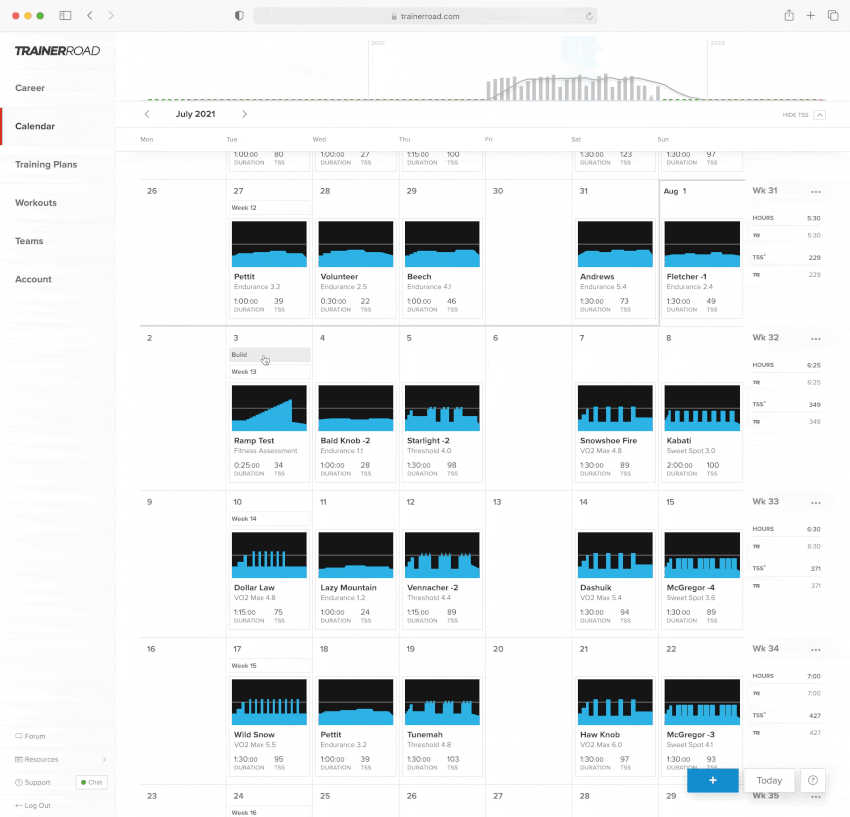 Do I need to Delete My Current TrainerRoad Training Plan?
You don't have to delete your current plan to update it if you built it with Plan Builder. If you built a Plan with Plan Builder and want to update your current training plan, you can update it by prompting it to re-calculate.
If you manually added a TrainerRoad training plan to your Calendar, and want an updated plan, then you will need to delete the previous plan and manually add in the updated one. If you do this, be sure to backdate the new TrainerRoad plan to the start date of your current TrainerRoad plan.
Can I Keep My Old TrainerRoad Training Plan?
If you'd like to continue with the plan version you're already on, you don't need to do anything to keep your old training plan. Your training plan will remain the same as long as you don't delete it or recalculate the plan.
---
If you have any additional questions or are unable to see the updated training plans, feel free to reach out to our support team at support@trainerroad.com or join in on the conversation on the TrainerRoad forum.