When faced with an uncertain road to recovery, Sloane Tilley took it slow and approached each obstacle one step at a time. Her hard work and diligence paid off, and she got faster, stronger, and healthier along the way. Here's how Sloane recovered from a horrific accident and what you can take from her inspiring story.
---
Share your success story and tell us how TrainerRoad helped you reach your goals. 
---
A Horrific Accident
Sloane was on her way back from a training ride, just about to ride into town when a car hit her. While Sloane can't remember the point of impact or what led to the crash, she distinctly remembers laying on the ground with her bike pinned underneath her and a growing sensation of immense pain in her back. Sloane was rushed from the accident scene to the hospital, where she was diagnosed with a tibial fracture and three fractured vertebrae.
Initially, Sloane's doctors weren't sure how severe her prognosis was, which meant most of her injuries were treated non-surgically. While no surgery meant one less thing to worry about, the lack of a prognosis left her with a lot of unanswered questions. Sloane had no idea if she'd be returning to athletics and triathlon again in the future or how long it might take to get there if she did. Three days after the accident, Sloane was discharged from the hospital, feeling unsure about what might be ahead.
Taking the Long Road Back
Facing uncertainty with physical and mental trials ahead, Sloane did what she knew she could. She started slow and took it one step at a time. After two months of bed rest, she began a long journey with physical therapy. First, Sloane was in the pool twice a week doing intensive water therapy, which progressed to increased physical therapy, mobility work, and strength training. From there, it was three and a half years of consistent physical therapy and hard work.
Physical Therapy
While Sloane's back injury was treated entirely non-surgically, a partially torn ACL and meniscus required Sloane to undergo two separate knee surgeries. The first knee surgery helped Sloane get back on her feet and even allowed her to get back to racing and fairly consistent training. But after a few half-distance triathlons and a handful of other races, the pain persisted. Luckily, a second knee surgery three years after the accident has come with more success, and Sloane's been able to ease back into running. She's taken things a little slower, though, and steadily progressed from just walking her dogs to going on two or three-mile runs.
Adaptive Training
Get the right workout, every time with training that adapts to you.
Check Out TrainerRoad
While Sloane's physical therapy has been largely successful, it has come with its fair share of challenges. A lot of her work in PT and at home has been physically and mentally challenging, and there've been multiple checkpoints that we're really hard to reach. Sloane remembers times in PT that we're really tough to get through. But ultimately, as she puts it, "Those are the times where you have to take the really long approach to things and say hopefully this is going to contribute to something I really want down the road."
Recovering With an Eating Disorder
It's easy to think of recovery as being limited to joints, muscles, and bones. But to assume that is to discount half of the battle. For Sloane, a prior struggle with an eating disorder and a newfound fear of the road were obstacles she had to overcome during her recovery process.
Years before her accident, Sloane was diagnosed and professionally treated for clinical anorexia. Sloane says there's a clear relationship between stress and her eating disorder. In high school, being able to control her weight was a way to cope with feelings of stress and lack of control. Athletics played a significant role in her recovery from the eating disorder. Losing her athletic outlet and triathlon community amidst the immense stress from the accident led Sloane back to restrictive eating and dieting.
Sloane approached this much like she did her physical therapy. She took it slowly. When patterns of her eating disorder began to emerge, Sloane went to therapy to stop these habits in their tracks and proactively worked with a sports nutritionist to build a more constructive and positive relationship with food. This, paired with love and support from Sloane's husband, family, and friends, helped her manage this aspect of recovery and get back to training in a way that made her feel comfortable and safe.
Coming Back Stronger with TrainerRoad
After a hard-earned recovery and triathlon goals back on the radar, Sloane began thinking about training and racing again. In the Winter of 2019, Sloane got her first power meter—a pedal-based system. Excited to train with power, she signed up for TrainerRoad and jumped right into training. When Sloane took her first TrainerRoad Ramp Test, her Functional Threshold Power was 154 watts. Since then, she's trained consistently using TrainerRoad, both inside and outside, and successfully raised her FTP by 34 watts.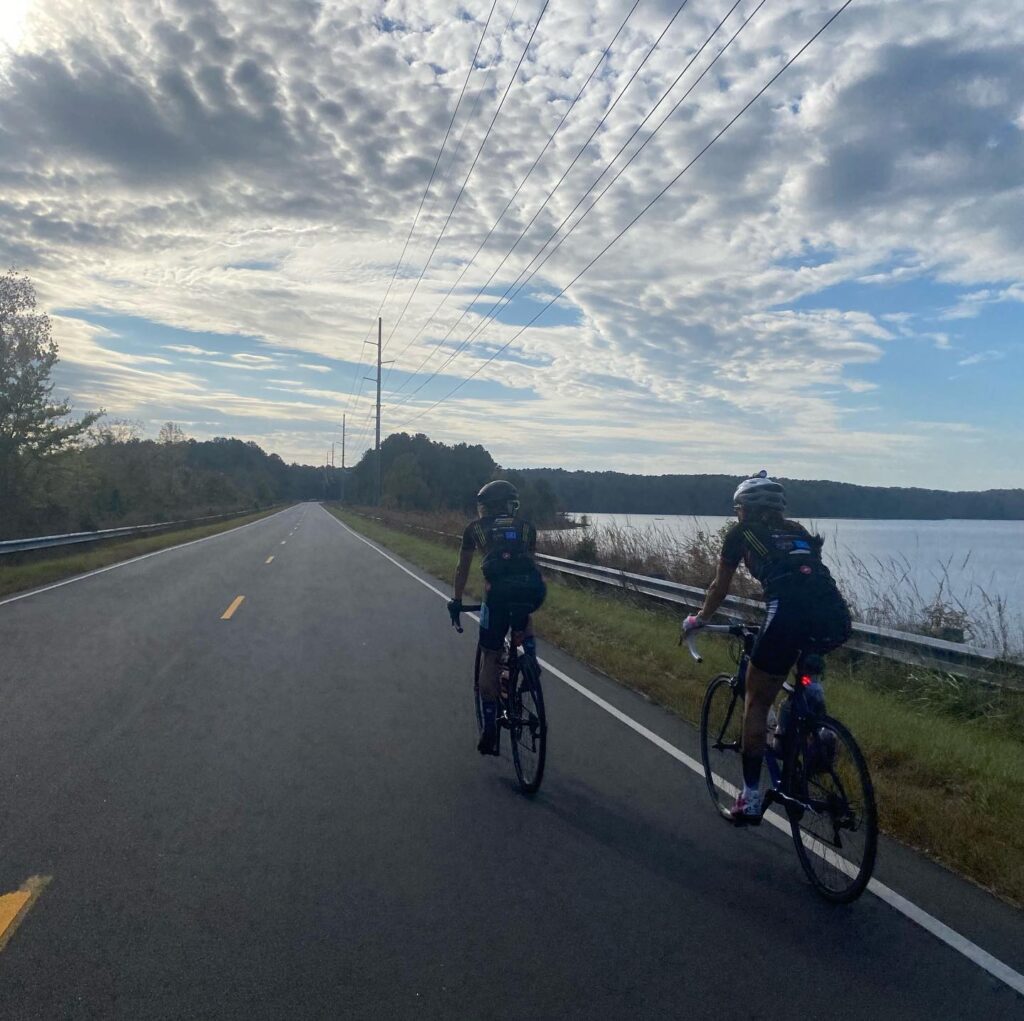 Using TrainerRoad and a power meter has also helped Sloan maintain a more consistent training load too. Sloane manages a demanding and busy work schedule in conjunction with her physical therapy and strength work. Work will frequently pull her away from home, and her bike, for weeks at a time. Sloane brings her bike gear and power meter pedals on work trips to combat these training interruptions. After renting a bike, all Sloane has to do is load an Outside Workout to her head unit, and she's free to explore new roads. Getting her training done away from home helps her maintain consistency and stay on track with her training plan.
Takeaways From Sloane
For Sloane, the impact of this accident has lasted far beyond the initial recovery—in more ways than one. It's changed how Sloane trains. Though she has to maintain more strength work, PT, and mobility to get back to where she once was, Sloane persists and focuses on process-oriented goals and practices. This reminds Sloane of how resilient she really is. So, whatever adversity you may face along the way to getting faster, try to take it one workout at a time, take things slow, and the results will show one day.
Tell us your story. Success isn't always a race win. It can be life-changing health improvements, reaching a personal goal, or more. 
---
For more cycling training knowledge, listen to Ask a Cycling Coach — the only podcast dedicated to making you a faster cyclist. New episodes are released weekly.