For many full-distance triathletes, crossing the finish line at the Ironman World Championships in Kona, Hawaii, is the ultimate accomplishment. Getting to the event can be just as challenging as racing it, though. In this episode of the Successful Athletes Podcast, Ray Brenkus shares what he did to earn a Kona qualification and his recommendations for other athletes who want to do the same.
---
---
How to Qualify for Ironman World Championships
The Ironman World Championships in Kona, Hawaii, brings over 2,000 of the best full-distance athletes together to race. In a discipline where tens of thousands of athletes compete annually, even just qualifying for this event is a significant accomplishment.
Athletes qualify for the Ironman world championships by finishing in a top position in their age group at an Ironman event. Every race offers at least one qualifying spot per age category. The number of spots increases in proportion to the number of athletes racing in that category. So a small category may only offer one qualifying spot to the winner of that category. In contrast, a bigger category may offer spots to the top ten athletes in the category. Essentially the more athletes race in a category, the more spots there are.
Even at events with more qualifying spots, the size and quality of the competition make earning a ticket at Kona very difficult. For successful athlete Ray Brenkus, it took years of hard work, the addition of structured training, and a few near misses to achieve this goal. Here's how he did it. 
Ray's Journey to a Kona Qualification
Ray had been riding and racing for a few years when he decided to sign up for a triathlon. At the time, Ray had plenty of cycling experience and a background in running but no prior swimming or triathlon expertise. To jump-start his triathlon training, he joined a local tri club. From there, Ray frequented group practices, took full advantage of his teammates' advice, and worked with the team coaches to progress his swimming skills. When it came time to race the half-distance event, Ray was well prepared and pulled off a solid result. Feeling motivated by his first race, Ray decided a full-distance event was next.
At his first full-distance triathlon at Coeur d'Alene, Ray finished in twelve hours and 44 minutes. This time though, Ray was left a bit unsatisfied with his performance. Resolved to continue progressing, Ray doubled down on his training and signed up for Ironman Canada in Whistler. Despite an increase in experience and training, he still finished with a very similar time to Coeur d'Alene. At this point, Ray knew he'd need to do something a bit different if he wanted to continue progressing. So he decided to introduce structured training to his schedule with TrainerRoad.
Introducing Structure With TrainerRoad
That year Ray started training with TrainerRoad and following a TrainerRoad training plan. Over time he began to notice a steady improvement in his on-the-bike performance and his running abilities. When his next event came around, he knocked twenty minutes off his half-distance PR. Now prepared for another full-distance triathlon, he signed up for Ironman Arizona.
Adaptive Training
Get the right workout, every time with training that adapts to you.
Check Out TrainerRoad
At Ironman Arizona, Ray took over two hours off his previous best time. This result wasn't just a huge PR, though. His finishing position and a ten-hour and twenty-two-minute finishing time made Ray realize that qualifying for the World Championships in Kona, Hawaii was a realistic goal. So, in 2017, Ray decided he would go all-in on earning a Kona qualification.
Qualifying in Tulsa
With this new goal in sight, Ray kicked his training up a notch. He remained dedicated to his TrainerRoad training plan, swimming with the tri-club, and maintaining a consistent running regimen. Meanwhile, he looked for an event that he thought he might be able to qualify at.
At his next event in Boulder, he finished in seventh, just shy of the fifth and final qualifying spot at that event. After the race in Boulder, he decided he would need to be a bit more strategic about choosing his next event. He wasn't sure if a top-five finish was in reach, but though a top ten finish was doable. After some research, he learned that the Ironman event in Tulsa, Oklahoma, would have a larger crowd, and with it, more qualifying spots.
---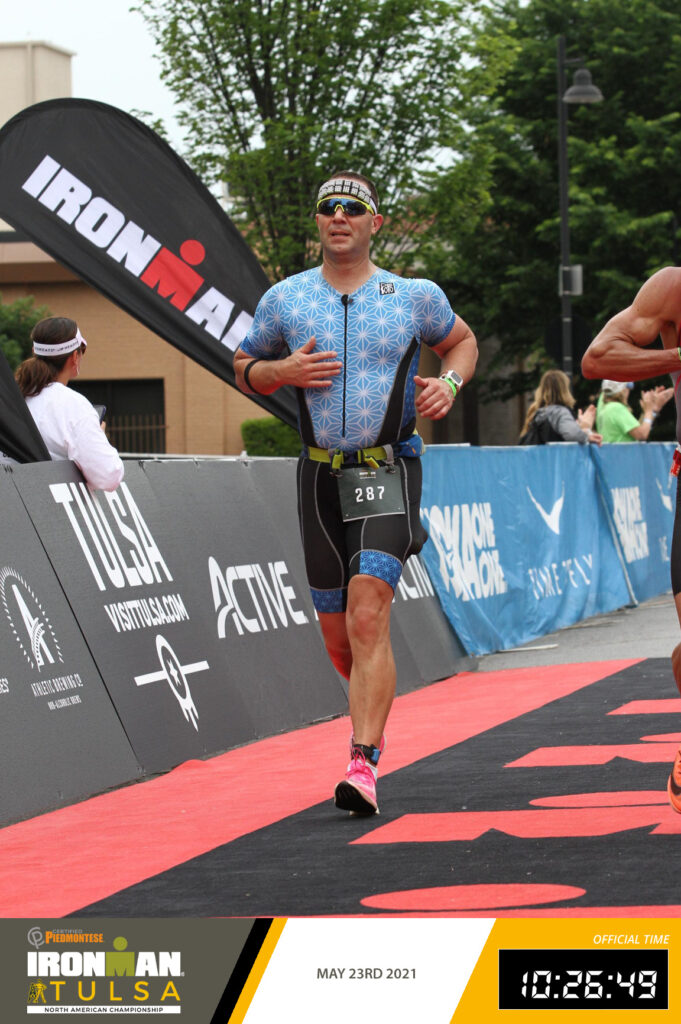 ---
At Tulsa, the event didn't just have 75 qualifying spots but actually had 150 spots. For Ray, this was good news and meant he had even more opportunity to get a qualifying spot. On race day, rain during the bike leg presented some adverse riding conditions. Knowing he had a little more margin for error, riding in such a big category, Ray focused on riding a bit more conservatively and staying safe. So that day, he focused on riding within himself, pacing the race as a whole, and staying focused. The result was a qualification for Kona.
Ray's Tips for an Ironman World Championship Qualification
Now with a qualification under his belt and Kona to look forward to, Ray has a few tips to share with other athletes who want to qualify for the world championship. If you are looking to qualify for the Ironman World Championships, here is what Ray recommends.
1. Choose the Right Event for You
With races put on worldwide, there's a wide variety of courses and locations to choose from. Ray recommends choosing a race that favors your strengths and offers plenty of qualifying spots. In Ray's case, he chooses Ironman Tulsa because he knew a race of that size would have at least 75 available Kona spots. At a smaller race, Ray would have to crack the top five in his category, but at an event as large as Tulsa, he would need to be in the top ten. If you have the freedom to travel for your events, try to select an Ironman event with a significant age group.
2. Focus on Consistency
Ultimately, Ray's qualification was the result of a lot of work and a long-term training progression. Ray feels like he owes a lot of his long-term progress to his consistency and ability to stick to a training plan. He says that having a training plan with TrainerRoad saves him time, as he doesn't have to plan out any of his progression or loading cycles.
For athletes who struggle to maintain a consistent training regimen, Ray recommends getting your indoor setup dialed and developing your own training routine. "I typically make all my nutrition/bottles the night before and try to do my workouts at the same time every day during the week, and weekends so then I have the rest of the day for family, work, etc."
3. Prepare for the Conditions
Ray also recommends going the extra mile to prepare for the conditions of the event—especially if it's going to be hot. For Tulsa, Ray did a heat acclimation protocol to prepare for riding in hot temperatures with a DIY sauna. He followed this heat acclimation regimen four to five days a week in the three months before the event. Reflecting on this, Ray felt it helped him deal with the heat on the day of the event and lower his resting heart rate during the ride. He says, "I believe the heat was the real difference-maker for me."

4. Ride Within Yourself
When you're trying to qualify for Kona, it has the potential to add some pressure to your event. In Ray's case, knowing that he had gotten so close to qualifying in a prior event added some mental weight to his day. On race day, though, Ray focused on riding within himself and executing his race day plan. On the ride, when the weather made things dangerous, he made sure to ride conservatively. Ray feels that this type of pacing and mental strategy can make all the difference.
5. Go for it!
Ray says you can learn a lot by looking at past results, training data, and times. With it, you can find an event that suits your fitness and goals. Then, when you find that race that aligns with your capabilities, strengths, and goals, go for it and sign up! "See how many slots there are and find a race where your times put you within or close to the slot allocation for your age and then sign up for that race no matter where it is."