If you aspire to qualify for Ironman World Championship as an age-group triathlete, this interview with sub-10 Kona-qualifier Emmet Kelly will explain exactly what you need to do.
---
In this episode of the Ask a Cycling Coach podcast, we talk with Emmet Kelly, a 35-year-old IT technician and father of two young boys who qualified for Ironman World Championship.
Listen to the episode to learn:
How Emmet Kelly went from an FTP of 280 to qualifying for Ironman World Championships and placing 10th overall at his Kona-qualifying race
The specific training plan Emmett followed to qualify for Kona
What the best qualifying strategies are in triathlon
Emmet's strategy for picking his Kona-qualifying race
Tips for having a good run off the bike
How to determine your wattage for an Ironman
What Emmet ate for breakfast the morning before his Kona-qualifying race
Details on Emmet's race nutrition, pacing and equipment
How Emmet broke his collarbone in Hawaii 🙁
How a 10% FTP Increase Helped Emmet Qualify for Ironman World Championship
Emmet Kelly, a first-time Kona qualifier, likes to claim he's no special snowflake, he's just committed to his training. Before this year, the 6-foot tall, 154-pound Irishman who's been competing in Ironman competitions since 2011, had an FTP of about 280.
"I could never afford an expensive coach. Coach Chad's plans have allowed me to follow structured, timed workouts and have gotten me to the Ironman World Championships."
Today, after pledging to make 2017 his year, his FTP sits at 308, giving him a power-to-weight ratio of 4.4 W/kg. The training plan that helped him get that 10% improvement and prepared him for Ironman Bolton, England (his Kona-qualifying race), is the mid-volume Full-Distance Triathlon training plan.
The Race that Got Emmet to Kona
On July 16, 2017, Emmet made his dream of qualifying for Ironman World Championship come true at Ironman UK Bolton. With a 1:01:17 swim, 5:30:25 bike and 2:54:55 run, his overall finishing time that solidified his spot to Kona was 09:34:28.
"I qualified for Kona in Bolton, England, finishing 10th overall and 3rd amateur home. This is due to following a TrainerRoad plan."
Hearing about Emmet's win was sweet, but what made it even sweeter was learning what he did leading up to it. Going into Ironman Bolton, Emmet stayed committed to his training plan. So much so that the day before his event, having traveled without his trainer and wanting to do his plan's prescribed leg opener workout Truuli -1, he decided to go to a local bike shop to purchase their demo trainer to knock it out. Judging by the outcome of his race, suffice to say all his efforts paid off!
One Heck of a Year
If qualifying for Ironman World Championship wasn't impressive enough, what you won't hear on the podcast is that this year Emmet also broke THREE Irish bike course records, two of which are for races that have been in existence for more than a decade.
If you're starting to think Emmet has some unfair athletic advantage over the rest of us, he assured us he doesn't. His athletic background includes surfing and running, quite literally, for his lunch. You'll hear more about that if you listen to his podcast episode.
Consistency is his biggest reason for success, sharing, "I live in the real world. I have a wife, two kids under the age of three, and I train in the mornings and at lunch time if work is flexible."
Ironman World Championship 2017
Emmet arrived in Kona a couple weeks before Ironman World Championship 2017 to get acclimated. Tragically, while out on a gusty ride, he got blown off his bike and broke his collarbone.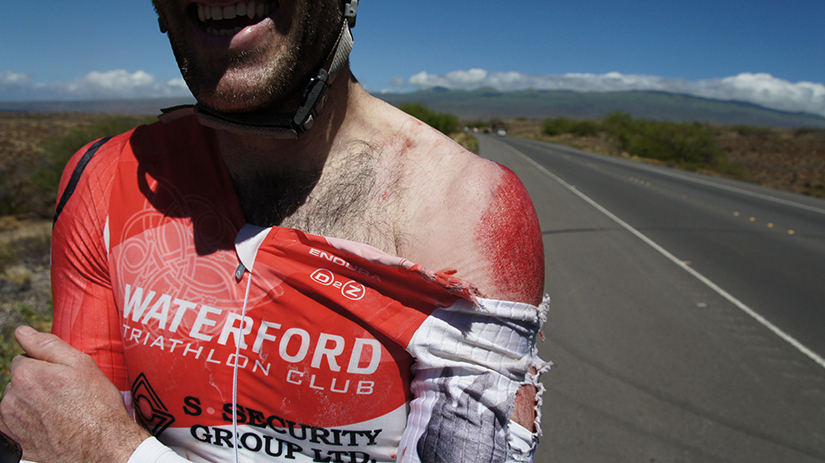 Emmet's view of the race this year will be much different than he expected, but that hasn't broken his spirit. If anything, being at Kona and there to witness the epic race has made him hungrier than ever. He's already "cracked the code" on what it takes to qualify. He knows what numbers he needs to hit in training to get there again. With that confidence, there's no doubt you'll see him back again in 2018.
For more cycling training knowledge, listen to the Ask a Cycling Coach — the only podcast dedicated to making you a faster cyclist. New episodes are released weekly.