Cycling and triathlon can be expensive sports. You start with a bike and kit, then add events, nutrition, and travel to the bill. Factor in coaching, equipment upgrades, and other marginal gains, and costs can quickly get out of hand.
But how much does it actually cost to get faster, and what purchases are worth it?
Common Expenses Compared
Just for perspective, a month of TrainerRoad is equal to the price of about one and a half burritos, two 6-packs of craft beer, or three pumpkin spice lattes. It's less than movie tickets for two, and around half the cost of filling your gas tank if you drive a mid-size car. The average home's monthly cable bill could cover TrainerRoad for well over a year, but in all fairness, Law and Order reruns probably make this money well spent.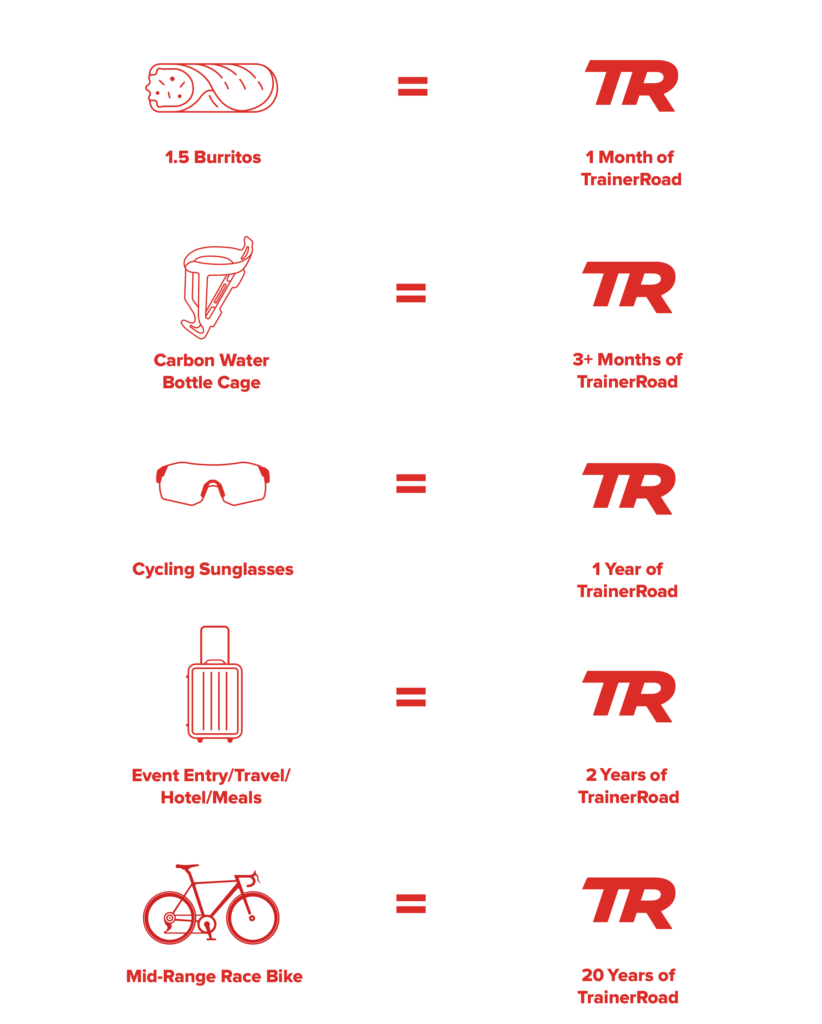 Everyday expenses aside, most crits and road races charge at least $30-$45 for registration. That's about three burritos, or two months of TrainerRoad if you're keeping track. Double that cost to enter the average local century ride, and registration for larger Gran Fondos can easily surpass $200. Even with a free T-shirt, that's still more than you'd pay for an entire year's worth of fully-customized Adaptive Training. And none of this includes expenses for travel and lodging; factoring in gas, a hotel, and a restaurant meal easily adds the equivalent of another year or two of TrainerRoad to your bill. 
Nutrition and Equipment
TrainerRoad's affordability is even more apparent when you compare it to nutrition products and equipment.
A bag of hydration mix costs more than a month of TrainerRoad, as do the bottles you fill with it.
The cost of a single carbon bottle cage could cover your entire Base Training phase.
For the on-sale price of of race tires, you could cover your Build and Specialty phase training.
A full year of TrainerRoad is less than the price of a new pair of sunglasses.
A mid-range race bike costs as much as two decades of TrainerRoad.
And if you're going to spend all that cash on equipment and events, you're going to want to be competitive on race day. Private coaching plans generally start around $200/month, and can run upwards of $700/month for deluxe packages: that's 45x more expensive than TrainerRoad.
For the cost of a single month with even the most affordable private coach, you could subscribe to TrainerRoad for an entire year, get just as fast, and still have money left over. We suggest treating yourself to burritos, beer, lattes, and even a new bike.
The Value of TrainerRoad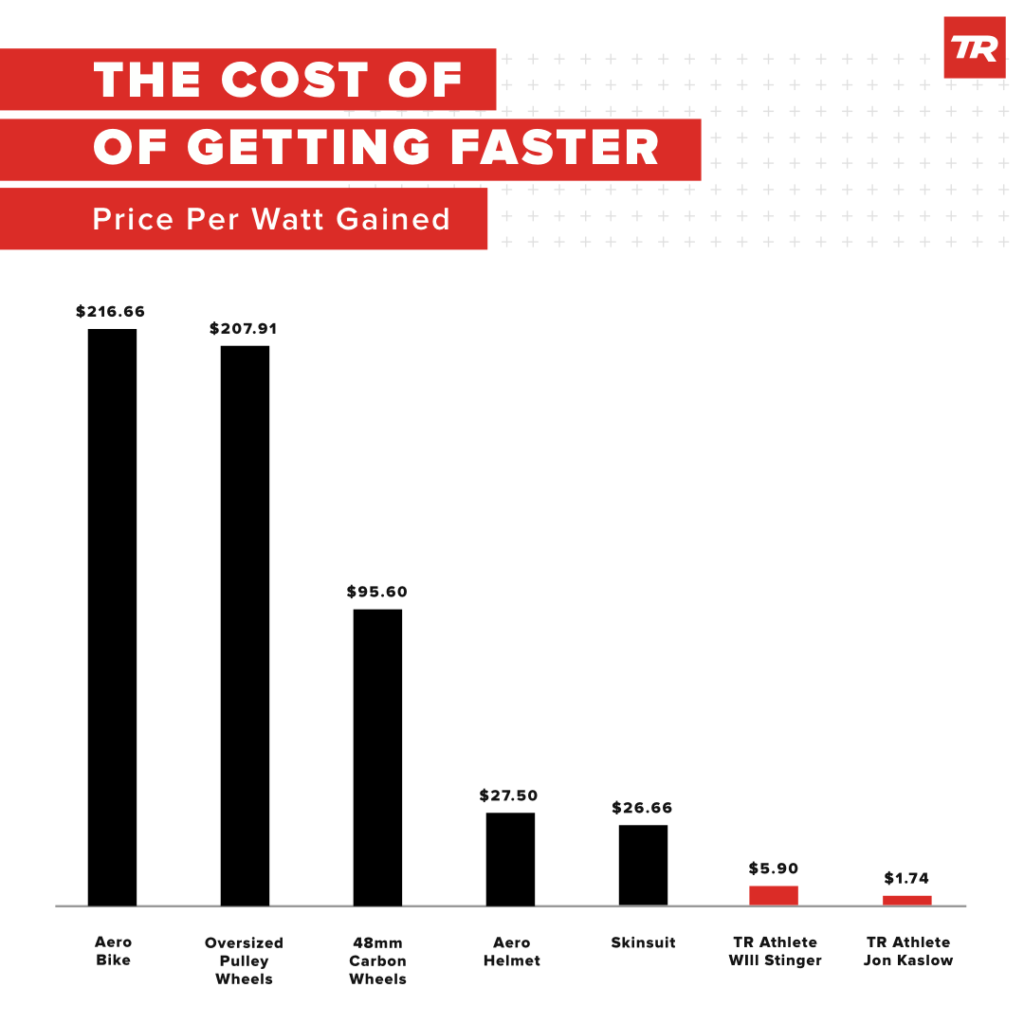 Will Stinger started TrainerRoad with some racing and training under his belt. In two years of training, his FTP increased by 64w, despite a serious crash and long recovery during that time. That puts Will's gains at $5.90 per watt, 1/18th as expensive as aero wheels and 37x more cost-effective than buying a new bike.
At the other end of the spectrum, Jon Kaslow started TrainerRoad as a complete beginner. In 7 months, he improved his FTP by 80w and achieved big success in his target event, exclusively with low-volume training. That puts Jon's improvements at an incredible $1.74 per watt- over 15x more cost-effective than an aero helmet, 1/119th the cost of oversize pulley wheels, and almost 125x the relative value of an aero bike for the same watts. And while you can't lean your TrainerRoad plan against the wall at the coffee shop to show it off, you'll definitely turn some heads when you crush your goal events.
Comparing Cost Per Watt
| Purchase | Cost | Watts Gained | Cost Per Watt |
| --- | --- | --- | --- |
| TrainerRoad (Athlete: Jon Kaslow) | $139.65 (7 months) | 80w | $1.74/w |
| Skinsuit | $399.99 | 15w | $26.66/w |
| Aero Helmet | $220 (on sale) | 8w | $27.50/w |
| 48mm Carbon Wheels | $2,200+ | 23w | $95.60/w |
| Oversized Pulley Wheels | $499 | 2.4 | $207.91/w |
| Aero Bike | $6,500 or more | 30w | $216.66/w |
TrainerRoad is the Best Value In Cycling
Sure, cycling can be expensive. But getting faster doesn't have to be, and for the most cost-effective improvement, TrainerRoad is the proven choice. For less than the price of a daily coffee, you get custom Adaptive Training that responds to your abilities and needs to help you reach any cycling goal. Your first month is risk-free, so try it today—there's simply no better value in the sport.