We are excited to announce our newest feature – Group Workouts!
---
What are Group Workouts?
TrainerRoad's new Group Workouts feature helps you and your friends reach your goals while getting faster together. Eleven athletes can train together. You and ten of your friends can do the same workout while sharing voice, video, and data to have a built-in support system and extra motivation to nail your workouts.
---
---
How Does it work?
Using Group Workouts is easy!
First, make sure you have the newest version of the TrainerRoad App on your Mac or Windows computer. Group Workouts are only available on macOS or Windows.
To Create a New Group Workout
Step 1: Click on the Workouts tab and choose your desired workout.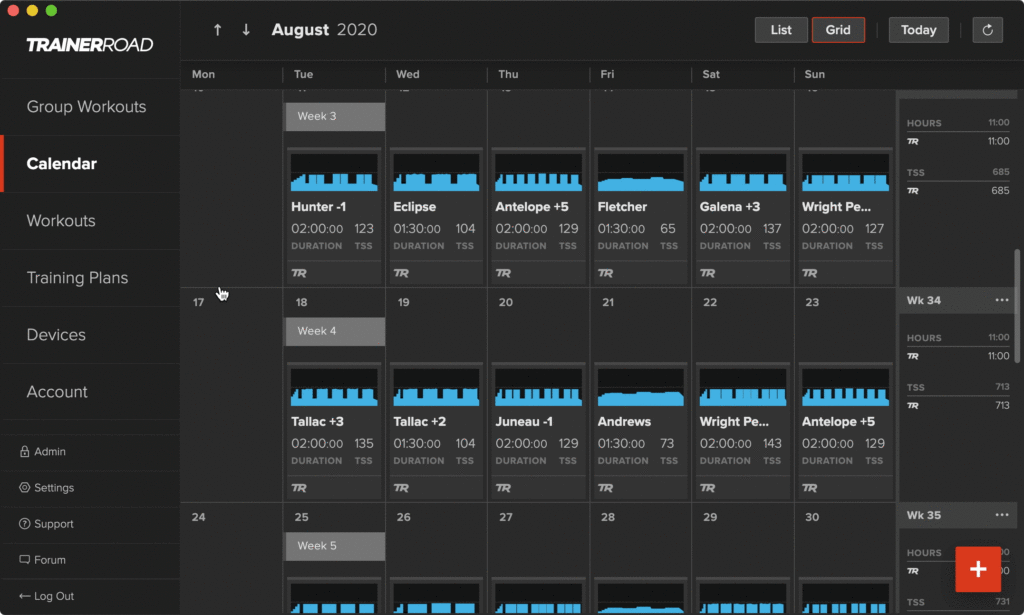 Step 2: Select "Group" at the top of the workout popup window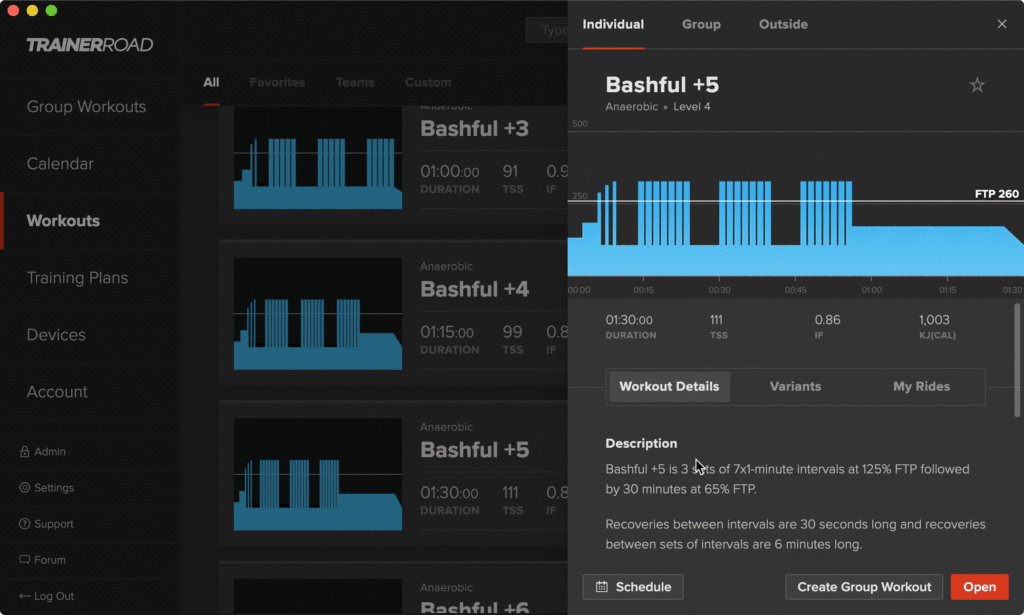 Option 1: To immediately schedule a group workout, choose "Create Group Workout"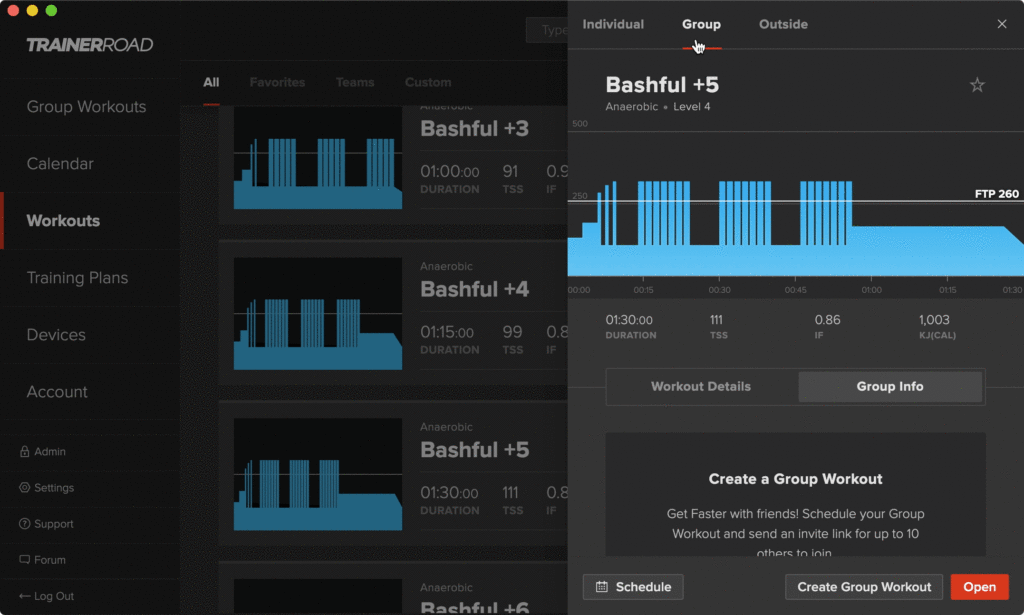 Share the code, then click on the Continue to Workout button. 
Option 2: To Schedule the Workout for Later, Click "Schedule" then Select Date and Time and click "Add To Calendar".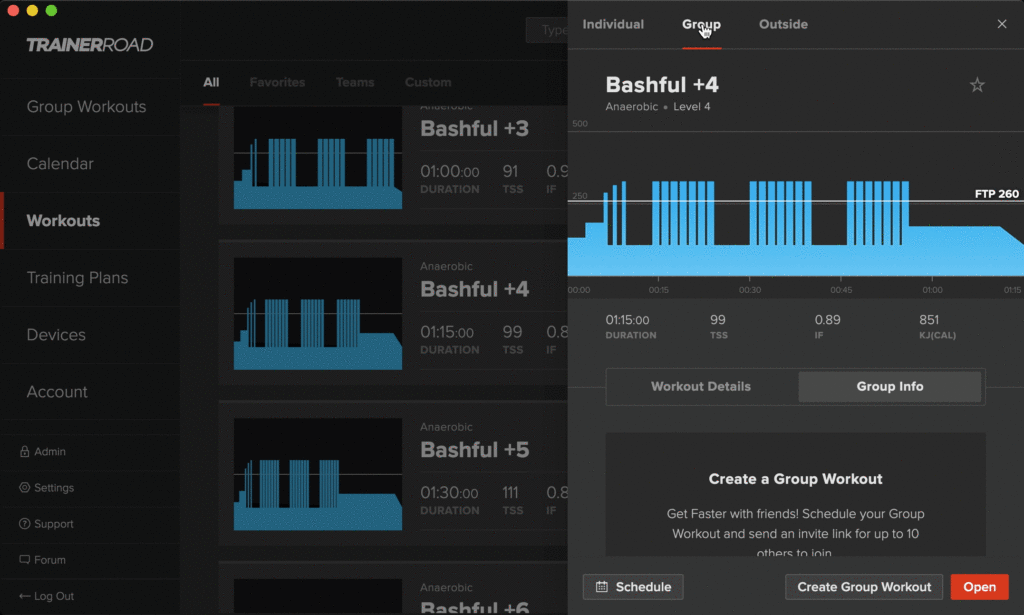 During the Workout: Enable your microphone and camera.
If you share a workout code with your friends, they can join you from the Group Workouts tab by entering the code. The workout will begin when the host presses the start button. During the workout, everyone will be able to share voice and video to chat and encourage each other while doing the same workout. The host of the workout can pause and resume at any point, while each person can adjust their individual intensity (based on FTP).
To Join An Existing Group Workout
Click on the Group Workouts tab and enter the workout code.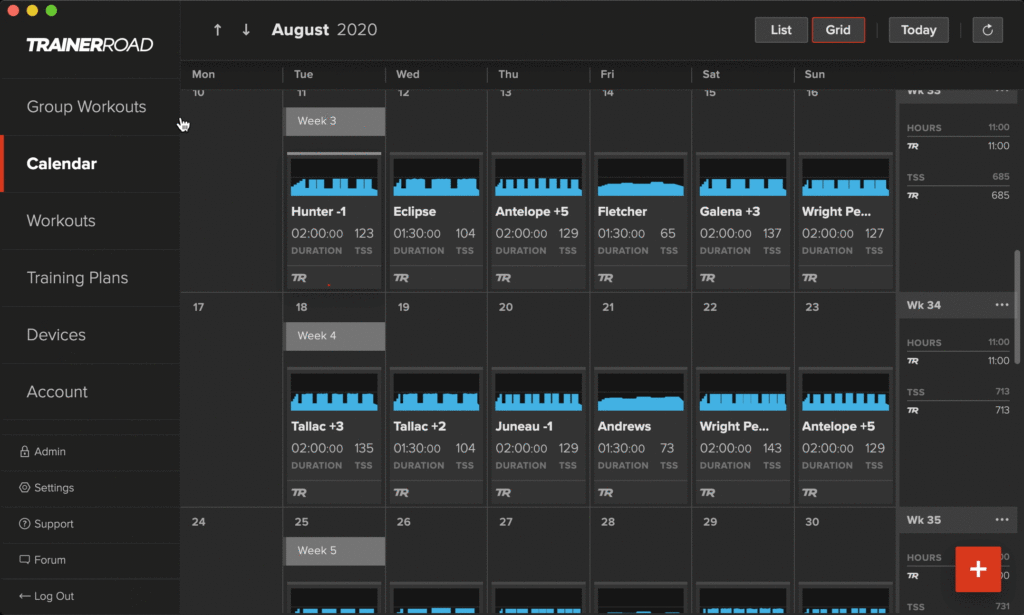 FAQ
Can I do a different workout than my friends?
No, but this is a feature we plan to add down the road.
Can I join a group workout just to observe or cheer a friend on?
If they have a TrainerRoad account, they are welcome to join just to spectate. If they do join, they will still be doing a workout, so if they aren't riding, it will show that they did a workout with no power data. They can delete this workout in their career at any point after the workout.
How many people can I train with?
11 athletes can train together. That's you and 10 of your friends.
Can non-TrainerRoad subscribers join a group workout?
No.
How do I invite somebody to my workout?
Share the group workout code with them. The workout code is displayed in the upper right corner of the workout screen. Or, schedule a workout and send your friends the RSVP link.
How can I find someone to workout with?
The TrainerRoad Forum is a great place to find Group Workouts. Check out the thread Group Workout Room Sharing.
How do I join a Group Workout?
Click on the Group Workouts tab in the app, then enter the code that was shared with you and click Join. Or, RSVP to a scheduled group workout and it will be automatically added to your calendar.
I can't see or hear the other people in the group workout. What do I do?
Enable your camera and your microphone in the upper left corner, and make sure your input is set to your computer's microphone and your output is set to your headphones.
My microphone has a lot of wind noise from my fan. How do I quiet it down?
Make sure the microphone input is selected to the built-in microphone of your laptop or computer and that the fan is pointing at you instead of the computer.
Can I do a ramp test?
Yes, check out Introducing the Group Ramp Test for more information.
Is there a minimum age requirement?
Athletes must be at least 13 years old to join Group Workouts.
What if I train on a Mac and my friend's on Windows?
No problem! Group Workouts is a cross-platform experience for Mac and Windows.
Will this work on mobile apps?
No. As of now, this is just a Mac and Windows app feature.
---
For more cycling training knowledge, listen to Ask a Cycling Coach — the only podcast dedicated to making you a faster cyclist. New episodes are released weekly.