Family vacations, work trips, even the oh-so dreaded holiday weekend at the in-laws … believe it or not, you can still hold onto your cycling fitness and even be getting faster.
---
Training During Travel
As much as we hope that it doesn't, a training hiatus due to travel longer than a few days can derail the progression of a properly structured training plan. And if that weren't bad enough, travel can leave little time to get your training in at all. And if you do make the time, you need to think about the stress of the trip itself. Are you going on a work trip? Are there daily activities that may affect the success of your recovery? Is there alcohol involved?
To balance your trip and your training, we suggest a shift in goals during your travels.
Shift Your Cycling Goals During Travel
We recommend leaving your training plan at bay during your training hiatus. Instead, shift your focus to maintaining your cycling fitness and training progression by bringing a few specific workouts with you on your trip.
We want to avoid loading up too much stress, training and otherwise, by attempting to juggle a strict adherence to your training plan and the demands of your travels. To accomplish this, we want to discuss a few training situations to help you accomplish some training during traveling. And in those situations where bringing your workouts with you isn't an option, we'll cover what steps you should take to get back on track to a successful training season.
Note: Feel free to follow the prescribed workouts in your training plan if the circumstances of your trip allow it. Just be mindful of how you're recovering, and lower the workload accordingly if needed.
Rider Scenarios
Below are 4 situations for athletes who will be traveling during their training plan. Three of the examples are athletes who would like to train and continue to maintain their cycling fitness during the trip, and 1 athlete who needs to know what to do when they return to training if they can't train during the trip.
Athlete 1: Power-based Training on a Hotel Gym Bike
Athlete 1 has a pedal-based power meter that he/she can use on a gym bike offered at a gym available to the athlete during their trip.
You will need to remove the existing pedals from the gym bike using an allen wrench or a pedal wrench to use the gym bike with your pedals. We recommend bringing both, and also bringing a multi-tool (like a leatherman) in case you need to adjust the seat. Keep in mind you will remove the pedals like you would on any normal bike; always turn the pedals backward. If you really want to geek out, measure the seat height on your bike and bring a tape measure to set the gym bike to the same height.
Check in with the gym to see if they are alright with you tinkering with the bike, too. Then once you equip the bike with the power pedals, you'll be ready to pair the pedals to TrainerRoad and rock n' roll.
Athlete 1 needs:
* = Optional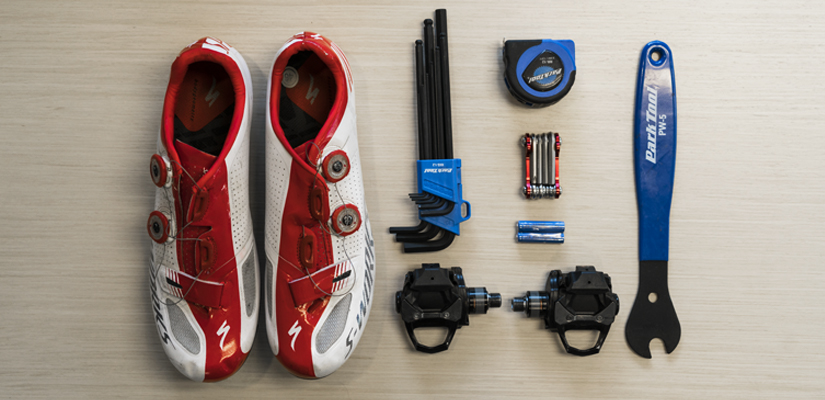 Athlete 2: Taking Your Bike and Trainer on the Road
Athlete 2 is able to bring their own bike and trainer to train with during the trip.
You'll be able to continue training with all the equipment you're used to training with, so this is pretty much the ideal scenario to be in. Though, it'll only apply to athletes who are able to lug around all their equipment; usually a rider who is able to take their car to fit everything in. But using a bike bag to bring your own setup while flying is also an option if you're in the position to fork out the extra cash.
If you're able to travel with your bike by checking it on your flight, consider bringing a compact trainer to fit inside the bike bag as well. We recommend the Feedback Sports Omnium which is collapsible and fits nicely into a bike bag, or can be carried on the plane with its carrying case.
Athlete 2 needs:
* = Optional
Athlete 3: Training by RPE on a Hotel Gym Bike
Athlete 3 can use a gym bike at a gym available to the rider during the trip. They will not have access to a power-measuring device, and will train by Rate of Perceived Exertion (RPE) instead.
Using a gym bike alongside TrainerRoad without the ability to measure your power output leaves the option to train by RPE. Measuring your effort level using RPE is tantamount to doing your workouts based off feel. More experienced cyclists will have a better grasp on how their RPE levels stack up against their actual power zones.
Those with less of a grasp can reference the chart below to understand which RPE levels correspond to which power zones. We want to know this conversion so we can perform our workouts approximately at the intensity prescribed by the workout.
Regardless of experience level, each athlete should examine their workout(s) to determine which RPE level(s) you'll perform your workout at.

Athlete 3 needs:
Athlete 4: Taking Time Off Training While Traveling
Athlete 4 either doesn't have a gym bike available to use during the trip, or is unable to train due to the circumstances of the trip.
You need to know how to approach your training upon return, since you won't be able to train due to the circumstances of your trip. How you jump back into training will depend on how much time you've missed and what phase of training you were in when you took time off.
Determine your best approach following time off using the following resource: How Do I Adjust My Training Plan Following Time Off?
Key Maintenance Workouts for Travel
If you fall into athlete 1-3 scenarios, the workouts you perform while traveling shouldn't bury you in a hole. You want to maintain a moderate level of training stress considering the outside stressors of the trip that can impact your recovery and overall training progression.
Here are three workouts that you can use to maintain your training progress while traveling.
Depending on the circumstances of your trip, you may be able to complete up to 1 workout every other day, and can get away with as little as 1 workout every 3 days.

Huffaker is 6×3-minute VO2max intervals done in 2 sets of 3 intervals where they quickly ramp up to a very high but sustainable and repeatable intensity between 110-120% FTP.

Mount Deborah is 7×3-minute intervals at 105-109% FTP with 3.5-minute recoveries between intervals.

Haeckel is 3 sets of 4×3-minute Threshold intervals that can be treated as slow-force work. They step up from 90-105% FTP in 5% increments and all recoveries are 1 minute long.
Note: Our workout suggestions apply to all types of riders regardless of which training phase you're in.
How to Return to Your Training Plan after Maintenance Period
Once you return from the trip, it's time to jump back into your training plan. Look back on how often you were able to train during your trip. If you've been able to include some training into your travels, you should have no issue jumping right back into where you left off in your training plan. If you weren't able to get as much training in (or none at all), you may need to ease into the workload prescribed by your plan. You can do so by choosing a lower-intensity workout, or choosing a shorter duration of the prescribed workout.
Use either the Workouts page online to find alternative workout versions or different types of workouts altogether. Shorter versions of workouts are indicated by the original workout name with a "-1" or "-2" after it.
Conclusion
Maintaining a proper training progression can get tricky when travel gets in the way of your training. Don't let it be. With a few key workouts, and a handful of options based on the circumstances of your travel, keep your fitness trending in the right direction on your quest to become a faster cyclist.
Tune Into This Week's Podcast Episode
Tune in at 03:00 to follow the discussion on shifting your training goals during travel. Also in this week's episode, Nate returns from India with new insight on how to get power data from a gym bike while traveling, Jonathan gives you a complete guide to Cyclocross National Championships, and Chad goes deep into strength training and staying hydrated during late night workouts.
Topics covered in episode 125:
---
For more cycling training knowledge, listen to the Ask a Cycling Coach — the only podcast dedicated to making you a faster cyclist. New episodes are released weekly.