Over the last year, we asked six TrainerRoad athletes — some recovering from injuries, some returning from an extended break from cycling and others brand new to the sport — to share their fitness improvements with us. We wanted to know exactly what training plans they followed to achieve their results.
---
Here are six of their stories. Each one is unique like the athlete it belongs to, but they all share one piece of common ground: they used structured training to hit the ground running from square one and improved their FTP.
Paul Kim
Discipline: Road Racing
FTP before using TrainerRoad: 148
FTP after using TrainerRoad: 262
Junk miles and severe burnout. That's how Paul Kim described his cycling training before using TrainerRoad. "At the beginning of 2016, I set my eyes on a timed hill climbing event at the end of August. Long story short, I've been on track in making strides for a strong personal effort thanks to structured high volume program and improved diet/nutrition."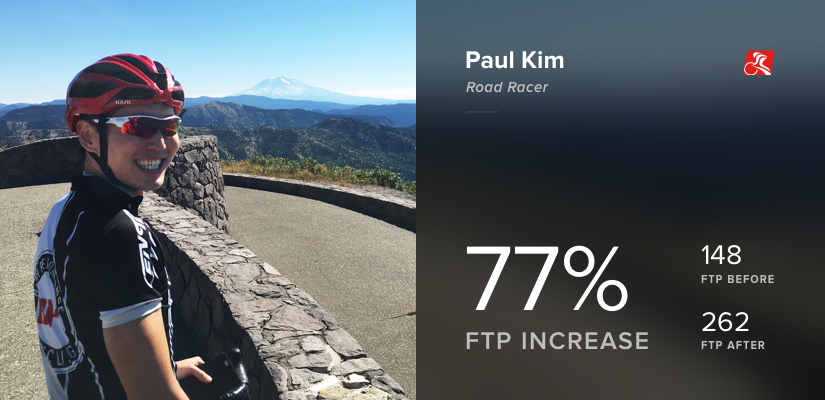 Paul made an impressive spike in FTP, going from just 148 to 262 and a current watt/kg of 4.05. In preparation for the High Pass Challenge in Packwood, WA, he's following the Traditional Base, Sustained Power Build and Climbing Road Race training plans — all high volume (approx. 28 weeks). "If I get awarded the 'gold medal', TrainerRoad will have played a big role in my cycling improvements!"
Malcolm Estment
Discipline: MTB
FTP before using TrainerRoad: 90
FTP after using TrainerRoad: 283
It's difficult to understand just how much an injury affects your life, but especially your training. Malcolm broke his neck while mountain biking nearly three years ago. "I had to learn to walk again. When I started riding again on a home trainer I could only do five minutes at around 100 watts."
Malcolm has made an impressive recovery. He's followed Sweet Spot Base, General Build and MTB Marathon training plans, and now crushes it on MTB Marathon courses with an FTP of 283 (approx. 28 weeks).
Adaptive Training

Get the right workout, every time with training that adapts to you.

Check Out TrainerRoad
Emma Iserman
Discipline: Triathlon
FTP before using TrainerRoad: 149
FTP after using TrainerRoad: 235
In 2015, Emma ran her first half distance triathlon. "I used TrainerRoad last summer (low volume plans) in the build up to that race, and I was very pleased with my results there, averaging 30.39 km/hr over the 89k." Emma followed Half Distance Triathlon Base, Build and Speciality training plans (approx. 24 weeks).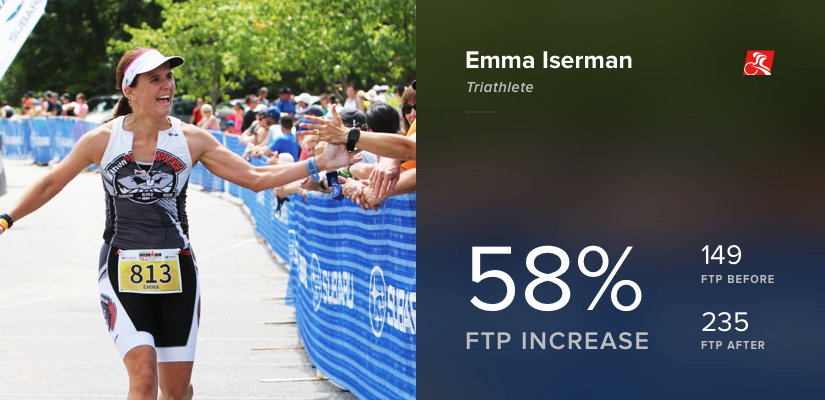 To prepare for her next race, Emma bumped up the volume of her training plan into high gear. "I followed the base, build, and specialty plans, and although I regularly mentally cursed at Coach Chad for some of those workouts (I mean really, that Elwell/Sierra/Sonora combo? Is he trying to kill us?), I could tell I was getting a lot stronger." She finished a longer, more difficult triathlon in less time than her first. Emma's FTP is now 235, up 37% from where she first started on TrainerRoad.
Kenneth King
Discipline: Triathlon and Road Racing
FTP before using TrainerRoad: 202
FTP after using TrainerRoad: 282
After undergoing surgery to remove a leg tumor between his hamstring and his quad, Kenneth made an impressive recovery with the help of TrainerRoad. He's increased his FTP 40% and has lost 33lbs. "Without TrainerRoad and the structured plans (and a lot of encouragement from my buddy) I couldn't have done it."
David Gardiner
Discipline: Triathlon and Road Racing
FTP before using TrainerRoad: 208
FTP after using TrainerRoad: 305
As a married father of two, David knows all too well that life simply happens. "With the first kid I didn't think it would be possible to train enough to be fast so I completely stopped. I started riding again once I discovered TrainerRoad and how effective with little time it can be." Living in New York City didn't make training outdoors any easier with an already limited schedule.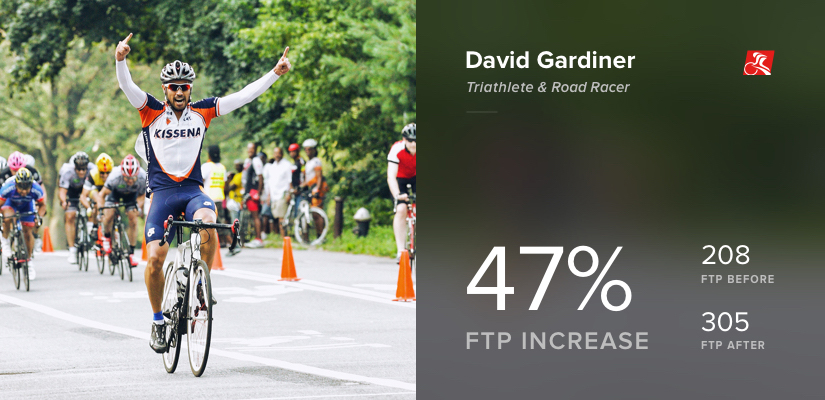 David followed the Sweet Spot Base and Sustained Power Build training plans to make the jump and get back in the saddle (approx. 20 weeks). Now, he's "winning in life, not just in races" with an FTP of 305 at 4.35 watts/kg.
Graham Smedley
Discipline: Triathlon
FTP before using TrainerRoad: 175
FTP after using TrainerRoad: 272
Graham has been riding for two decades. "Using structured programs like TrainerRoad has totally changed how people see me as an ultra athlete." Graham followed Traditional Base, Sustained Power Build and Full Distance Triathlon training plans (approx. 28 weeks). He recently took 8.5 hours off the Triple at Enduroman in the UK.
If TrainerRoad has helped you improve, join the discussion in the "Your FTP Improvements" thread on the TrainerRoad Forum! 
For more cycling training knowledge, listen to the Ask a Cycling Coach — the only podcast dedicated to making you a faster cyclist. New episodes are released weekly.
This post has been updated to better reflect the nature of each athlete's story.