All TrainerRoad rides pushed to Strava now include an image of your completed workout.
---
Auto image uploads is a new feature powered by Activity Sync and Gym & Studio Sync by Strava. Now riders can automatically upload their completed workouts to Strava from TrainerRoad by setting up Activity Sync.
With the new update, your TrainerRoad rides will display your workout graph in the Strava feed similar to how your outdoor rides display your route on a map. It's a simple way for your friends to have a better idea of what you're up to on your indoor trainer rides.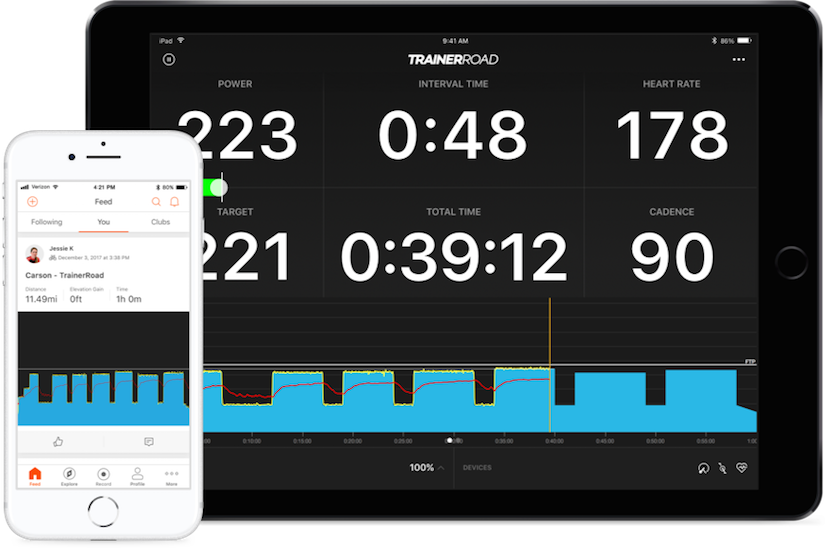 How to Set Up Activity Sync with Strava
Log into TrainerRoad to access your Account Profile
Select "Activity Sync" from the menu on the left-hand side of the screen
Click the option to "Connect with Strava"
Select "Agree & Connect" to authorize TrainerRoad to access your Strava account
Feature FAQ
Is there a way to opt out or disable the feature? Only if you turn off Activity Sync. To turn it off you will have to disconnect Strava sync. If you have Activity Sync connected to Strava, you cannot opt out of the new image upload feature. We did this to reduce complexity in the product, but this could change depending on the feedback we receive.
Will old workouts also be pushed through? We don't have plans to push through old workouts at this time.
Will there be an option to include workout values like NP, TSS, IF, etc.? We will not be sending metrics in the images. There are restrictions and licensing issues around what we can send.
Join the TrainerRoad Facebook Group
If you're a member of the TrainerRoad Facebook group, you heard this news first! Join the group to be a part of a community of TrainerRoad users who get insider information and share their feedback on features before they're released.