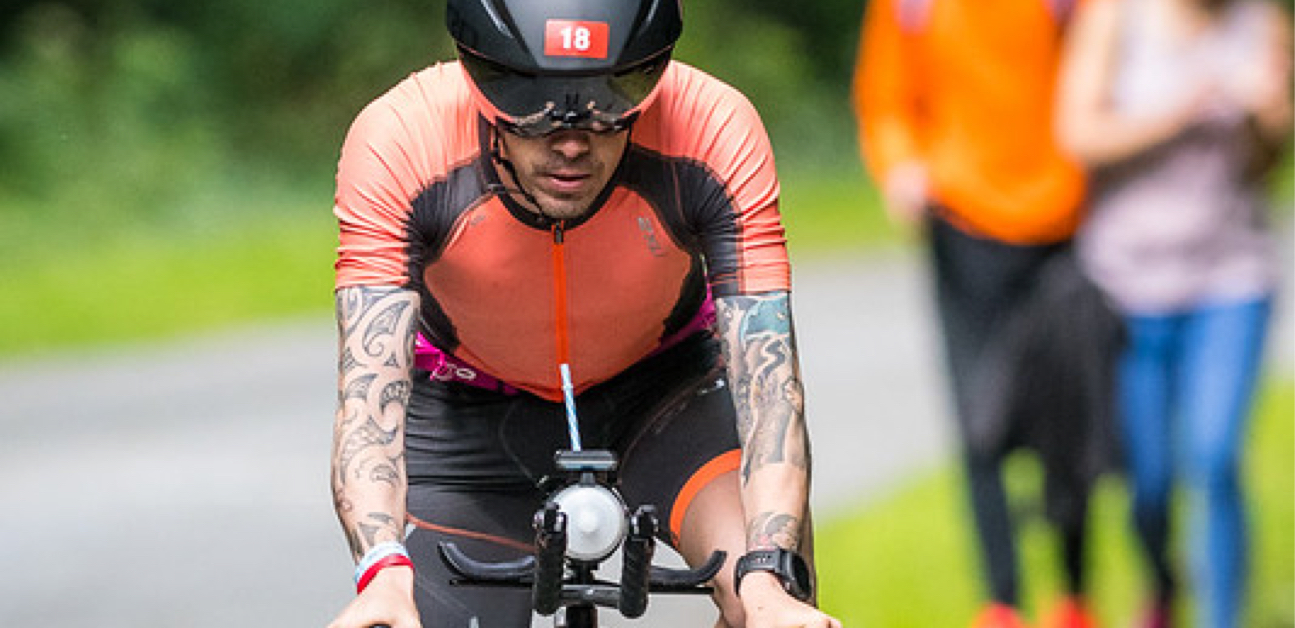 Some athletes are content to stick with what they know, but not Joe Byrne. Across all distances of triathlon and now in road racing, Joe has consistently pushed out of his comfort zone in search of bigger challenges. Along the way, he's proven how smart training and racing strategies can conquer any obstacle.
---
Share your success story and tell us how TrainerRoad helped you reach your goals.
---
Joe Byrne had no background in endurance sports when he started competing in triathlons about 7 years ago. Through hard work with TrainerRoad, he went from being an absolute beginner to winning an age group bronze medal at Sprint national championships, as well as 20th overall in Olympic distance. These are big results, but Joe had his eyes on a different prize: a full-distance event. After a long discussion about what it would take, Joe and his wife Laura decided it was time to step up to the challenge.
The target event was the Outlaw Triathlon in Nottingham, UK. The flat and potentially windy course didn't suit Joe's natural strengths, but the ability to drive to the race from his home in Dublin, Ireland was appealing. With his event chosen, training began.
Full-Distance Triathlon Training
Joe followed TrainerRoad's low-volume Triathlon plans. Since this requires only 3 structured workouts per week, he easily supplemented it with long, unstructured outdoor rides on Saturdays, without compromising the rest of his training. He swam two mornings each week, and ran during lunch break on his non-cycling weekdays and after his Saturday ride. By choosing a manageable schedule, Joe was able to prioritize consistency and almost never missed a workout.
Consistency leads to improvement, and Joe is a perfect example. When he started with TrainerRoad in 2012, his FTP was around 140w at 68kg; by the time of his full-distance race he'd increased his FTP to 240w and he weighed 57kg- an impressive 4.2 w/kg.
Adaptive Training
Get the right workout, every time with training that adapts to you.
Check Out TrainerRoad
Joe is a small and lightweight rider, but Outlaw's course favors larger and more powerful cyclists. To counteract this Joe targeted aerodynamics and efficiency in training. He trained almost entirely in aero position, gradually increasing his power and ability to sustain. He also experimented with nutrition, working towards the goal of comfortably digesting over 70g of carbs/hour on the bike. He even tried out a few alternate positions for better stability in windy conditions, leaving nothing to chance.
Training Takeaways
Consistency is key. Following a low-volume plan meant Joe could easily fit training into his schedule and as a result he almost never missed a workout.
Address Your Weaknesses. Joe knew his small stature put him at a disadvantage on flat courses against larger, more powerful racers. So he focused on aerodynamics in training to make up the difference.
Plan Ahead. Joe experimented with nutrition strategies and position modifications for months so he'd be ready for his big event.
Get Enough Sleep. Joe credits ample sleep with facilitating recovery and avoid illness during his training.
Race Day Adjustments
Joe was ready when race day arrived, even as the weather turned for the worse. Cold, windy, and rainy conditions made the already daunting race even tougher, so Joe adjusted. He modified his position, and switched from a fully aero time trial helmet with a fog-prone visor to a more manageable aero road helmet. And most significantly, he swapped out his deep front wheel and rear disc for a much shallower wheelset that would be less susceptible to crosswinds. While the decision to choose an event in driving distance had limited Joe to a course that wasn't perfect for his strengths, the ability to bring alternate equipment proved decisive after all.  
The conditions also required adjustments in nutrition and pacing. Instead of eating every 20 minutes as he'd planned, Joe ate food whenever he was safely sheltered from the wind, and took extra at aid stations. And since gusting headwinds made it very hard to hold consistent power, he used his power meter as a limiter to avoid surging above threshold, conserving precious energy.
The cautious pace left him in good shape for his run, and Joe completed his first-ever marathon at a faster-than-planned pace. In the end, an overall race time of 9:56 was well-within the goal of 10h, even in poor conditions. Once again, Joe had put his mind to a goal and succeeded. And once again, he already had new goals in sight.
Race Day Takeaways
Prepare For the Worst. Joe brought extra wheels and clothes in case of bad conditions, a decision that likely saved his race.
Adjust Your Strategy but don't abandon it. Weather meant Joe's pacing and nutrition plans had to change, but he still stuck as closely as possible to his original strategies.
Accept What You Can't Change. The weather meant Joe's ride would be slower than hoped, no matter what. Joe took it in stride and conserved energy, allowing him to do better than expected on his run.
Joe's finishing time was impressive, and might even put him on track to qualify for Kona with a few more years of training and results. Still, the time commitment was daunting, and he wanted a break. Joe instead decided to shift his focus to bike racing; he began riding with a cycling club and entering some local races. Initially, his goal was simply to gain experience, learn his strengths and weaknesses, and try to have fun. But unsurprisingly, he also wanted to win.
A Triathlete Becomes a Road Racer
Bike racing is about strategy, and Joe quickly found out where those strategies differed from what he was used to. For one thing, the bike leg of a triathlon is all about measured pacing, and a mass-start race is far more dynamic. Joe had no problem with endurance, but his high-intensity abilities were lacking and needed improvement. In addition, the dynamic of riding in a pack was a major challenge, and he found himself losing position due to inexperience and bad technique.
So Joe shifted his approach. He adjusted his training to focus on sweet spot and VO2 max, and raced as often as possible to test his limits and gain experience. He started practicing cornering and technical skills in a parking lot, and paid more attention to where and when he expended energy mid-race. As in triathlon, his small size is an advantage going uphill but a liability on the flats, and the same emphasis on aerodynamics and efficiency proved helpful. By sitting behind larger riders in the pack, he found he could save energy for his later attacks on the climbs.
Once again, Joe's thoughtful strategy paid off. He's quickly made his way through several category upgrades and even took the overall win at a 3-stage race. His willingness to learn and keen self-awareness continue to drive improvement, and in this regard Joe's journey should serve as an example for any cyclist looking to get faster.
Triathlon Vs. Road Racing Takeaways
Bike Racing is All About Strategy. Unlike triathlon, that strategy isn't just pacing and self-preservation, but also includes group dynamics.
Know Your Strengths and Weaknesses. Understanding your vulnerabilities will help you ride defensively, and help make the risks you take be more likely to succeed.
Practice Technical Skills. Fitness doesn't matter if you're dropped in corners or uncomfortable in the pack. Safely practice technical skills until they become second nature.
Experience is the Best Teacher. By racing often (even when you're not at peak fitness) you'll gain experience and confidence for more important events.
Tell us your story. Success isn't always a race win. It can be life-changing health improvements, reaching a personal goal, or more.