Road Race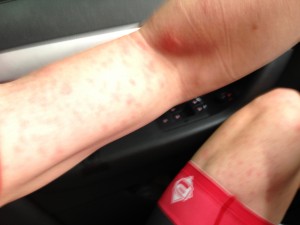 Last weekend saw Bend, Oregon make its final appearance, for now, as host of USA Cycling's Masters National Road Championships and it's both a bit sad and a bit exciting in that we'll see new race venues during next year's editions of the time trial, road race & criterium while at the same time say goodbye to Bend's varied and always challenging assortment of courses. And then of course is the pain of saying goodbye, for now, to the city of Bend itself. If you've never had the chance to visit Bend, you're missing out on one of the country's best representations of all things outdoors: mountain biking, kayaking, hiking, trail running, skiing & snowboarding, and of course, road riding & racing, to name just a few justifications for making the trek to Central Oregon.
At the advice of a friend and trusted racing buddy, I decided to forgo the time trial for a number of reasons that I won't bore you with, and instead, decided to make my bid for top-10 finishes in the road race & criterium. Very lofty goals considering the level of competition typically seen at a national-level races, but even more so considering my 40-44 age division yielded the 2 fastest times ever on the Prineville TT course. On Wednesday, Sept. 4th, multiple national & world champ (in various disciplines – dude has his own Wikipedia page), Richard Feldman put in a scorching 37:19.4 with Chris Phipps nipping at his heels less than 1 second…is slower the right word!? Chris's painfully close 2nd place time of 37:20.3 was nearly a full minute faster than 35-39 World Champ Mike Olheiser (also a world & national champ across different disciplines and age groups with masters & elite titles) who handed me my ass in 2011 when I lost a podium spot by less than a second to Jason Grefrath, more on him when I break down the criterium in a later, follow-up post. Point is, the competition was intense and this ignores the likes of Matt Carinio, Chris DeMarchi, Jason Walker, Chris Lyman & numerous other previous as well as current national champions and all-around exceptional bike racers.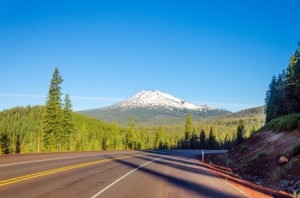 So onto the road race, which if you've ever done the Cascade Cycling Classic or simply done some road riding around Bend then you'll recognize the course or at least the climbs, which covered 70 miles with some 3000 total feet of elevation gain. With a field as stacked as ours, it was no surprise that any breakaways were shut down promptly or given short leashes allowing each futile attempt to dangle no more than about 1/10th mile in front of the field until the peloton as a group or a few motivated chasers brought these rogues back with what seemed to be modest chase effort at best. That's not to say these weren't valiant attempts to get away, rather I'm recognizing the ridiculous horsepower and sheer potential temporarily bridled within our 80-some riders.

So, as pretty much expected, we all reached the first of the 2 relatively long climbs about a half hour outside of the finish at Mt. Bachelor Ski Resort's West Village. And that's when we were all treated to a healthy dose of the unexpected, and this surprise had nothing to do with team tactics, wild card riders or high-speed crashes. Nope, instead the skies went dark – and I mean dark, so much so that I had to take off my sunglasses and hang them on the back of my neck to save myself the further discomfort of eye strain heaped on top of the stress of an upward tipping road to the finish.
Oh, and did I mention it had gotten uncomfortably cold? Normally, this drop in temp at the base of a set of climbs would be ideal conditions for the ascents ahead but the clouds above us were anything but encouraging. So up the first climb we went, or should I say, they went as I was dropped like a stone as I realized my all-too-casual (read: unsuccessful) approach to shedding some 5 extra kilos of weight on my way to legitimately competitive 170-pound race weight was about to demonstrate the cold hard truth of strength-to-weight ratios. Fortunately, I clung to the back refusing to let the follow-moto into the gap ahead of me and managed to struggle back on to the tail-end of the field long enough to gain shelter from the escalating headwind for a minute or two before the real racing began – this first climb was only the softening blow.
Drop…drop…drop, aw dammit, it's gonna rain on us when we're so close to done? If only. The drops turned to plinks and it soon became apparent that we were in for something far more sinister than some moisture & wind. Before I really had a chance to make sense of what I was seeing, I was being pelted (to put it mildly) with increasingly larger wads of ice, aka hail. Ah, no worries, silver lining dictates that the road will stay drier, right? Nope, because there was plenty of rain mixed with the hail and plenty of wind to really drill that hail into our already tired and colder-by-the-minute bodies.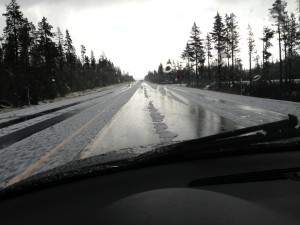 And then the s–t really started to come down. I heard the rider in front of me yell as though he'd snapped a hamstring and I began to wonder what had inspired such a bright vocal reaction barely a moment as I found out myself as popcorn-size iceballs peppered my back, arms, and thighs with surprising velocity, holy hell! A surreal blend of cold, discouragement, and pain from racing began to meld with the insult-to-injury of Mother Nature's miniature artillery blasts and began forcing my burning legs and convulsive breathing to take a back seat to something both exquisitely painful and unnervingly frightening. In a matter of a few seconds, the hail was so plentiful and, in some cases, overwhelming that riders who'd fought to hold position at a national level competition only 3 kilometers from the finish line ran for cover under trees, ducked into cars, or…put their heads down, wailed intermittently and hoped like hell that this onslaught would be short-lived. And it was, but not before each little hail-bomb had indelibly marked any exposed skin unfortunate enough to incur the wrath of this bad weather trifecta: cold rain, cold wind, and hard, fast-moving hail. UNREAL!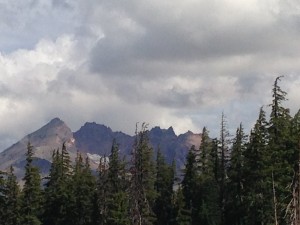 As the hail momentarily abated (it returned a few minutes later but in a slightly less severe manner) we forged ahead, soaked to the bone, skin on fire, legs on fire, through a couple of instant-inches of crumbly, wet, snowy ice/icy snow as the wind tried to further convince us to abandon our cause and yield to something far greater and more formidable than national and even world champions enviably up the road. But push on we did, thinking all the while of what a killer story this was going to be if we managed to avoid the ensuing hypothermia and endure the mottled arms and legs peppered with what today appear to be the aftereffects of chicken pox, not to mention the golfball-sized, gray & yellow bruises on my right, windward thigh.
It's in moments like these where you get to contemplate the type of rider, the type of person you are as you ponder your options. Never mind those initial urges which are more a matter of hard-wired, primal self-preservation, the ones that subconsciously steer you off the road, under a tree, into a car; no no, we all get a pass when it comes to that first blast of adrenaline and the strong recommendations with which our conscious brain follows. Nope, I'm talking about one of 3 reactions, as I see them.
This sucks. I was looking for a reason to bail and this is more than sufficient. Result: DNF
This is dangerous and I have no idea how long I might have to tolerate this. I'm not sure what to do!? Result: hesitation, slower pace, possible DNF
This RULES! I'm totally going to pick up 10 spots. I wish this happened at 5k instead of 3k! Result: a slightly less disappointing overall standing
I'm happy to report that I fell into the 3rd group and did in fact pick up roughly 10 spots in those closing kilometers, spots I might have made up with my more evenly paced and increasingly stronger ascent speed, but I needed to believe I was earning these spots by, quite literally, weathering the storm, fitness be damned!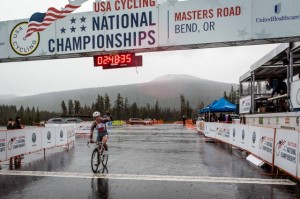 As it turned out, I finished an underwhelming 47th out of 83 starters, but only a shade under 3 minutes off of Phipp's winning time. This was all I needed to really drive home the importance of shedding any & all excess weight prior to making a bid for a national top-10 or even a podium finish on a climbing road race – lesson learned.
In my next post, I'll dissect the criterium as I experienced it, and I'll also try to include some race file statistics and analysis. Thanks for reading!