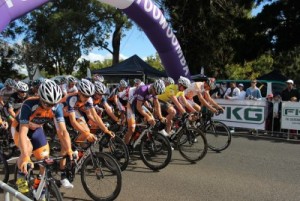 I recently read an article by Eric Kenney titled "How to Get the Most Out of a Training Race" and I really appreciated the simple & very useful advice Eric offered when it comes to making the most out of lower-priority events. So much so that I kept each of his 3 points in mind prior to, over the course of, and after a recent training race last Sunday in TrainerRoad's hometown of Reno, NV.
The race was The Mighty Tour de Nez and it's been a staple of my racing calendar for the better part of a decade now, through all its restructuring, NRC inclusion & removal, course modifications, shifts in event management, and added spectator events & top-notch hand cycle racing. Even prior to personally racing this event, it was easily the highlight social event of my summers because it was the only time all year where downtown Reno became all about cycling for a brief period of time – live music, free mint juleps (danger, danger!), belly dancers with pythons (no bulls–t), brothel primes (ah, Nevada) & the country's fittest masters & pro riders on one of the fastest, most technical crit courses in the United States. Pretty sure there was even a fire breather one year. And each year the race has meant something different depending on its format, the event date(s), and what else was on my calendar, assuming I was focused enough to have planned out my race season.
This year was unique in that the race was briefly removed from the calendar causing me to restructure my training plan as it had originally been my first season peak in a 2-peak racing season. Weeks later, I found out that the race would in fact take place, on the originally scheduled date, requiring me to make a hard call: restructure my training plan yet again and possibly suffer unintended consequences during my season peak only 5 weeks later (masters nationals) or simply use it – a race I desperately want to (and will) win – as merely a training race. Hmmm…
As it turns out, I ended up waffling between racing or simply watching my teammates race – arguably the most frustrating & unenjoyable way to participate in an event you look forward to all year – due mostly to a nagging knee issue. I suffered this 'registration hesitation' for nearly a week because I feared the criterium wouldn't be the most worthwhile use of my training time if I wasn't able to really push myself. And I was quite sure that the minute I toed that start line in front of a hometown crowd there'd be no quitting regardless of how my knee held up, so I was also concerned with furthering my injury during an event where I thought I wouldn't even be a podium threat let alone a likely winner.
But here's where Eric's article came to my rescue. I was already clear on point #1, making my race worthwhile, so I pondered point #2 and reduced my probably unrealistic ambitions of gaining a top-3 standing to simply placing top-10, which in a race like TdN is lofty in its own right since our little hometown crit has a habit of attracting a large handful of national champs, recently "retired" pro riders who at the age of 35 decide to race down a category since they aren't devoting 20-30 hours/week to training, and of course, past champions who excel on courses like our downtown turn-fest which includes 10 fast turns, some onto narrow lanes lined with protective steel pylons which prevent you from seeing your line until you're in the midst of your turn, a short uphill chicane that is hit full-throttle each & every lap, and a rocket-ride downhill chicane onto a mildly off-camber but wide start/finish stretch; this particular quick set of turns claims a handful of victims every year, this year was no exception.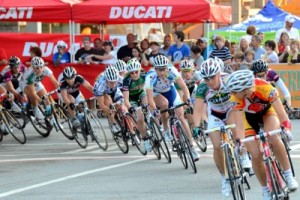 But just letting myself off the top-3 hook changed things in such a way that I felt inspired again, ready to race with a new goal in mind, one that still felt challenging but more attainable, all things considered. So what was left but to race the race and cover point #3 afterward? So race it I did, and after placing 5th in an unusally small but highly competitive 35+ 1/2/3 race, here are some potentially useful insights I took away from this year's iteration of Tour de Nez:
Criteriums are cruel but thorough teachers due to their relentlessly repetitive nature.

They teach you that the fastest lines usually require little if any braking and promptly punish you each time you feather those brakes needlessly.

Getting tailed off a group coming out of a turn requires exponentially more energy than holding closely to the wheel in front of you.
If the rider in front of you (and in front of him, and in front of him) can safely navigate a turn at that speed, so can you.
Victory favors the bold, and while early breaks are often fruitless, sometimes they work.
Each race presents a new scenario for you to dissect on-the-fly so don't plan on winning any races unless you're extremely lucky, inhumanly strong, or can make good sense of a race-within-a-race situation while in a hypoxic fog.
If your group whittles down, start assessing its strength as soon as possible. Decide who's a threat and who's dead weight.
Start testing yourself & your threats. Launch small attacks to see who responds or possibly to get away on your own.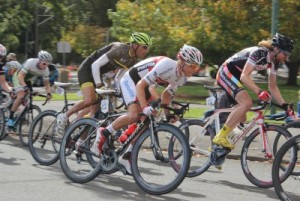 If you can't launch some small attacks, reshape your strategy based on your waning endurance – who's a good wheel to follow, who's taking the turns the fastest, who's likely to try getting away from your group.
Be realistic but optimistic when it comes to your "lap card strategy". Once those lap cards crop up, be prepared to execute no matter how blinded by pain you are.
Again, victory favors the bold. So even if you weren't bold earlier, be bold now knowing that the end is in sight.
It's better to risk & fail than relegate yourself to a pack finish and a list of "I shoulda's".
But with all this in mind, be smart, be safe. Taking yourself and other riders out in a final-lap mad dash is never worth the sleepless nights that road rash promises, and this assumes some lost skin was the worst of your injuries.
Many of these points may not be new to you, especially if you've done your fair share of criterium racing, but I often find that some advice resonates more deeply when I hear it from someone else. Here's hoping I can be that 'someone else' for you. Train smart, ride hard, have fun.