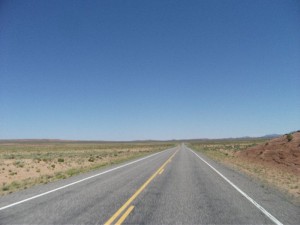 I had always been an active person with a generally high level of fitness that allowed me to pick up new sports quickly and get away with a lack of purpose driven training while still enjoying success. I assumed cycling would be the same, but I couldn't have been more wrong.
Traditional "Training"
After a 10-month struggle with iliotibial band syndrome and patellar tendonitis I found myself in unfamiliar territory. I was getting passed by neighborhood kids on razor scooters and had no clue how to remedy the situation. The wonder that is the internet told me to "build base" so I dedicated a whole year to building cycling fitness with low-intensity/long-duration rides that I innocently referred to as training. The result of one-year of base training was certainly valuable, but after finding myself with sufficient fitness to overtake the neighborhood scooter gang I still had no clue how to build and implement a purpose-driven training plan.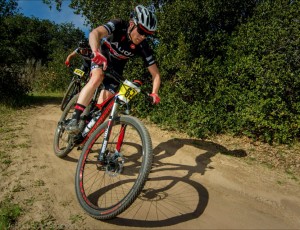 Purpose Driven Training with TrainerRoad
Enter TrainerRoad. When I heard about a local company that made indoor training software I assumed that it's purpose was to entertain but I quickly found that it was my missing link for purpose driven training. My background in motocross racing had me yearning for a training plan that would build mountain bike specific fitness and after a few discussions with the guys at TrainerRoad I was beta testing the newly released MTB plan.
While they do share various similarities, mountain bike racing is very unique when compared to road racing. In this case my goal was to have success in cross country, or XC racing which is a mass-start event lasting anywhere from 70-120 minutes and is generally carried out on a 15-30 minute loop where riders deal with technical terrain and ascend anywhere from 300-1500 feet. Contrary to the customary "start slow, finish hard" paradigm of road racing, XC racing starts with an all-out effort as riders fight to gain favorable positioning on narrow trails, but the pace never relents. It is like a mass-start time trial held on an inconsistent and undulating elevation profile that instead of pavement, is carried out on highly technical terrain that is changing and degrading every lap. With demands this unique, it is clear that your average training plan will not build the fitness you need for XC racing.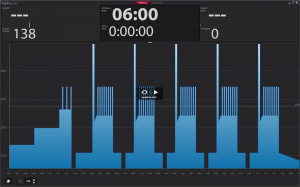 Mountain Bike Training Plans
The great part about TrainerRoad's MTB plans is that they take into account the dynamic nature of XC racing. From high intensity efforts at low cadence to standing intervals, Chad covers all bases. Many of the workouts feature repetitive efforts above threshold with floats, or "rests" in between efforts that are just below your threshold, which build outstanding acceleration and vital aerobic recovery. The sweet-spot work that is scheduled each week rounds out your fitness to prepare you for varying courses and race paces.
For my TrainerRoad setup I am using the fantastic Powerbeam Pro trainer by Cycleops. It is an ERG trainer, meaning that it is an electronic trainer that automatically adjusts the resistance to match the TrainerRoad workout power profile. Consequently, when things got hard in the middle of an interval, I couldn't shift down and soft pedal but had nowhere to hide. Lot's of suffering, but it builds incredible fitness.
I chose the Mountain Bike High Volume plan which totaled 11 weeks of training with an average of 5.4 hours per week and a weekly TSS of 379. With an average workout IF of 0.83 over 55 workouts, I was able to increase my FTP by over 20% and raise my w/kg from 3.2 to 4.3. Most notable to me was the increase in aerobic recovery. Once my greatest weakness, repeated high intensity efforts are now a strength due to the concentrated and consistent training. I mixed in a fair amount of outdoor riding as well, as is suggested with a discipline as technically demanding as mountain biking. That being said, I find it absolutely crucial to maintain consistency with your indoor workouts while adding in skills work outside. The high intensity nature of the majority of the workouts and their 40-90 minute durations allows you to easily get in your intensity work while still getting out and enjoying the ride.
Winning Results
After 11 weeks of hard work I was anxious to put my training to the test and see the fruits of the MTB plan. My first race of the year was Round #3 of the CCCX series in Monterey, CA and my pre-race apprehension was proven unfounded as I won with an eight minute lead on second place in my category. The course was laid out over rolling hills and featured more than nine climbs per lap which, had I not trained with the MTB plans' reduced amplitude billats, would have eaten me alive.
The weather was warmer than the predicted mid-70s and averaged 81 degrees before topping out at 91 degrees fahrenheit. Living in Reno-Tahoe I endure winter conditions that are regularly below freezing while training in the off season, and had it not been for my daily indoor workouts the heat would have come as a fatal blow. Just another unanticipated positive consequence of TrainerRoad.
The heat definitely played a factor in the regression of my lap times, however, my fourth and final lap was only 2% slower than my first after one-hour and 38-minutes of racing. When considering that my race strategy was to go all-out from the start and didn't involve me governing my efforts to have an energy surplus at the end of the race, I am beyond satisfied.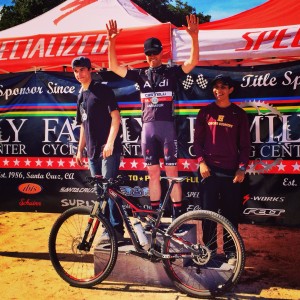 Having followed the High Volume MTB Plan, I can without a doubt say I am the most fit I have ever been. My goal was to be successful in XC racing, and TrainerRoad's MTB Plans gave me the tools to train with purpose and achieve. I'll be continuing to use the MTB High Volume Plan to obtain my goal of gaining my CAT 1 upgrade by late spring. Cheers to more speed and more wins in the future!