There's a good chance you already know who this cycling power couple is. Elden, aka Fatty, is the guy behind the Fat Cyclist; and Lisa is Elden's wife who he lovingly refers to as The Hammer on his blog. These two are real-deal, honest-to-goodness partners in life and partners in training (we can't think of anything cooler than that) and for the six years they've been together, cycling has been at the core of their marriage.
---
Getting to the point in their relationship Elden and Lisa are at now took work, a clear set of priorities and patience — a lot of patience. We wanted details. When we rung the couple, they were on their way to Zion National Park for a weekend of riding to celebrate their wedding anniversary. With their bikes in tow and humor on board, Lisa kicked off our call with a story of when the couple was in their early courtship days. It goes like this:
"We were still dating at the time and I was trying to keep up to impress him [Elden]. He was just chatty, chatty, chatty and I'm riding over my threshold the whole time. He didn't realize how hard I was pushing. Then, finally, we had about three miles left until home — he was still yacking away — and I just said, 'Put a sock in it! I'm working as hard as I can!'"
They still laugh about that moment to this day. Lisa — better known as The Hammer now — no longer has to tell Elden to put a sock in it, or to hold up for that matter. For the last few years, the pair has been training and competing in races together. Now, their relationship and commitment to riding are stronger than ever.
How Fatty and The Hammer incorporate cycling into their relationship is pretty amazing. To get to the heart of how the working parents do it all, we asked the couple to tell us exactly how they make their training and real-life partnership a success. They had three vital words of advice to share.
#1. Set Your Goals Together
Make your most important events the same. By and large, this is Elden and Lisa's biggest recommendation for couples who want to train together. The advice scales beyond the scope of training; it's rooted in communication. "When you set your goals together, it not only gives you something to do together, but it becomes the thing you want to talk about when you're not training," Elden emphasized.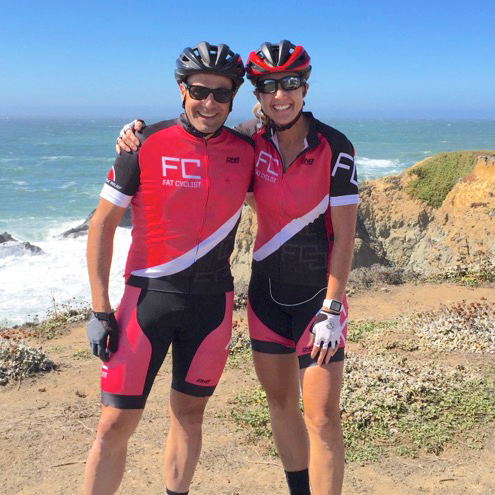 When Fatty and The Hammer aren't riding, they're talking about riding. That's just how into their shared hobby they are. And the best part? Their conversions are legit. It's not just one person going "yah, yah, yah," there's genuine shared passion and interest, which is a direct consequence of having the same goals as your partner.
Leadville has always been a big event for Elden and Lisa. To tally it up, Fatty's completed the course a whopping 18 times and Lisa an impressive 11 times. Every year that passes, their goals for the 100-mile MTB race get loftier. This year, Elden's looking to improve his 8-hour, 12-minute career best by going for a sub-8 time. Lisa's plan is to win the women's Single Speed division, while at the same time besting her still-standing Women's Single Speed record of 9:50.
It's important to note: while this cycling power couple trains together, they do not race together. Some couples go into an event and stay together the whole time — not Fatty and The Hammer. Lisa explains, "We start at the start line together and don't see each other until the finish line."
#2. Invest in Your Partner
One of the most common problems of training with a partner is each rider wanting to go at their own pace. While this approach is a-OK during an event, Elden and Lisa are quick to note it's not okay during training — even if each person's power-to-weight ratio is different, which is pretty likely.
"You can't make training all about yourself. You have to go into each workout with the idea that you're doing this together," Fatty advises. "You have to think about your time training together as an investment into your partner."
Instead of leaving your partner in the dust all the time — that's not really training together Lisa clarified on the call — your time is better spent showing your partner some patience and encouragement. One day your partner is going to level up to where you are and then, as Fatty puts it, "You've got a training partner for life." Sure, this means playing the long game with your training. But more importantly, it means playing the long game with your relationship.
One tip to make the most of riding with your partner outside is to stagger your training, putting the faster rider's training ahead of the slower rider's. During the faster rider's intervals, the slower rider can get a head start and act as a carrot for the faster rider to chase. The roles reverse when it's the slower rider's turn to work hard.
The takeaway here: Get creative and look for unique ways you can contribute to each other's training instead of just magnifying the speed gap between you.
#3. Train at the Same Time
The best way to solve the problem of different abilities is to do the same workout at the same time, but at an intensity that works for each rider. This solution is impractical when riding outside. Riding inside, however, makes it possible and is one of the best ways for couples to train together. Elden and Lisa figured this out a couple of years ago.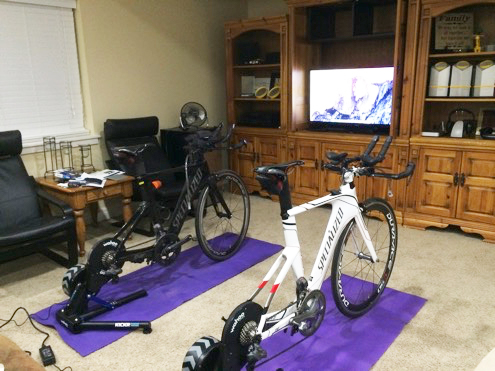 Fatty and The Hammer's current training setup is as follows: Two Wahoo KICKRs, a couple of forward-facing fans, TrainerRoad running on each of their phones and Netflix streaming on their basement TV.
Although their power-to-weight ratios are different, training indoors allows them to do the same workout at the same time. The ability to train simultaneously at different intensities has completely changed the game for Fatty and The Hammer. They explained, "We try to start at the same time so we hit those moments where you're at 150% of your FTP and you're just dying at the same time as your partner. There's a feeling of solidarity that we both benefit from."
Wrap Up
On the heels of being called slow at a race, Elden recently decided to renew his commitment to training. Naturally, that commitment involves Lisa. In a blog post he describes his plan, which includes training with The Hammer at 5:00 pm, as well as an early-morning solo ride at 7:30 am.
To keep up with Fatty's training, he'll be blogging weekly on FatCyclist.com, sharing details including his weight and the specific TR workouts he's doing. If Elden's story compels you to start anew with your training, he's extended an invite for you to join him. You can learn more on his site.
Follow Elden's Career and Lisa's Career on TrainerRoad. If you have advice for partners who train together, share it with us in the comment section below.