Scott Bowe, the fastest amateur at Ironman Arizona in 2015, set some seriously hefty goals for himself going into his big race. They were:
"Get a Hawaii spot."
"Break 9."
"Win my age group."
"Be the top amateur."
With an impressive overall time of 8:49:04 (he swam 51:58, biked 4:39:40 and ran 3:12:02), Scott was able to put a stately checkmark next to all four of his race goals. These accomplishments stand as the pinnacle of his race season. But more than that, they represent all the trials he's overcome to achieve them.
Breaking nine hours for the first time, winning his age group, cementing a spot for Kona 2016 and having his best triathlon season yet didn't always seem like it was in Scott's forecast. After a solid 2011 and 2012, his 2013 and 2014 performances lacked consistency. He commented on this period as the time his understanding and confidence of knowing what he needed to do evaporated. Instead of dwelling in his frustration, Scott reflected on how he could make smart adjustments in the saddle and at home.
Here are just a few beliefs that helped position Scott to win his age group at Ironman Arizona.
Your Kids Can Strengthen Your Commitment to Training — Not Weaken It
When Scott got started in triathlons twelve years ago, he was married, without kids and had an enough free time on hands to indulge a pretty serious video game hobby. On top of that, he was overweight. Today, at 36 years old, the much-more-fit Scott is still married, only now he has two precious kids under the age of five. As all athletes with demanding training schedules know, the transition into parenthood is a tough one. Scott handled his with grace.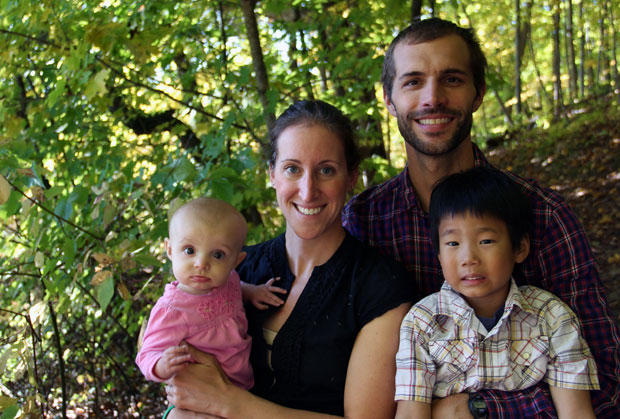 Before kids, it was easy for Scott to fit the majority of his training in after work. Now, his limited free time forces him to train when he knows he has the time to spare. His workouts during weekdays happen either before work around 5:00 am or at lunchtime. Committing to training during these two pockets of time is how Scott became more consistent with his training. And the mentality that made it all stick:
"If it doesn't happen now, it's not happening."
Carving out dedicated times to train was just the first step toward improvement. The second was learning how to make the most of every minute he had available to workout. Enter indoor training with TrainerRoad.
The First Step Is Deciding You Want to Win
"Do I want to just be a weekend warrior, or do I want to win?"
That was the question Scott asked himself after becoming a father and realizing 5-hour-long rides every weekend were no longer realistic. The moment he decided he wanted to be a winner, he started training indoors more often.
Scott first started indoor training a few years ago about once per week. His early experiences were with video workouts, and more recently, video-game inspired training software. Since then, his goals and aspirations as a triathlete have gotten more serious. And with it, so have the expectations he has for his training tools. Scott learned it was difficult for him to get in a structured workout when he was riding, albeit virtually, with other athletes. This drawback lead him to discover TrainerRoad prior to his Ironman Arizona age-group victory.
To prepare for his triathlon event, Scott typically did three bike workouts per week on Tuesdays, Thursdays and Sundays. His goal power for Ironman Arizona was 235 watts for the bike leg, so during these workouts, he focused on increasing power for specific durations over time.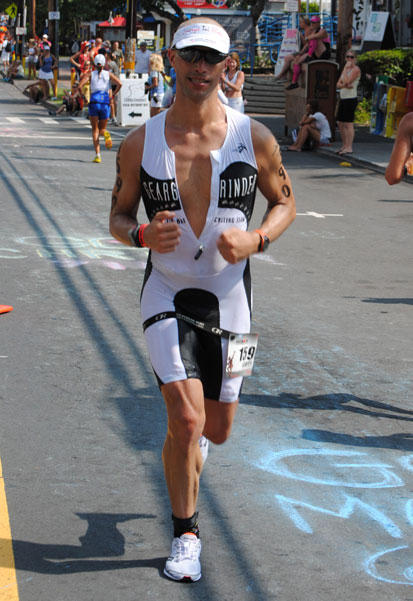 His swim workouts were four times a week, which fell on Mondays, Wednesdays and Fridays and Saturdays. He ran every day of the week, sometimes twice a day. The double runs came into play during the first block of his Ironman Arizona prep when he wanted to break his long runs into two runs. During the second block of his build prep, he did them as a single long run.
Here's what Scott's typical training schedule looked like leading up to Ironman Arizona.
MONDAY
Morning: Swim
Generally a longer endurance swim, Scott's staple workout would usually be 3×800 with paddles and a pull buoy to help get his arms involved while giving his legs a rest from Sunday's work.
For his main set, his swim pace was around what he'd do for an Olympic-distance swim with 20-30 seconds of rest in between. He'd then couple it with a 1,000-meter warm up — a mixture of kick and swim with a little bit of drills. After that main set of three 800s, he'd usually do a 200 cool down. That's a total of about 3,600 meters, which would take about an hour.
Lunch: Easy Run
Easy runs were generally about 30 minutes, at or around Ironman race pace. Further away from the race, when Scott was in his general training phase, they were usually about 50 minutes. The length of his daily easy runs was determined by the length of his long run. The goal was to keep his total running volume for the week between 40-45 miles. So, the longer the long run would be, the shorter his other runs during the week would be to balance everything out.
In general, Scott did not have a speed target for his easy run, but he did use "Daniels E-Pace" as a speed limit — the fastest he would run. For his easy runs, his approach was just to get out the door and run for whatever time it was. If he was feeling tired, he'd maybe have an 8:00, 8:10 or 8:20 pace. Or sometimes he'd have a 7:45 pace. He didn't worry about the difference on his easy runs.
TUESDAY
Morning: Bike
Scott's bike workouts on Tuesdays and Thursdays were always done on the trainer. His Tuesday bike ride leading up to IMAZ, was a Sweet-Spot-like workout really focused on half-Ironman-type efforts. So, 80-95% threshold with recoveries at Ironman efforts around 75%.
His staple 90-minute total workout would include 30 minutes of noodling along on the trainer. This is when he'd drink his coffee, wake up and get his mind focused. His main set would be 2×20-minutes at 85-90% with a 10-minute recovery around 75%. He'd do that twice to round out the 90-minute ride.
Lunch: Easy Run
Like Monday, this would be another easy 30-minute run.
WEDNESSDAY
Morning: Swim
Scott would focus on doing 100s with the goal of increasing his speed. He'd do a set of thirty or so 100s or go on 130 or 135 and aim to hold them around 113 for 100 meters. So basically a 500ish race pace with about 20 seconds of rest.
After the main set of 100s — usually a total of around 2,500 to 3,000 meters — he'd do 2×400 or 2×600 pulls to get more yards and continue his focus on the endurance of his arms.
Lunch: Run with Strides
This would be a short and simple 25- to 30-minute run. He'd do a 10-minute jog to get to a spot where he could do some strides. Once there, he'd do about six strides then jog back. The focus here was to do the strides and get in some really fast running, but not to work really, really hard.
THURSDAY
Morning: Bike
Scott's Thursday bike ride varied, but a good sample workout for this day would be a 4×8 at best average. The focus was on 30-40 minutes of hard riding while trying to do as many watts as he could consistently.
Lunch: Easy Run
Again, this run is similar to his Monday easy run. It was usually Scott's most "pathetic" workout of the week due to him feeling worn out from his bike ride.
FRIDAY
Morning: Swim
This swim would vary, but the main focus was just on getting in the pool. If Scott felt good, he'd do Individual Medley work or strokes. But mostly, this workout he was "a glorified warm up" that amounted to about 2,500 to 3,000 meters.
Afternoon or Evening: Long Run
Before IMAZ, Scott built his long run up to a total of about 2:15. That included a progressive amount of work slightly faster than his Ironman goal race pace — 7:10. One of his runs, for example, included a set of 3x a little faster than Ironman race pace. So, 3×25 minutes at 6:50 pace with maybe a  2-minute easy walk after each effort.
SATURDAY
Swim
During his Ironman build, Scott would try to do twenty 200s. He'd start off his first two 200s on a 3:30 sendoff, then his second two would be on a 3:25 sendoff, then two more on 3:20. He'd continue this so that every two sets he'd try to take five seconds off the sendoff. The goal was to settle in at around 2:35-2:40 per 200. He'd then hold all of them at that pace, even with the decreasing rest.
Easy Run
His easy run usually followed immediately after his swim so Scott could get back home.
SUNDAY
Long Bike Ride
Due to the combination of the weather and scheduling, Scott did all of his bike workouts on the trainer leading up to Ironman Arizona. That said, this was usually the one ride during the week he'd do outside.
For this ride, he typically did a 10-minute easy warm up, then a main set totaling four hours. An example workout would be: 3x the main set he did on Tuesday (20 minutes at half Ironman with 10-minute recoveries). After doing that three times in a row at 90 minutes, he'd then do an hour at maybe 65-70% of threshold to recover. After that, he'd do another 90-minute focused set of 5 minutes at around threshold, straight into 25 minutes at Ironman effort with a 5-minute easy spin. He'd do that 3 times for another 90 minutes or so. That would usually get him to a point where he was either done or he'd might do another hour of just riding.
Run
Mostly for time reasons, Scott's run on Sundays were short (generally 30 minutes) and right after his long ride. He'd do the first 15 minutes a little faster than his Ironman race pace, while the second half of his run would be at his typical easy jog/run pace.
Perfect Is The Enemy of Great
Scott is not an athlete who takes the mental side of preparing for a triathlon lightly. For years, his overanalyzing and mental stress played to his detriment. That was until he reassessed how he was preparing for his events. After some reflection, he realized he was spending too much time thinking. He finally decided,
"I just need to shut my brain off and stop thinking and worrying so much about making things perfect."
As Scott notes in one of his blog posts, it's really easy to get caught up in a trap of trying to lay out a perfectly periodized and planned-out progression. Life stuff always comes up. What you have to do is roll with the punches. Like our head coach Chad Timmerman always recommends to our athletes, if you find yourself missing 2-3 days of training because you were either feeling a little under the weather, went on vacation, or something unexpected came up, just pick up your training where you should be and leave those missed workouts in the past.
Triathlon training requires blinders. There are always going to be distractions you encounter, whether it be a new crop of shiney physiological buzzwords, a fancy study or a blog post outlining some leading-edge training theories. These things will attempt to pull your focus away. Don't let them — be blind to it all. At the end of the day, you'll get your best results when you simply put your head down, do the work and stick to your training plan — even in the times you might be discouraged by your progress. That's what Scott Bowe's experiences have taught him.
Are you preparing for a triathlon? Our triathlon training plans complete with swim, bike and run instructions, will get you ready for your big event.
For answers to your cycling training questions, listen to our podcast Ask a Cycling Coach — the only podcast dedicated to making you a faster cyclist. New episodes are released weekly.