Running Key Takeaways
Run activities now automatically sync to your TrainerRoad calendar
Analyze your runs on our Run Details page
Supports runs with power data
Automatic association with planned runs in your calendar
Available on website, mobile, and desktop apps
---
Runs now automatically upload to TrainerRoad and show up on your calendar!
---
How it Works
You can now upload and analyze your running activities on TrainerRoad. Simply connect your Strava or Garmin Connect accounts to TrainerRoad and the work is done automatically for you!

Running Activities on Your TrainerRoad Calendar
All of your running activities that you upload to Strava or Garmin Connect are now visible on your TrainerRoad calendar, including all runs you've done in the past.
If you have a running activity scheduled on your calendar, it will automatically be associated the the run activity that is uploaded for that day, matching how this works for cycling activities in TrainerRoad.
Additionally, you can now view your weekly run mileage on your calendar.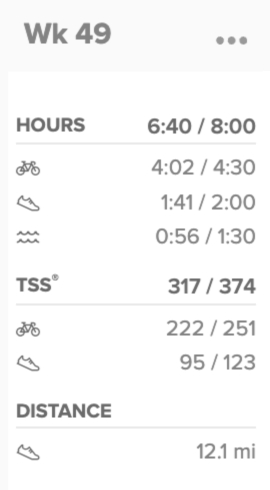 Analytics and Running Power Support
You can also drill into your runs and use some of our analytics tools from cycling.
If your run has power on it, we'll automatically bring it in and display it on your ride detail page.

TrainerRoad Plans with Runs
Runs are available in the Base, Build, and Specialty Phases of our triathlon plans. To get started with a triathlon plan, use Plan Builder and add a triathlon as your A-Event.
Manually Adding a Planned Run
If you don't want to follow a triathlon plan but still want to add planned runs to your calendar, you can do that by adding a planned run activity to your calendar.
To do this, go to your calendar, click on the "+" button, and then choose "Other Activities".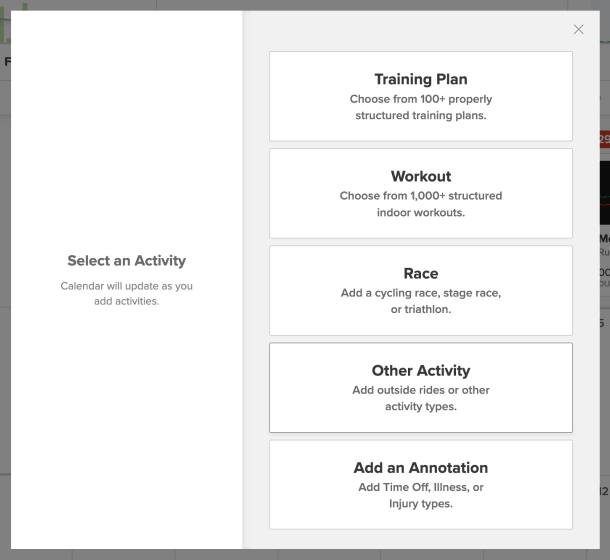 From there, choose "Run" in the Event Type drop down.
Why Running?
With today's release, we're better supporting our multi-sport athletes, but are there many of them?
This might surprise you, but our athletes have uploaded more than 40,000,000 runs and have racked up enough miles to run around the earth over 8,118 times!
Some interesting run stats:
Total runs: 40,980,200
Total Distance: 202,170,998mi / 323/473,597km
Total Hours: 31,343,083
Average Run: 4.93mi (7.89km)
You can see that our athletes run enough for us to support it.
And if you're the cyclist who does two runs a year during the off season, you'll have your runs automatically uploaded too! 😀
Congrats to the team!
This required a huge amount of work over the last 8-9 months to change our internal database system to handle different types of activities. Our team worked really hard on this and I'm proud of their work!
Sign up or renew now to get faster
If you're new to TrainerRoad, go to TrainerRoad.com now to sign up, try these new running features, and get faster!
Just remember that if you're a run-curious cyclist, your cardiovascular fitness may trick you into doing too much too early, so don't blow up your legs! 😆
---
Running FAQ
For more information on the technicalities of how to use these new running features, see the FAQ below and head over to our Help Center Article.
What data is displayed on the Run Activity Details page?
Run details include pace, elevation, intervals, and a map when the ride has been completed outdoors. It will also include cadence, heart rate, and power if your device records these metrics.
Can I switch between using kilometers vs. miles?
You can manage your preferences for units from the Account section of the website or apps.
Switching your unit preference is a global setting and we don't have the ability to switch units for only run activities currently.
How is Run TSS measured in TrainerRoad?
Currently, Run TSS is only an estimated TSS based on RPE which athletes will need to manually enter post-workout. TSS based on Heart rate or Power is not in place at the moment. Run TSS is something we are closely monitoring though and actively discussing.
Are runs incorporated into Adaptive Training?
If you miss a run scheduled by your plan, Adaptive Training will adjust your upcoming runs in response. Adaptive Training does not currently analyze your running performance the way it does for your cycling workouts though and adaptations to your runs will not affect your scheduled cycling workouts.
Can I view my running PRs in TrainerRoad?
The current set of run features for TrainerRoad does not yet include PRs, but we do plan to add this in a future update.
From which platforms does TrainerRoad import run activities?
TrainerRoad will import runs from Strava and Garmin Connect.
Can I import indoor runs into TrainerRoad?
Yes! Runs marked as being completed indoors on the device you use to record running activities will automatically be imported into TrainerRoad and marked as indoor activities.
Why do some of my runs not have GPS files associated with them?
If you aren't seeing a GPS file alongside your run, this means the run was marked as being completed indoors on a treadmill.