Cycling forms a part of any athlete's self-identity. For Carly Williams, identity and purpose changed in ways she could never have expected, but the structure of training helped her push forward through trying times.
---
Share your success story and tell us how TrainerRoad helped you reach your goals. 
---
Training For Yourself and Others
We all make tough choices when we devote time to training. There's often a guilt that comes with prioritizing hours on the bike ahead of family, friends, and work obligations. Being able to ride farther and faster doesn't make you a better person, but the routine and discipline of structured training can offer needed refuge from the stresses of life. By becoming fitter and healthier people for ourselves, we can become better people for others as well.
Carly Williamson knows this better than anyone. For 3 years, Carly cared for her terminally-ill husband Austin, putting his needs before hers. Cycling and TrainerRoad helped her to care for herself, and in turn helped her to make life better for the person she loved. How Carly approached the self-interest of training during the most selfless time of her life can serve as a powerful example for every athlete.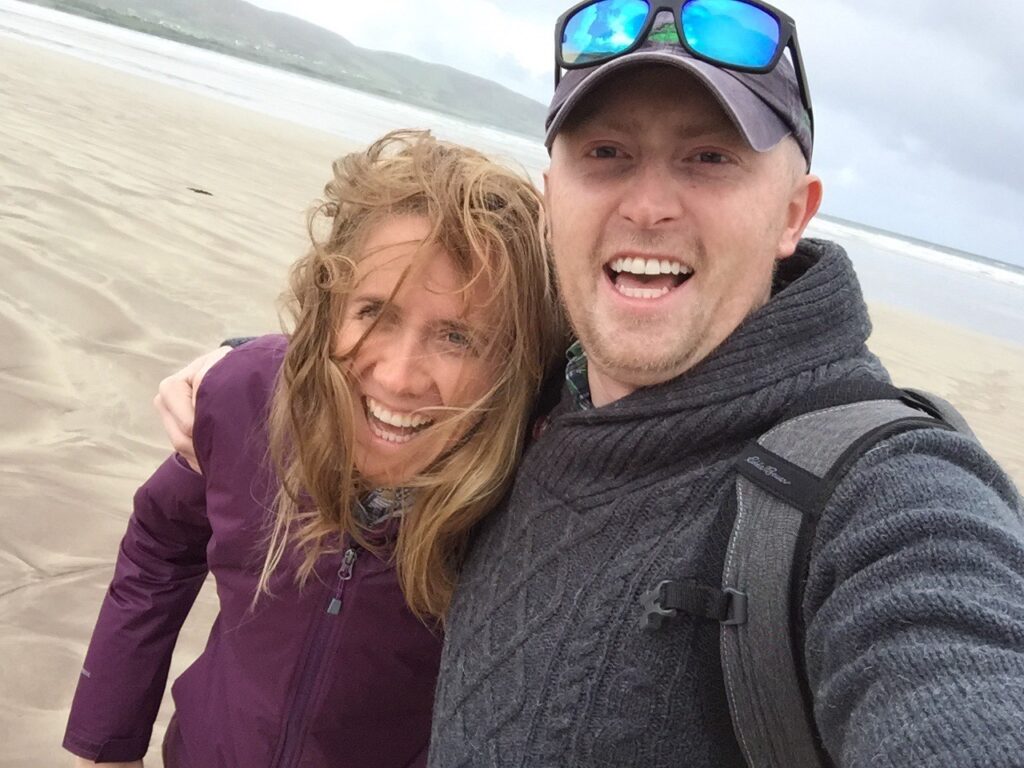 The Diagnosis
Carly and her husband Austin had been married for a year when Austin's foot began to hurt. Austin, a 25 year-old Air Force Captain and graduate student in Aerospace Engineering, lived an active lifestyle and initially chalked the pain up to a running injury. His doctors recommended some stretches but over the course of a year the pain didn't go away.
Finally, after his foot became significantly swollen, the diagnosis arrived. Austin had Synovial Sarcoma, a very rare and aggressive form of cancer that most often forms in the arms or legs. His right leg was amputated below the knee but it was too late. Shortly after amputation it was discovered the cancer had metastasized to his lungs, and with no good treatment options Austin was given a year and a half to live.
A Change In Role
Self-identity is a powerful force in our lives, and one we like to think we can control. Carly, who was still in graduate school at the time for mathematical biosciences, suddenly found herself with a new purpose as Austin's caretaker. This was a dramatic change in identity for a young person who neither expected nor felt prepared for this role.
Carly used to swim in high school and dabbled with cycling a bit during college, but endurance sports were not a major part of her life. When one of Austin's chemotherapy nurses recommended she come to a local cycling gym for some spin classes, she decided to give it a try and was quickly hooked. The gym also led beginner groups outside, teaching basic skills of drafting, on-bike nutrition, and pack etiquette. Carly dove in and found an activity that could offer balance to her demanding new role as caretaker, and refuge amidst an incredibly challenging time.
Eventually, Carly started using TrainerRoad after a friend's recommendation. As a data-driven engineer herself, she identified with the structure and systematic approach of the training plans, and with the straightforward simplicity of the interface. It's reassuring to know you can get on the bike, follow some simple instructions, and achieve something productive; this confidence was why TrainerRoad worked so well as a coping mechanism for Carly. Her life was becoming increasingly complicated, but the efficiency and purpose of training was one thing she could control.
Adaptive Training
Get the right workout, every time with training that adapts to you.
Check Out TrainerRoad
Goals and Limitations
Many of our goals as athletes are really only important because we decide they are. Raising your FTP or standing on the podium at a local crit won't change the world, but we ascribe so much significance to these minor milestones that we base our lives around chasing them. Carly's purpose in riding was different. While her time on the bike was an emotional and physical refuge for herself, by staying healthy and grounded she could offer better support to someone else.
Anyone's schedule offers limitations to training, but taking care of Austin meant Carly had to worry about things that few of us face. For one thing, she had to choose routes that kept her near the house in case she needed to rush home. Additionally, her training schedule was based around Austin's doctor appointments and treatment needs as well as her own school and work obligations, generally limiting her to just two short workouts per week. Even with this minimal training schedule, Carly still felt selfish sometimes in prioritizing her own well-being, but she knew the end result would be better care for Austin.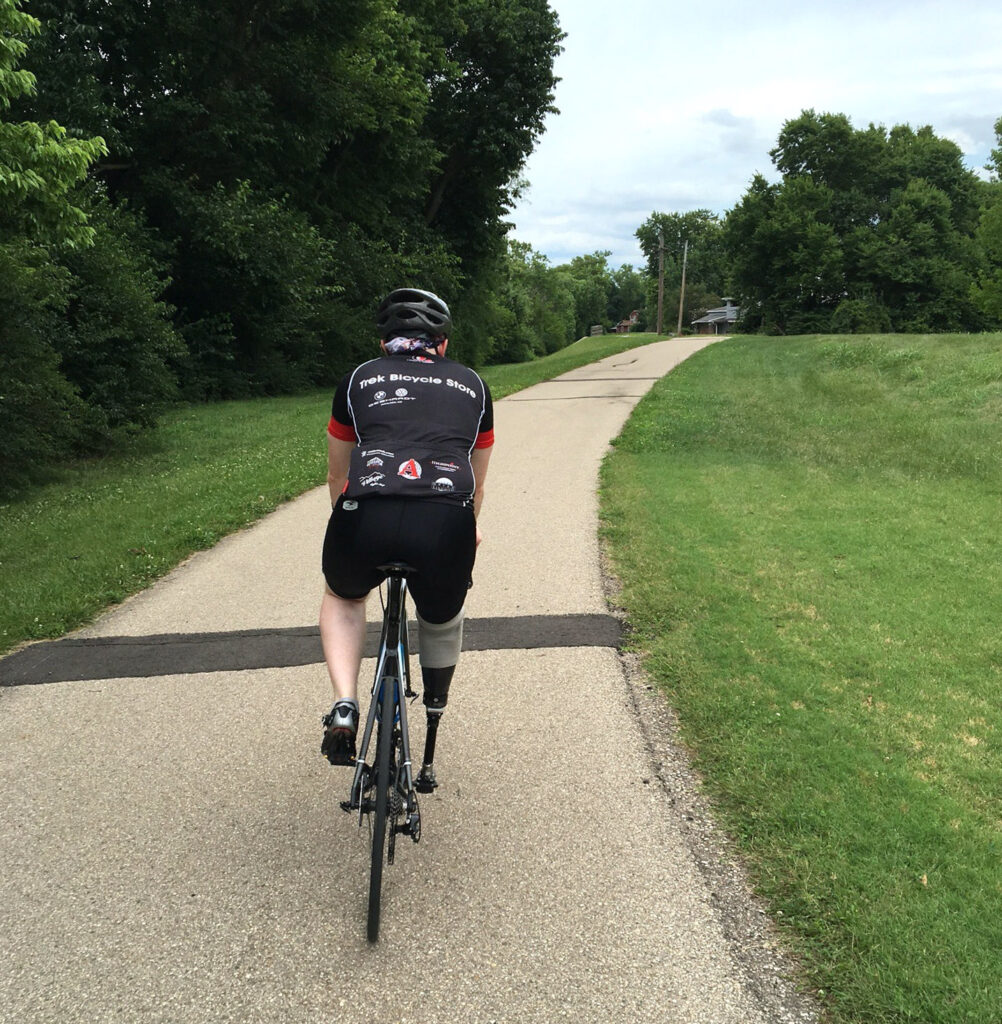 As Austin's disease progressed, he always understood how important Carly's riding was to her well-being, and did whatever he could to support her training. He also worked to maintain an active lifestyle for himself by cycling, running, and learning to wake surf on his prosthetic leg. In 2017 he participated in the Wounded Warrior games, even while undergoing an exhausting chemotherapy treatment. Carly says that instead of chasing bucket-list goals, Austin's spent his last few years trying to live as normally as he could, refusing to let his illness define him.
On May 1, 2018 Austin passed away, three years and one day after his diagnosis.
Moving Forward
Carly and Austin planned extensively for what her life would be like after his passing. For 3 years she'd defined herself as caregiver, and they both knew his absence would again change her trajectory. Much as Austin didn't want his illness to define his own life, he also didn't want his loss to define hers; his wish was for her to do the things she wasn't able to while taking care of him. In that spirit, a week after Austin's death Carly rode 100 miles. A week later she did it again. Cycling again took on a cathartic role, replacing the emotional exhaustion of grief with the physical exhaustion of long rides.
Two years later, cycling's significance to Carly has only grown. She races with the Palmares Cycling Team in Boulder, Colorado, where she lives and works as an engineer. Carly uses TrainerRoad 6 times a week, continuing the process of self-improvement that began during the most trying of times. Instead of representing a source of stress, long rides far from home now offer a feeling of freedom, but the fundamental purpose of riding a bike for Carly hasn't changed. The structure and discipline of cycling help Carly to improve herself and in turn be better for others.
Lessons For Every Athlete
Inevitably, training involves sacrifice, and an element of selfishness. At some point you will be forced to decide between prioritizing your own fitness and the needs of others. In fact, you can have it both ways. Being better at pedaling a bike doesn't automatically make you a better person, but the process of getting fitter can help you be better for your family, friends, and community. As long as you approach it with a healthy dose of self-awareness, structured training can be emotionally and physically restorative, and the time you set aside for yourself can extend benefits to others around you, too.
Tell us your story. Success isn't always a race win. It can be life-changing health improvements, reaching a personal goal, or more. 
---
For more cycling training knowledge, listen to Ask a Cycling Coach — the only podcast dedicated to making you a faster cyclist. New episodes are released weekly.