Exploring new terrain on your bike is one of the true joys of cycling. But if you're unprepared when flying to your destination, your trip can be ruined by expensive fees, damaged equipment, and logistical challenges. Luckily, flying with a bike can be fairly easy and affordable if you plan ahead. What do you need to know before embarking on your next cycling adventure?
---
Flying With a Bike: An Overview
There are three major variables to consider any time you fly with your bike. First, the safety of your equipment—you want to be confident your bike will arrive intact and undamaged at your destination. The second factor is the cost of getting your bike there, which can vary dramatically depending on the airline and on how you pack it. Finally, the third factor is simplicity— it can be difficult and time-consuming to rebuild a fully-deconstructed bike, especially if you're in a hotel room or unfamiliar environment with limited tools.
Every method of traveling with a bike balances a mix of these three factors. No option is perfect, but understanding the pros, cons, and logistics of each in advance can help you determine which is best for you and your equipment.
Basic Advice
However you choose to get your bike to your destination, you'll need some basic technical knowledge and tools to do so. All travel cases and bags require some amount of deconstruction— usually at least the removal of pedals, wheels, and handlebars. It's notable that for some modern road bikes with fully integrated cockpits, this can be a very laborious and time-consuming job, and these bikes may require special cases that allow handlebars to remain attached.
Many airlines are becoming more bike-friendly, but fees can vary dramatically. In some cases, you may save money overall by choosing a more expensive airline with lower baggage fees. And note that no matter how welcoming an airline is to cyclists, baggage handlers may be very rough with your bike, and airlines are often not responsible for damage that occurs during transit. Consider purchasing luggage insurance for your trip, especially if traveling with an expensive carbon bike. Some homeowners' and renters' policies, as well as certain credit cards, may cover your baggage already, so check your specific policies for details.
Don't save anything for the last minute. Practice packing your bike well in advance, and consider all aspects of your trip's logistics and how they relate to your bike. Will your box or case fit in your transport upon arrival? Will you be able to comfortably rebuild and later repack your bike in your lodging? How will you get your bike to the airport when it's time to head home?
Finally, it's worth considering whether it's actually necessary to bring your bike on the plane with you in the first place. Bike shipping services can send it in advance, and this option may be economical depending on your destination and itinerary. Alternatively, if having your own bike with you isn't necessary, consider renting one from a local shop for the duration of your stay.
Note: A few bikes have frames specifically designed to come apart for easy packing. These bikes can be worthy investments for frequent flyers, but this post is primarily intended for athletes traveling with their existing standard bikes.
---
Flying With a Bike: Packing Options
Three main options exist for packing your bike for flight— cardboard bike boxes, soft-sided bike bags, and hardshell cases. It's also worth mentioning that a few bikes are made with special frames designed to come apart for easy packing, and these bikes can be excellent options if you are a frequent traveler. But the packing discussion in this post
Cardboard Bike Boxes
A cardboard bike box is the simplest container for your bike during travel. Cardboard boxes do have a few things working in their favor— for one, they're easy to get (often for free) from almost any bike shop. Most are large enough to fit your bike nearly intact, so they are fairly easy to pack.
But that's about it when it comes to positives. Cardboard boxes are prone to damage, especially in wet conditions. Cardboard boxes are easily punctured, and their handles often tear out and rip off. Bikes packed in cardboard boxes need significant additional padding and must be very carefully packed to arrive safely. Additionally, cardboard bike boxes are large and ungainly. They might not fit into small vehicles bringing you to and from the airport, and they'll definitely incur oversize baggage fees. To add insult to injury, most airlines won't insure or cover any damage to bikes packed in cardboard boxes. Use at your own risk.
Cardboard Box Pros: Cheap, easy to pack. Cons: Large, fragile, difficult to transport, airlines won't insure, always incur oversize fees.
Bike Bags/ Soft Cases
Soft-sided bike bags vary widely in their design and features. Most have straps and wheels that make them easy to move around, and they're generally small enough to fit in a rental car without a problem. On the downside, many airlines require a liability release for bikes packed in soft-sided bags. Also, they aren't cheap— costs typically range from about $400–$600 USD. Some companies allow you to rent one for your trip instead of purchasing the bag outright.
Larger bags allow you to leave your fork on your bike and may include an internal mount for your frame which can make them easy to pack. They usually include some amount of internal padding and protection, but you may want to add additional padding to your frame and components. These bags are usually lighter than hard-sided cases, but they are still quite large, and invariably incur oversize luggage fees.
Smaller bike bags are designed specifically to avoid airline oversize fees and are about the size of a large suitcase. These bags are somewhat challenging to pack and require significant bike deconstruction— fork, handlebars, pedals, both wheels, and rear derailleur usually need to be removed. But if packed with some extra padding on crucial components, they're quite sturdy and safe, and are by far the easiest option for transport to and from the airport. This blog post's author has used one of these bags for several years, with no damage or additional fees.
Soft Case Pros: Easy to transport, can avoid airline fees. Cons: Difficult to pack, expensive, often require extra padding.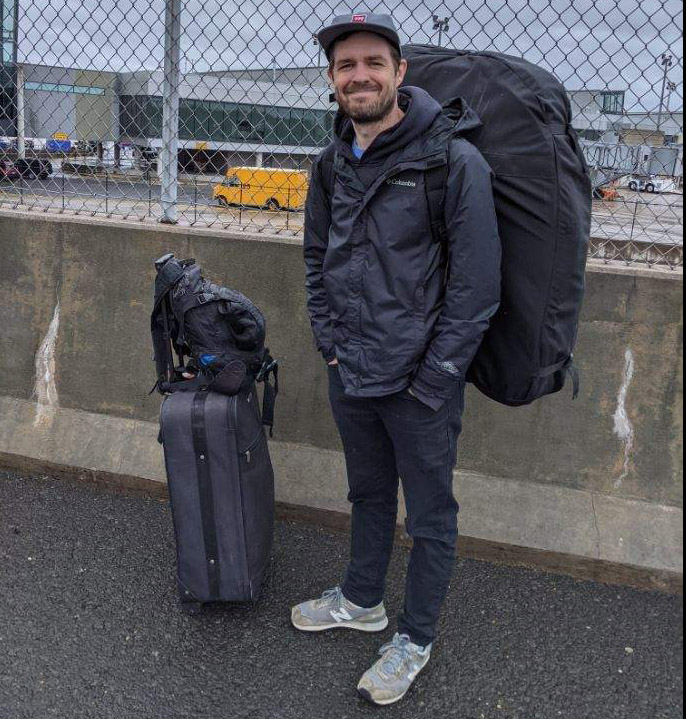 Hard-Sided Cases
Most protective of your bike but also the most expensive option, hard cases range in size and design. Some are quite compact and challenging to pack. Others are extremely large and heavy, but allow you to travel with your bike almost fully assembled. All offer the promise of robust protection against impact, though some travelers believe baggage handlers are more likely to be rough with hard cases than soft-sided bags. On the plus side, if you use a hard-sided case, airlines are usually willing to insure your bike and compensate you if damage occurs during a flight.
Hard cases are generally less convenient to transport and get around than soft bags, but some have multiple handles and wheels to make things easier. Unfortunately, most hard cases are big enough to incur an oversize luggage fee. It's also quite obvious what's in one of these cases, so if your airline charges a bike-specific fee there's no avoiding it when using one.
Hard Case Pros: Highly protective. Moderate packing difficulty. Cons: Heavy, awkward, expensive, usually incur extra fees.
---
Packing Your Bike
When it comes time to pack your bike for travel, there are two main tasks— protecting your equipment and preparing it for potential opening and inspection. The more systematic and organized your packing job, the more likely it will be safely repacked after inspection by transportation safety agents.
Packing Your Bike Step-By-Step
Remove any components needed to fit the bike in your chosen container. This almost always means removing the handlebars, pedals, and front wheel. Depending on your luggage it may also require removing your rear wheel, fork, and seat post. Put shipping spacers or thru axles into your dropouts, and put spacers into your disc brake calipers.
Wrap your bike and components in padding. Some cases include this, but many riders use bubble wrap, pipe insulation, or pool noodles sliced in half and cut to size. Securely tape or zip-tie the padding in place.
Attach handlebars/ fork/ seat post to your frame and zip-tie in place. Where you put them depends on your case and your bike, but by attaching everything together it will be easier for TSA agents to put your bike back into your case after inspection, and less likely anything will get lost.
Remove rear derailleur and any other protruding component (computer mount, derailleur hanger, eTap batteries, etc) that could potentially be impacted if your bag or case is mistreated. Wrap these parts in padding/ attach to your frame. Wrap your chain in padding and attach it to your chainstay. Remove disc rotors from your wheels and wrap in bubble wrap or clothing.
Photograph your gear before you put it into your bag. It will come in handy if you need to file a claim with the airline, and will help you repack your bag on the way home.
Write your name and contact information on a sheet of paper and tape it to your bike. Insert the bike into your bag or case. Insert wheels into the case, slightly deflating tires if needed to fit.
Fill extra space in your bag or case with kit and shoes. Wrap your pump in padding and insert it. Wrap other components you removed in padding (such as pedals, rotors, and saddlebag) and place them together in a small bag, which can also go into the extra space or pockets in your travel bag/ case. Put every tool you used to deconstruct the bike into a small bag, wrap in padding, and place them in the luggage, too.
Close the bag/case and carefully feel around the outside. If any part of your bike (such as your chainring) can be felt protruding, reopen and reposition/ attach extra padding to this area.
Verify all old barcodes/ destination stickers are removed from the exterior of your luggage. Mark the exterior prominently with your name and contact information.
Other Important Packing Tips
Bikes are often damaged by contact with objects inside the case. Add padding anywhere two parts touch each other in the luggage. Wrap every loose component in padding and secure inside.
Bent disc rotors are the most common damage during travel. Even if your case doesn't require it, remove your rotors, wrap them in padding, and secure them somewhere safe.
Zip-tie everything together inside the case, so if a security agent removes your bike during an inspection they won't lose anything or have trouble putting it back in. Make it foolproof!
Don't forget your tools. Many bike tools are prohibited from carry-on luggage, so wrap all the tools you'll need together and secure them in your case. Don't forget an air pump, and always bring a torque wrench!
Your tires won't explode on an airplane. Some airlines require you to deflate your tires, but always leave enough air in tubeless setups to keep the tires seated.
Most airlines prohibit CO2 containers in carry-on and checked luggage. Remove them from your flat kit and grab new ones at your destination's local bike shop.
Electronic groupsets bring some additional considerations. Remove batteries from SRAM derailleurs, so they don't get lost if your case is opened. Shift levers can be inadvertently pushed inside of bags and cases, so remove the coin cell battery from SRAM shifters and unplug shifter cables under Shimano hoods.
If your power meter has a removable battery, remove it during packing to prevent battery drain.
Remember to bring chargers for any electronic components, including head units, lights, and derailleurs.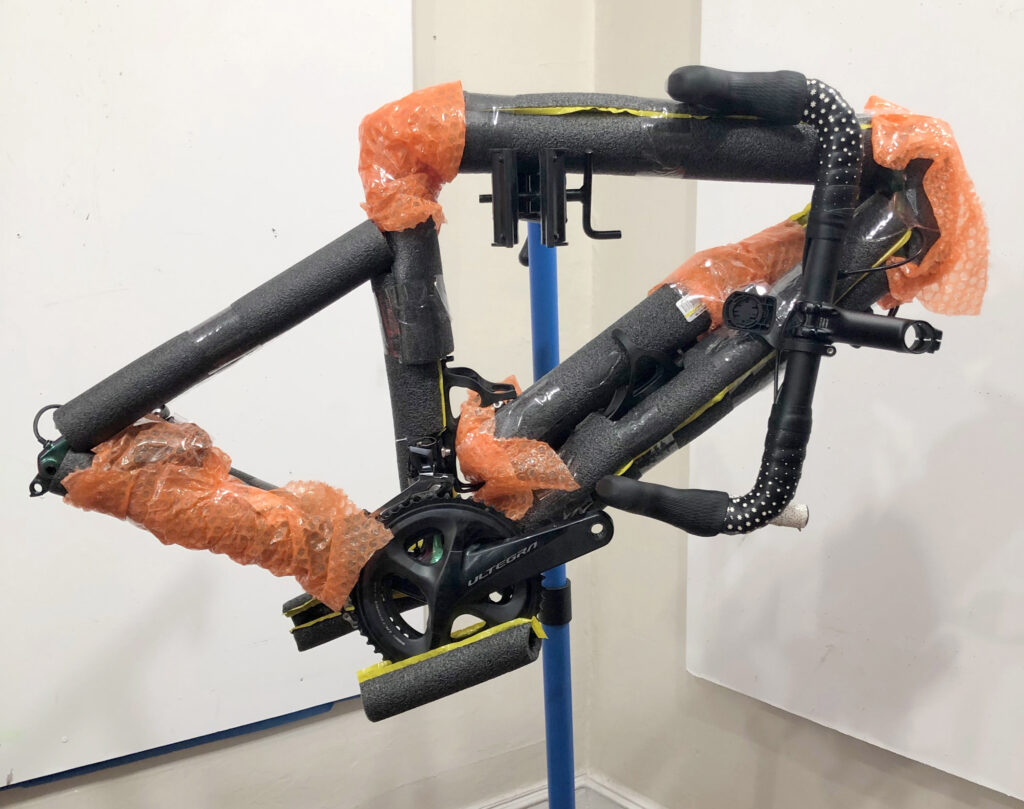 ---
The Typical Cost of Flying With Your Bike
So you've got your bike packed and ready to fly. How much will it cost?
The answer depends on the airline and your specific equipment. Some airlines charge no special fees, while some charge an all-inclusive fee for bikes, and some layer multiple fees for bike, luggage weight, and luggage size. Check your airline's policies, but you can usually use this formula to find your expenses:
Cost to Bring Bike =
Bike Fee + Standard Checked Bag Fee + Oversize Fee (if Applicable) + Overweight Fee (if applicable)
For most airlines, oversize fees kick in if the combined length, width, and depth measurement of your luggage add up to more than 62". While many popular bags and cases do exceed this limit, these fees are inconsistently enforced by gate agents. Overweight penalties usually start at 50 lbs, and for even larger and heavier bags most airlines have more severe fees.
All told, costs can vary dramatically. If you have a lightweight road bike in a small, soft bag and you're flying on an airline with no bike fee, you'll only be charged for a standard piece of checked luggage. On the other hand, with a large mountain bike, in a hard case, on an airline with a bike fee, you may need to pay $300 or more each direction in bike, weight, and oversize charges. Discount carriers usually charge more in additional fees, so do your homework and research potential costs before you buy your ticket. In the end, it's often worth paying a little more upfront for a premium carrier without bike penalties.
Best Airlines for Flying With a Bike
Here is a comparison of major airlines' policies on bikes, to help you find the best option for your next trip. Note: If an airline layers multiple fees, all are listed. Some fees marked N/A may still be incurred if your case is very large/ heavy. Policies are accurate as of 10/5/21. Prices USD unless noted.
| Airline | Bike Fee | 1st Checked Bag Fee | Oversize Fee* | Overweight Fee* |
| --- | --- | --- | --- | --- |
| Air Canada | $50 CAD/ USD | N/A | N/A | N/A |
| Air France | €40-€125. 48h approval required. | Usually included | N/A | N/A |
| Alaska Airlines | No Fee. | $30 | N/A for bikes | N/A for bikes |
| American Airlines | No Fee. | $30 | $150 – $200 | $100 |
| British Airways | No Fee. | Usually included | Uncertain. | €75/ $100USD |
| Delta | No Fee. | $30 | $200 | $100 |
| Frontier | $75 | N/A | N/A | N/A |
| Hawaiian Airlines | $35 – $150 | $0–$35 | N/A | $60-$150 |
| jetBlue | $100 if large/heavy | $35 | N/A | N/A |
| Lufthansa | $80-$287 USD if oversized | Usually included | $150-$300 | $70-$150 |
| Quantas | No Fee. | Usually Included | Varies | Varies |
| Ryanair | €/£60 | €25/£25 – €40/£40 | N/A | €11/£11 per kg |
| Southwest | NoFee. | Usually Included | $75 | $75 |
| Spirit | $75 (max 40lb) | $35–$65 | N/A | N/A |
| United Airlines | No Fee. | $35 | Varies | Varies |
| Virgin Atlantic | No Bike Fee | Included with most tickets | $300 | $100 |
| WestJet | $50 CAD | $30–$71 | N/A | N/A |
Adaptive Training
Get the right workout, every time with training that adapts to you.
Check Out TrainerRoad
---
Flying With a Mountain Bike
In most ways, bringing a mountain bike on an airline is the same as bringing a road or gravel bike. However, mountain bikes are generally bulkier, with thicker tubes and wider axles. This means mountain bikes may not fit in all travel cases, and you may need a case or bag specifically designed for large bikes. Pay close attention to weight, as adding extra kit and equipment to a bag containing a mountain bike may incur an expensive overweight penalty.
When preparing your mountain bike for travel, it's often easier to remove the handlebars from the stem, than it is to remove the stem from the steerer tube. If possible, flip your fork backward to shorten your wheelbase and make your bike more compact for packing. As with road bikes, always remove your brake rotors, and only deflate your tires enough to fit your luggage. Don't allow your tires to come off the bead, and bring a small container of sealant in your checked bag just in case you need it upon arrival.
If your bike still won't fit, let some air out of your suspension to reduce height (but make sure you bring your shock pump with you). Resist the temptation to fly with your dropper post down— a long flight with the cartridge under pressure can stress the hydraulics, so remove the post from your frame instead. And on that note, service any hydraulic components in need of maintenance before you travel. Extended periods in your bag in an unusual position can push worn seals beyond their limits, and you don't want to arrive at your destination to find a crucial part no longer works.
Finally, bring a large rag or towel along with you for your trip. You might not have the ability to wash your bike at your destination before repacking it for your return, but at least you'll be prepared to give your equipment a good wipe-down.