Train, plan, and analyze your indoor cycling performance with the TrainerRoad cycling training app. With unique in-app features like Plan Builder, TrainNow, and the TrainerRoad Calendar, the TrainerRoad app has everything you need to get faster. Available for iOS, Android, Mac, and Windows Devices, the TrainerRoad app is compatible with a variety of devices and training equipment.
Mobile Apps
iPhone & Android Cycling Training App
Available for iOS and Android devices, the TrainerRoad mobile app brings indoor training to one convenient place. Use your favorite mobile device to train, browse workouts, select a training plan, and keep track of upcoming workouts.
Learn About Mobile Apps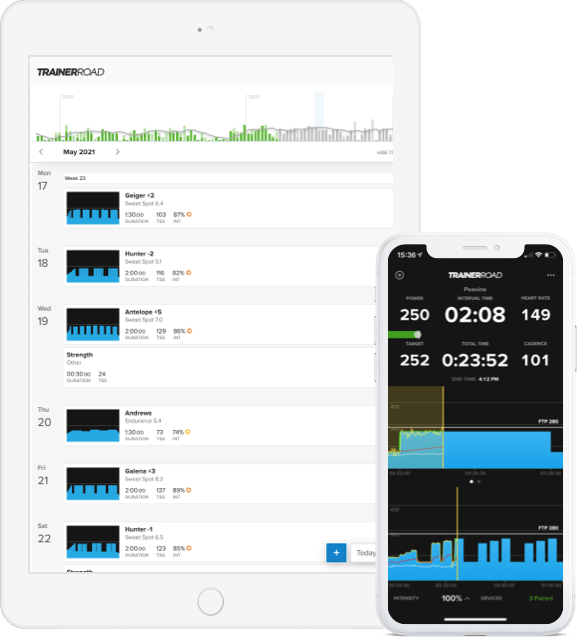 Desktop Apps
Mac & Windows Cycling Training App
Get faster with the powerful, easy-to-use TrainerRoad desktop app. With added features like Group Workouts and media mode, the desktop app adds an additional layer of functionality to your indoor training setup.
Learn About Desktop Apps
Ready to Get Faster?
Use science-based planning, training and analysis tools to increase your performance with cycling's most effective training system.
Trusted By Cyclists Worldwide
#1 Cycling App for Getting Faster
---
Download
Start training today with the TrainerRoad indoor cycling apps. Download the TR mobile apps on the Google Play Store and Apple app store or download the TrainerRoad app to your desktop right here.
Not a member yet? Sign up today!