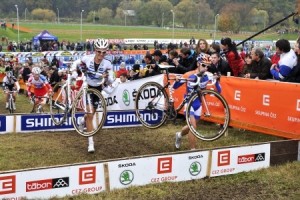 With the winter season very soon upon us, I've devised a fully-developed and thoroughly tested cyclocross training plan that will give 'cross riders 3 options based on training time availability as well as 2 further options based upon incoming fitness and planned season peaks. The first 3 options will allow riders to choose between 3 very similar plans depending on training frequency while the latter 2 options will allow riders to determine how many weeks they'll devote to 'cross-specifc training over the next few months.
Plan Formats
As you'd expect, each plan is primarily focused on indoor, interval workouts but there are recommendations for Run workouts as well as time slots for Skills Work, both very important components of cyclocross training & racing. With regards to riders' time constraints, these Cyclocross Training Plans (CCTP's) offer 3 choices:
Low-Volume: 3 weekly workouts, 150-330 TSS range, 2.5-4 hours/week; additional Run/Skills workouts add about 1-1.5 hours/week.
Mid-Volume: 4 weekly workouts, 180-450 TSS range, 3-5 hours/week; additional Run/Skills workouts add about 1-1.5 hours/week.
High-Volume: 5 weekly workouts, 220-600 TSS range, 4-8 hours/week; additional Run/Skills workouts add about 2 hours/week.
Regarding the overall length of the training plan, there are 2 straightforward options as well as a third, more flexible option based on your specific race schedule and incoming fitness level.
12-Week: Riders can bypass the 8 weeks comprising Base 1 & Base 2 if their incoming fitness level is high or their 'cross season is a short one.
20-Week: Less conditioned riders are advised to incorporate the 8 weeks of base conditioning prior to tackling the more demanding Build phases.
Somewhere in Between: Based on intended peak fitness/key events, riders can begin anywhere within the Base phases that suits their schedule & needs.
Additionally, any riders who are starting from scratch but wishing to do their first cyclocross races are advised to begin with one of our base plans – Intermediate Base I or Intermediate Base II – and use the CCTP Base phases as their primary means of conditioning.
There's also a Help Center reference article in the works titled, "Cyclocross" which details some of the training specifics & recommendations as well as some insight into the rationale behind the particular workouts created and tailored to fit the demands of relatively short but highly intense cyclocross races. Once it's ready, I'll update the link.
Up Next
Look for a 3-part base training plan to emerge over the next several weeks as the much-requested traditional base training plans are rolled out, and expect them to be followed by the highly anticipated half-distance triathlon plans as well as some specialty plans for MTB racers, criterium riders, and a few other surprises!