The Leadville 100 is a long, hard day in the saddle. On race day, you should have complete confidence in all the hard work you put in to get there. In this guide, we'll cover everything you need to know about a Leadville 100 training plan.
---
Chad Bakken, a full-time CFO, busy family man, and TrainerRoad athlete, had finally achieved his goal—finishing the Leadville 100 MTB in under nine hours. As Bakken crossed the finish line, tears streamed down his face. For any rider who has signed up to race Leadville, that's the feeling you want as you finish. Yes, you may feel thoroughly beaten up and exhausted, but disappointment is the last thing you want to feel. Leading up to his second Leadville race, Bakken trained harder and smarter to make sure of that.
Training Plans for Mountain Bikers
Proven training designed for the high-intensity demands of off-road racing.
Try Free for 7 Days
"I wanted to quit. Every part of me hurt, but I knew how hard I could go and that I didn't have to quit. I could do it," is how he described the final minutes of the Leadville 100. His previous year's time was 9:34. After training for five months with a properly structured TrainerRoad training plan, he more than accomplished his goal. His final time for his second Leadville attempt was 8:46. "People were commenting in the race, 'holy cow, you're really strong,'" Bakken recalled. This didn't surprise him much.
"I've trained for 21 weeks with structure, and I've suffered every single time. I can do this," are the thoughts that kept his confidence high. Through every difficult climb and moment, his mind wanted to quit, but his body wouldn't let him; Bakken reminded himself of the training.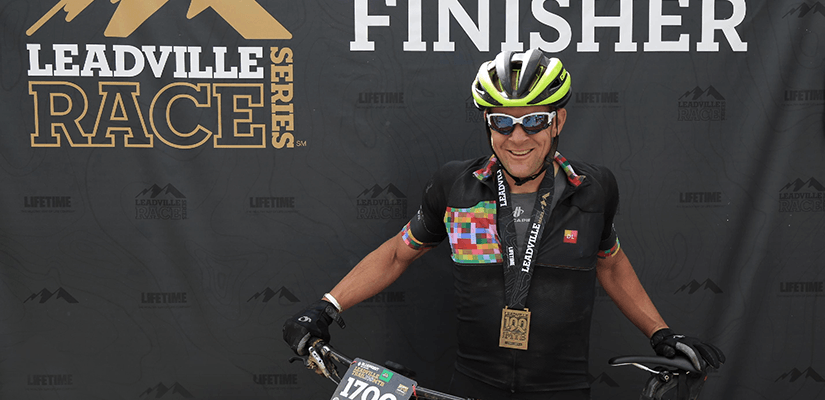 If there's one thing Bakken learned during his most recent preparation for Leadville, it's that trusting and sticking to your training plan is key. In his lead-up to his first Leadville race, he didn't set aside the time he needed to train. What's more, the expert he paid to help him train was inconsistent at delivering his workouts. It was not a surprise when disappointing race results followed.
For his second year of training for Leadville, Bakken took a different approach. With his sub 9 goal in mind, he decided to take things into his own hands and use TrainerRoad. Here's the exact training plan he followed to prepare for his Leadville PR.
Chad Bakken's Leadville 100 MTB Training Plan
When preparing for ultra-endurance events like Leadville, establishing a solid base of fitness is paramount — that's exactly what the Sweet Spot Base plan will help you do. Taking such a disciplined and long-term approach to your training can be tough to stick to, but taking the time to develop your aerobic fitness will pay dividends when it matters most, on race day.
Leadville is unique in the sense that it is completed on mountain bikes but it more closely resembles a road race in many ways. Unlike a traditional cross-country mountain bike race, the sustained flats and climbs of the course require you to put out high amounts of power for long durations.
Since this is a build phase, your training will focus specifically on raising your FTP. The intervals in this training phase will have you putting out efforts at or around threshold for extended periods of time, effectively raising your FTP and strength endurance.
While Leadville may be an unorthodox mountain bike race, it is still very much a mountain bike race. The Cross-Country Marathon specialty plan is a great choice for this event. It will give you the intensity you need for mountain bike racing without sacrificing the aerobic endurance required by such a long race.
Recommended Leadville 100 MTB Training Plan
The best Leadville 100 training plan is one that is custom built for you by Plan Builder. Plan Builder is an automated training plan creator that builds custom training plans. Using your current training load, experience with interval training, the date of your priority event, and race discipline, Plan Builder creates a training plan designed to bring you to peak fitness for your goal event. You can further customize your training by choosing which days you'd like to take outdoors, and when you'd like to integrate additional races into your training plan.
How Will Plan Builder Prepare me for the Leadville 100?
To establish and reinforce the endurance needed for The Leadville 100, your plan will be composed of workouts that train the energy systems used in long-distance events. Your training plan will maximize the efficiency of your hard work with workouts that target specific energy systems. By completing targeted and time-efficient workouts, you can strengthen the appropriate energy systems while avoiding the massive fatigue that comes with extremely long rides.
To expand on your preparation for Leadville, you can take any TrainerRoad workouts outside using your Garmin or Wahoo head unit. While it's not necessary to replicate any 10-hour rides, you can learn a lot by spending 2-3 hours in similar race day circumstances outside.
Leadville 100 Training Plan Examples
So what might a Leadville 100 training plan look like? Every athlete has unique needs and experience. Plan Builder takes care of the details and creates a plan just for you. Depending on your circumstances, your training plan could look several different ways. Here are a few examples of what a training plan for Leadville 100 might look like.
---
Shane is new to interval training and is just about to start a structured training plan. He's going into structured training riding an average of six hours per week.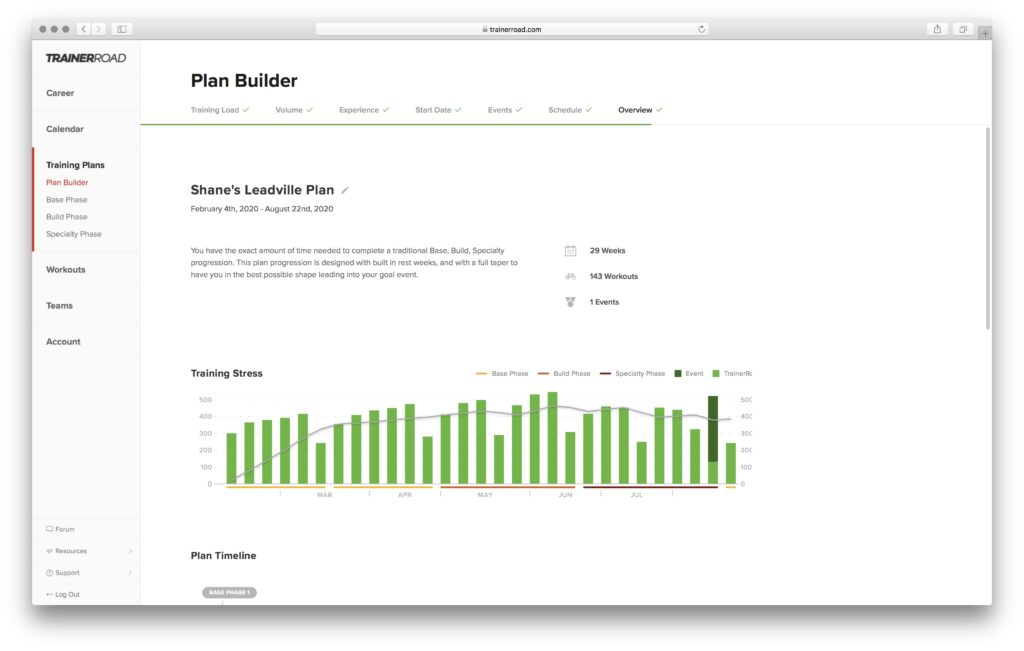 ---
Blake has some experience with interval training and began structured training two months ago. On average he's been training seven hours each week. Because he started training two months ago, he can backdate his plan to the start of his training progression. Doing this includes all of his completed workouts.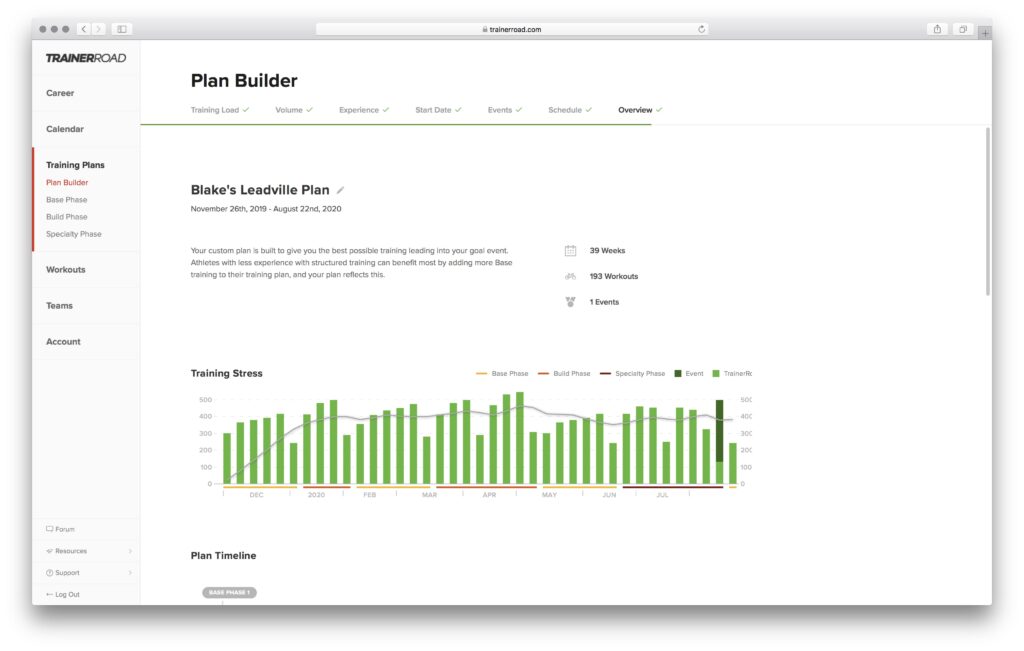 ---
Kortney is a seasoned athlete with years of experience doing structured intervals. On average, she's been training ten hours per week. She won't be starting a structured training plan until the beginning of April. Because she is starting in April, her plan is 20 weeks long.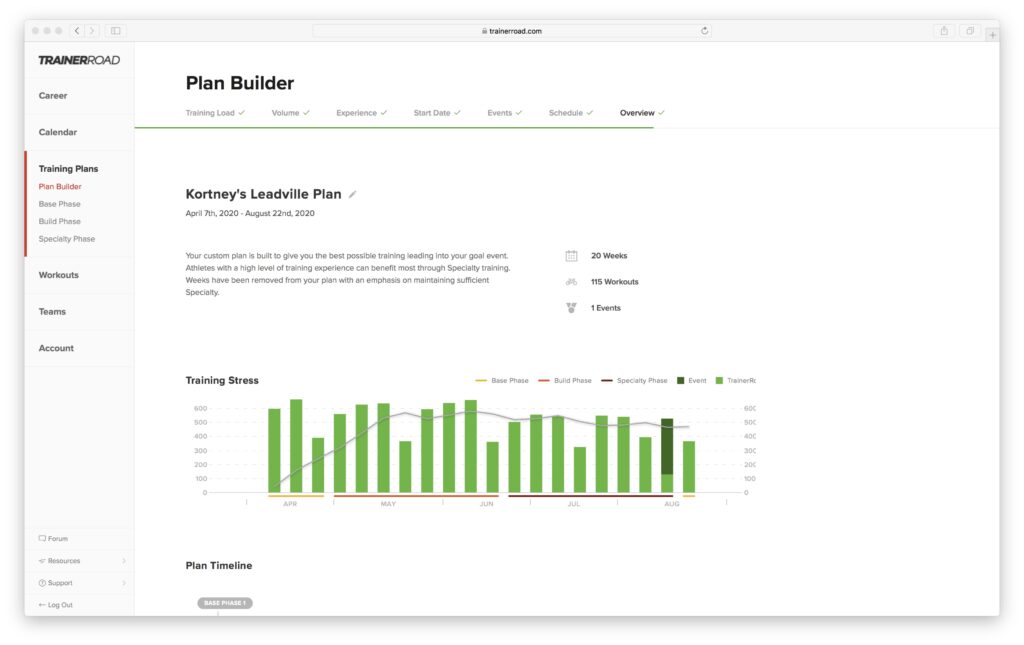 ---
After Plan Builder outlines your progression, you can further customize your training plan before you add it to your TrainerRoad Calendar.
You can choose which days you'd like to do your workouts. Also, you can choose any day to mark workouts as outdoor workouts. As you progress through your training plan, you can make adjustments along the way to your training volume and schedule, so that your preparation for Leadville is based on your changing needs. 
When Should I Start Training for Leadville 100 MTB?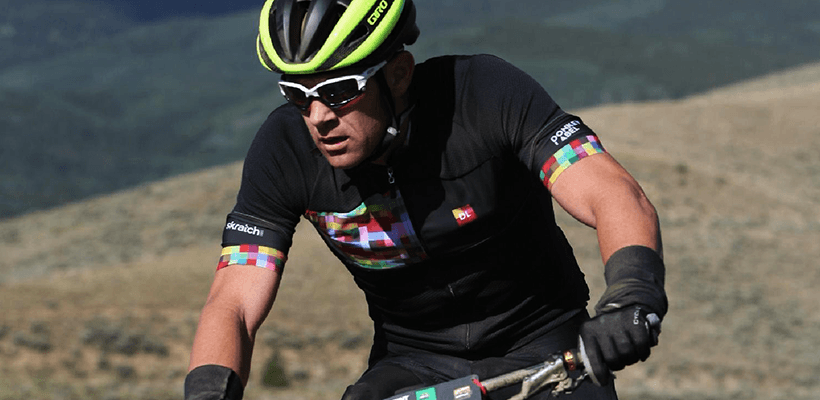 The good news is that you can start training for Leadville at any time with Plan Builder. However, for the best results start your Leadville 100 training plan at least 28 weeks early or even sooner for extra recovery weeks. Since the event is usually held at the beginning of August, that means you can start towards the end of January.
Leadville 100 MTB Training Tips
Can I train for The Leadville 100 with a low volume training plan?
Absolutely! If Plan Builder recommends a low volume training plan, this is probably the best option for you. Plan Builder recommends the training volume that will be most effective for you and your time based on your current training load. You can effectively train for an ultra-distance event with a low volume training plan as long as the weekly TSS is challenging enough to promote adaptation.
If you reach a point in your training plan where you feel like you can successfully handle higher weekly training stress, you can increase the volume of your plan. Alternatively, you can train with a low-volume training plan and tack on additional riding outdoors. In this scenario, the training plan serves as the high-quality structured portion of your overall time on the bike. 
How can I integrate outdoor riding into my training plan?
You can learn a lot from spending a couple of hours each week on the mountain bike. Spending time on the MTB to sharpen your technical skills and experiment with nutrition can be super helpful. With that said, you can integrate as much or as little outdoor riding as you'd like with TrainerRoad Outside Workouts.
If you'd like to integrate MTB rides into your weekly training schedule you can check out MTB Outside Workouts: How to Nail Your Planning and Training.
Do I need to complete any ultra-distance workouts before Leadville?
You don't need to complete a ton of super long training rides to successfully prepare for the Leadville 100. By spending shorter durations of time training the energy systems used in an ultra-distance event, you train more effectively without breaking your body down in extra long training rides. 
With that said, it's definitely beneficial to spend time on the mountain bike working on your bike handling, and testing out different nutrition strategies. If you have time to integrate a couple of hours of mountain biking into your schedule when it's convenient, try and do so.
---
---
---